Vetri Maaran To Direct The Real History Of Arul Mozhi Chozhan??
Written by Dhiwaharan Published on Oct 05, 2022 | 18:48 PM IST | 70
Follow Us
Comments: 0
In an unexpected public note that no one saw coming, film director cum political party leader Seeman announced that director Vetri Maaran will make the "real" history of Arul Mozhi Chozhan. The NTK leader also said that the biography of LTTE leader Prabhakaran will also be made by the national award winning filmmaker. Through his post, Seeman said that both the projects will be bankrolled by himself.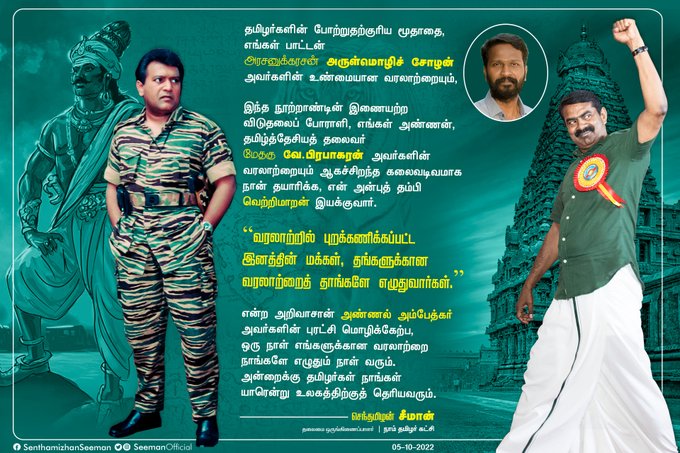 Days ago, in the birthday event of VCK leader Thol. Thirumavalavan, Vetri Maaran expressed his displeasure over Raja Raja Chozhan being portrayed as a Hindu. Now, the public note of NTK leader came in as a surprise to the followers of Tamil nadu'a cinema and politics.
"The real history of Arul Mozhi Varman, Tamizh people's pride, our great grandfather, King of Kings and the biography of Methagu Ve. Prabhakaran, the unparalleled freedom fighter of this century, our brother and the leader of Tamizh Desiyam will be directed by my loveable brother Vetri Maaran under my production" read the note released by Seeman.
The Political party leader quoted Ambedkar's saying "we will write our own history" and concluded his post adding "The day for us to write our own history will arrive and the world will know about us Tamizh people on that day"
Here's his post :
வரலாற்றில் புறக்கணிக்கப்பட்ட இனத்தின் மக்கள், தங்களுக்கான வரலாற்றைத் தாங்களே எழுதுவார்கள் என்ற அறிவாசான் அண்ணல் அம்பேத்கரின் புரட்சி மொழிக்கேற்ப, ஒரு நாள் எங்களுக்கான வரலாற்றை நாங்களே எழுதும் நாள் வரும். அன்றைக்கு தமிழர்கள் நாங்கள் யாரென்று உலகத்திற்குத் தெரியவரும்.

(2/2)

— சீமான் (@SeemanOfficial) October 5, 2022
Few days ago, During his speech, Vetri Maaran alleged that many identities of Tamil people are being erased slowly. "The art is for the people and the reflection of people is the art" the filmmaker said in the event. So, the art form should be handled with care. Already many of our identities of being erased" he further added.
"Be it cladding Thiruvalluvar Saffrom cloth, or presenting King Raja Raja Chozhanas a Hindu king, such things has already started happening. This will happen in cinema and many identities are already being removed from the cinema. We should protect our identities" Vetri Maaran said in the event.