Varun Dhawan- Janhvi's Photoshoot Caused Controversy!!
Follow Us
Comments: 0
Varun Dhawan & jhanvi kapoor's Controversial Behaviors Spark Reddit Outrage: Examining the Photoshoot Bawaal and Gigi Hadid Incident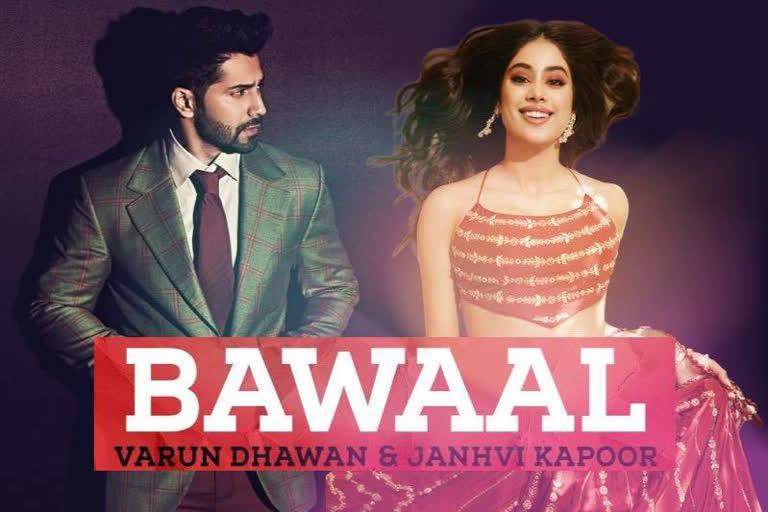 BAWAAL MOVIE POSTER
In recent times, Bollywood actor Varun Dhawan has come under scrutiny and faced criticism on social media for his behavior towards female co-stars during promotional photoshoots. A recent incident involving Varun playfully biting his co-star Janhvi Kapoor's ear during a promotional event for the movie Bawaal triggered an uproar on Reddit. While some users criticized his actions as "creepy" and inappropriate for a married man, others expressed concern regardless of his marital status. Varun Dhawan's previous interaction with supermodel Gigi Hadid also received backlash when he picked her up on stage without her consent during a Mumbai event.
VARUN DHAWAN
Also read: Janhvi Kapoor Caught Photoshopping Her Physique!! Netizens Can't Keep Calm
JHANVI KAPOOR
During a promotional photoshoot for the movie Bawaal, Varun Dhawan was seen playfully biting Janhvi Kapoor's ear. This action raised eyebrows among internet users, with some finding it unsettling, especially considering Varun is married to fashion designer Natasha Dalal. Reddit users expressed their disapproval of his behavior, deeming it unacceptable, regardless of his relationship status. Critics argued that such actions have no place in a professional setting, even if they were part of a scripted scene.
Reddit users were divided in their response to the photoshoot incident. While some criticized Varun's behavior and his perceived pattern of getting too close with female co-stars, others found themselves bewildered by the whole situation. One commenter pointed out that Varun's actions were inappropriate, especially for a married man, suggesting that they should not be excused merely as part of acting. Another user echoed this sentiment, emphasizing that such behavior should not be tolerated regardless of his relationship status.
Also read: Kalidas Jayaram Got Thrashed For Tagging His GF In This Story !!
Critics further pointed out that Varun's continuous penchant for physical intimacy with female co-stars in promotional events was unsettling and gave rise to uncomfortable situations. Janhvi Kapoor's reaction to Varun biting her ear was also scrutinized, with some users expressing the belief that she should have reacted more assertively to such actions. It was suggested that these incidents overshadowed the intended purpose of the photoshoot and may have affected the chemistry between the lead actors, impacting the promotional efforts for Bawaal.
The controversy surrounding Varun Dhawan's behavior towards female celebrities was not limited to the Bawaal photoshoot. An earlier incident involving supermodel Gigi Hadid at the Nita Mukesh Ambani Cultural Centre opening in Mumbai also garnered negative attention. During a small concert held at the event, Varun invited Gigi on stage, where he proceeded to hold her hand, pick her up, spin her around, and kiss her on the cheek. The incident left Gigi visibly flustered, as she struggled to manage her designer saree during the impromptu spin. She hurriedly left the stage while actress Priyanka Chopra held her hands.
The video of the incident went viral, and social media users were quick to criticize Varun's actions, asserting that Gigi had not consented to such physical contact. Criticisms centered on the lack of respect for personal boundaries, particularly for a guest attending the event. Some users argued that Gigi's discomfort was evident in her hasty departure from the stage and speculated that such incidents might deter her from returning to India for future events.
Comment
by u/Worth_Put7897 from discussion Umm whattt
in BollyBlindsNGossip
Comment
by u/violet_flask from discussion Umm whattt
in BollyBlindsNGossip
Also read: Pooja Hegde Tried To Commit S*icide ?? Shocking Statement!!
Comment
by u/ariesandnotproud from discussion Umm whattt
in BollyBlindsNGossip
Comment
by u/H72gd6 from discussion Umm whattt
in BollyBlindsNGossip
Varun Dhawan's recent behavior towards female co-stars during promotional events has sparked outrage and concern among social media users, particularly on Reddit. The photoshoot incident during the promotion of Bawaal, where he playfully bit Janhvi Kapoor's ear, was deemed inappropriate by many, leading to discussions on personal boundaries and professionalism. Additionally, the incident involving Gigi Hadid further fueled the debate, with critics emphasizing the importance of obtaining consent and respecting the personal space of celebrities and guests.
Comment
by u/Happy-Active1813 from discussion Umm whattt
in BollyBlindsNGossip
Comment
by u/boataker from discussion Umm whattt
in BollyBlindsNGossip
As Varun Dhawan's actions continue to be scrutinized, it is essential for celebrities and public figures to be mindful of their behavior and actions, ensuring that they uphold ethical and respectful conduct in their professional engagements. As the release of Bawaal approaches, the controversy surrounding Varun Dhawan may have an impact on the film's reception, making it important for the entertainment industry to address concerns about consent and boundaries between co-stars during promotional activities.