Vanitha Vijayakumar who got eliminated as the third contestant, came back to the show as a special guest as the promos released today suggests. Being one of the most controversial contestant of the show, Vanitha was eliminated due to receiving less number of votes from the viewers of the show.
[wp_ad_camp_1]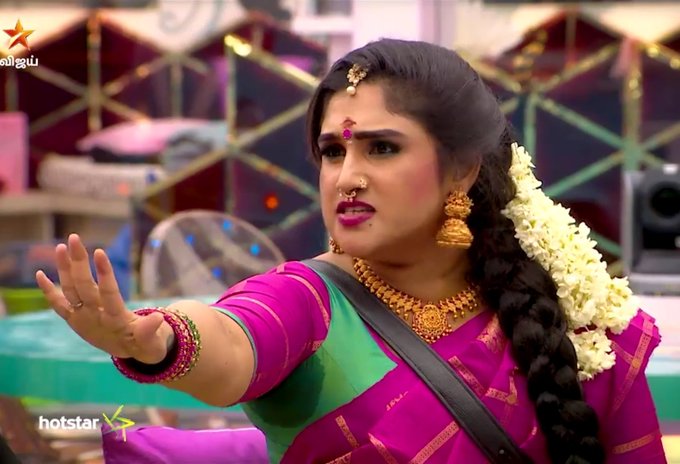 Now according to the yesterday's episode that got telecasted yesterday, shows she making her entry into the house with in a celebration mode. Later, Vanitha was seen thrashing the housemates, especially Kavin, for the relationships they are having inside the house. She also seen criticizing the contestants for not really participating in the game reasoning their relations.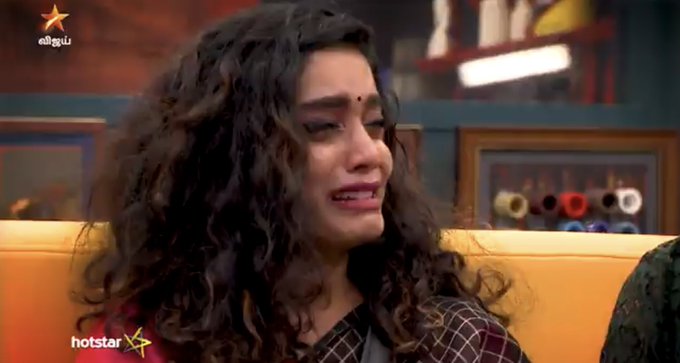 In today's first promo, Vanitha is seen advising Abhirami not to stalk Mugen as he is not worth it. She also asked Vanitha about whether Mugen told her about Durga or not. Watch the promo here :
#Day51 #Promo1 #பிக்பாஸ் இல்லத்தில் இன்று..#BiggBossTamil – தினமும் இரவு 9:30 மணிக்கு உங்கள் விஜயில்.. #BiggBossTamil3 #VijayTelevision pic.twitter.com/sHNtX0khaz

— Vijay Television (@vijaytelevision) August 13, 2019
[wp_ad_camp_1]
Now it has been revealed who Durga actually is. She is a cousin of Mughen who lives in Malaysia. In the interviews she has given to tamil media houses, it has been exposed that they both are supposed to get married which was discussed by their relatives during their childhood.
Watch the video here :
Source : Behindwoods 
Durga also said that Mugen's anger inside the house is not even par to the level he gets naturally. She even said said she disliked the intimacy that Abhirami maintains with Mughen in the interview. "Not just because of Mugen, I disliked Abhirami from the initial stage of the show for her appearance. She is very much fake and seems she is doing everything for attention" said Durga in the interview. Check out some of the reactions from the followers of Bigg Boss for Vanitha revealing Durga's name in the show :
Who is Durga??? 🙄🙄🙄🙄 Why this Vanita is lying to everyone 😐😐😐 This is too much

— ɪᴛs_ᴍᴇ_ᴘʀɪʏᴀ ✌️ (@Bigg_bossTS) August 13, 2019
This is too much.. Why is she telling his mura ponu name and all on TV 🙄🙄..

— H͟A͟R͟U͟H͟I͟ (@nenu_roe) August 13, 2019
Can someone pls explain to me why does it matter who Durga is? Mugen never said he was available! Whether it's Sparkle or Durga, athu avan pathupan Vanitha avargale. Neenga mooditu unga velaiya paatha pothum.

— cosmic_cookiee (@CookieeCosmic) August 13, 2019
WOW !!! Fucking seriously Vanitha…… You base this whole nonsense on Mugen's athai ponnu's one sided story ???

So i suppose we all shud believe Robert master when he says you started a rumour about u two for movie promotion & controversy ? 🙄🙄🙄#BiggBossTamil3

— Panadol (@KichuKi88931574) August 13, 2019
[wp_ad_camp_1]
Why #Mugen should tell about #Durga?
He told clearly i am seeing you as a friend, nothing more than that. Then why? #Vanitha solradha patha mugen #Abhirami ya love panrenu solli, #Durga #Yasmin pathi sollama yemathuna madhiri iruku. 😐🤨#BiggBossTamil3

— NEETHU (@neethu_7) August 13, 2019
How are they allowed to take their personal friend/family names without their permission? No professionalism ! @EndemolShineIND @vijaytelevision #biggbosstamil3

— Dear (@Melbthegreat) August 13, 2019
What do you think on this promo of Bigg Boss ?? Comment your views below !!