"Use Only Hindi Or English" Southern Railways Sent Circular To It's Staffs !! Check Why !!
By Dhiwaharan
Southern railways sent circular to station staff and train operation controllers to communicate only in English or Hindi while communicating officially. Recently the topic trended in Social media platforms such as Twitter under the hashtag #StopHindiImposition.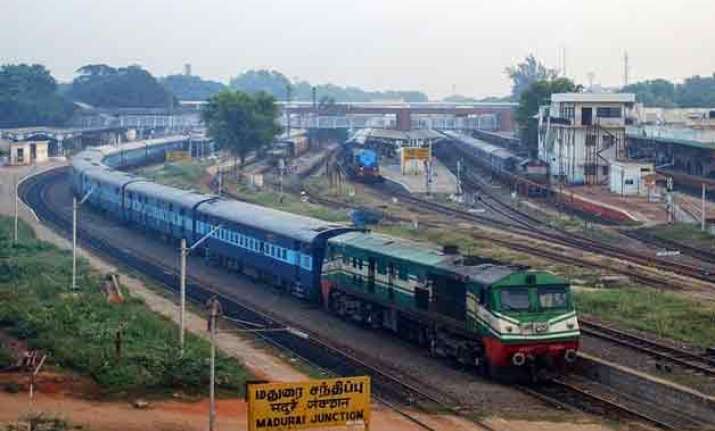 [wp_ad_camp_1]
The circular was released by Southern railways officer Siva on Wednesday.  It is said that due to the trouble in understanding the language for other state officials while working, the circular has been sent to the officers.
The circular sent by the Chief Transportation Planning Manager said that "the communication between the Divisional Control Officer and the Station Masters should be either in English or in Hindi and the use of regional language should be avoided to prevent either side not understanding what is being said." 
"The objective of the above exercise is to Improve communication between the control office and the Station masters. It is the responsibility of the control office to ensure that every instruction passed by it to the Station masters is clear and fully comprehended. Similarly, it is the responsibility of the Station Masters to ensure that requesting permissions or advising action taken by them is clear and fully comprehended by the Control Office." the circular read.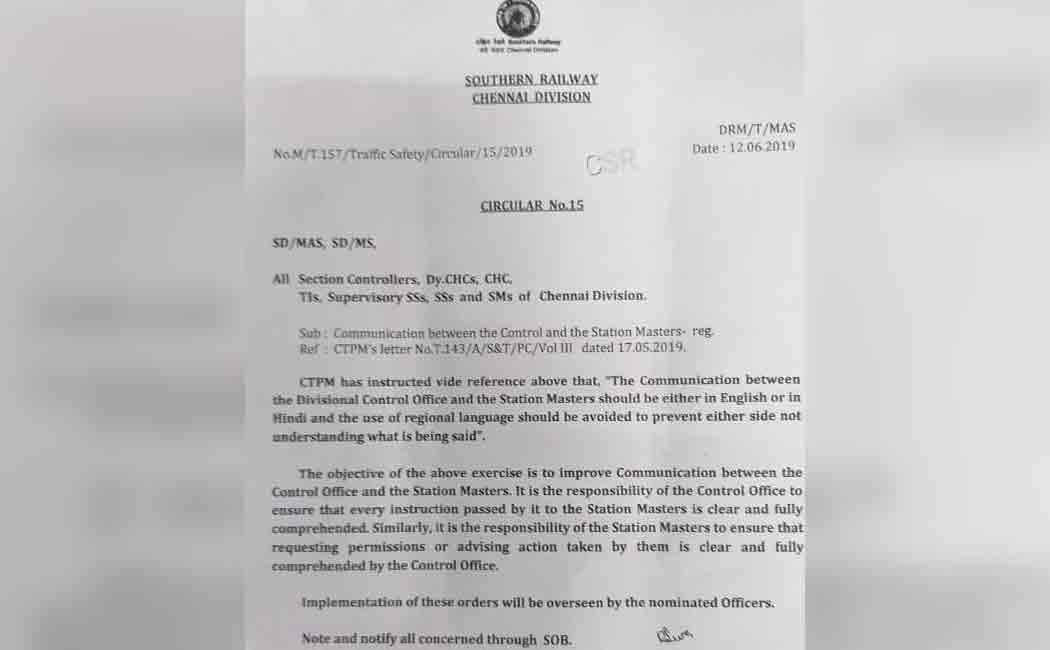 According to Behindwoods, few weeks ago a trouble took place in Thirumangalam where two trains travelled in a same track. It is later realized that it happened because of the officials couldn't understand each other due to miscommunication. A non-Tamil station master who couldn't understand the language sent the train instead of holding it.
[wp_ad_camp_1]
This caused the higher officials to send the circular about using only Hindi and English while communication officially. However, according to the the latest tweet of Times Now journalist, Shilpa Nair, the circular has been withdrawn after the protest.
After protest by opposition parties, Southern Railway GM has clarified that the circular asking officials to speak only in English/Hindi will be withdrawn. #HindiImposition #DMK #SouthernRailway #TNPolitics pic.twitter.com/2q8z69dfX1

— Shilpa Nair (@NairShilpa1308) June 14, 2019
Check out some of the reactions for the circular here :
We strongly condemn Indian Railway and Southern Railway for this nonexistence circular #StopHindiImposition pic.twitter.com/8pbyFZyz6l

— amutharasan (@tamilamu) June 14, 2019
@arivalayam protest inside #Southernrailways Chennai division office against the recent circular, which makes control officers and station masters to communicate in Hindi or English only. pic.twitter.com/o5VujCD4PN

— Mugilan Chandrakumar (@Mugilan__C) June 14, 2019
[wp_ad_camp_1]
Southern railway should not impose hindi on Tamils #NoHindiImposition

— Robinson (@robin3652) June 14, 2019
Southern Railway GM agrees to withdraw the circular issued, which makes station masters and control room officials to communicate either only in Hindi or English. #StopHindiImposition pic.twitter.com/4Gj1gdKg5F

— Mugilan Chandrakumar (@Mugilan__C) June 14, 2019