Urvashi Rautela Got Thrashed For Her Post After Rishab's Accident!!
Written by Dhiwaharan Published on Dec 30, 2022 | 06:17 AM IST | 54
Follow Us
Comments: 0
Rishab Pant, significant player of Indian cricket team met with a fatal road accident and is currently getting treatment. Entire cricket fraternity including former Australian captain Ricky Ponting praying for him to recover soon. In the meantime, a post shared by actress Urvashi Rautela whom Rishab allegedly dated for a certain period, became a subject to severe online criticism as the actress uploaded a picture of herself and indirectly said that she is "Praying".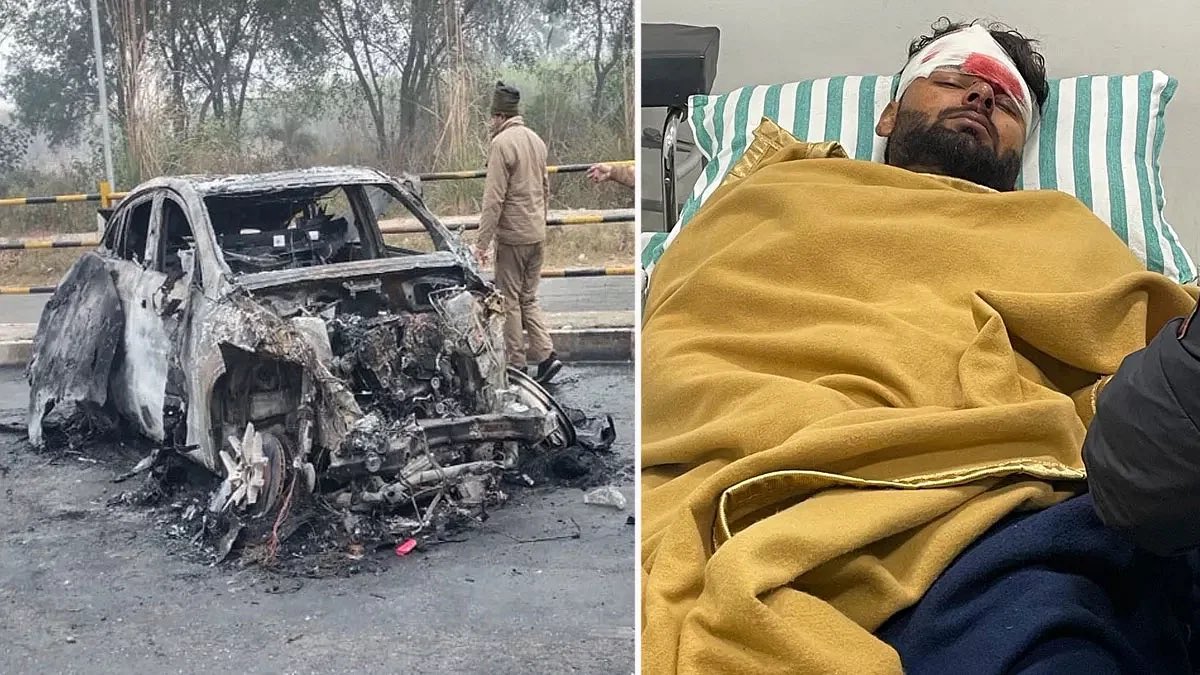 According to the Police reports, the star wicket keeper batsman of the Indian team was alone in his Mercedes GLE car hit the divider railings on the Delhi-Haridwar highway at around 5 : 30 AM. The car reportedly turned into a ball of fire before making a loud noise to alert the people nearby.
"Hearing a loud sound of the accident, nearby local villagers and cops rushed to the spot and pulled him out of the car" said reports. Police reports says that the 25 year old could have dozed off while driving the vehicle which resulted in accident. "Pant met with the accident in Mangalur in Haridwar district when his car hit divider around 5 : 30 AM" Ajai Singh, SSP of Haridwar said. "He was rushed to Saksham hospital in nearby Roorkee from where he was later referred to Max Hospital, Dehradun.
Rishabh Pant has survived a serious car accident on Delhi-Dehradun highway. He's been shifted to the hospital in Delhi.
He was coming home to surprise his mother and there was a plan to hand out with his mother and family on the occasion of New Year.#RishabhPant
ऋषभ पंत pic.twitter.com/T1eiJK0uhq

— Kaustubh Pandey  (@KaustubhP26) December 30, 2022
Uttarkhand Chief Minister Pushkar Singh said that the government will bear all the expenses of Pant's medical treatment. The young cricketer suffered injuries in his back, feet and head but currently is in stable condition. He is currently under the observation of Orthopedics and Plastic surgeons. A detailed medical bulletin is expected to be released once he is completely examined.
Among the many who wished Pant to recover soon, actress Urvashi Rautela came up with a post in her official Instagram handle. Uploading a picture of herself donning full make up and jewels, presumably for a character she played or playing, the actress wrote "Praying 🤍🕊️ #love #UrvashiRautela #UR1" as her caption.
Check out her post below :
View this post on Instagram
The post didn't go well among the many fans of Rishabh Pant. "The aim of the post is to get attention through RP accident" a follower commented whereas another one said "So disgusting and so sick! The man jst met with such a deadly accident and she has to take clout from that too! What is wrong with her? Peak clownery!"
Check out some of the reactions below :
So disgusting and so sick!
The man jst met with such a deadly accident and she has to take clout from that too! What is wrong with her?
Peak clownery! https://t.co/W1yFFQbdQK

— JustAnotherIntrovert (@JustToshiiii16) December 30, 2022
Seeking attention even at this time.. Peak clownery and wahmen moment 🤡🤡🤡 https://t.co/nTGTlLxPMo

— Harry Potter 🇧🇷 (@aadhi_dude) December 30, 2022
Urvashi is such a disgusting and vile human being https://t.co/Q0Zd2DKCWf

— Sruti ☘️ (@sruti_18) December 30, 2022
Unreal shamelessness and attention seeking 🤢 https://t.co/nIrahx4vhB

— Bakri Player (@cric_nerd2) December 30, 2022
At this point it is not funny, she really needs to touch grass and if anyone likes her or follows her I'm seriously judging you ! https://t.co/bFNtjXAmVm

— dee ✨ (@Lansweiyin) December 30, 2022
This is Sick & Pathetic! What Kind of Human she is? She always want Publicity anyhow.

Attention Seeker! https://t.co/XQ9yAIScTk

— Itv Lover (@itv_lover) December 30, 2022
this is so cheap and beyond shameful. She is crossing all limits of attention seeking!! such a terrible human!! https://t.co/wmC7Q8OFmO

— sohom 🇦🇷 (@AwaaraHoon) December 30, 2022
This is beyond disgusting ! She seriously needs to be called out. https://t.co/Rh9VGYv166

— P.🌸 (@Priya_3383) December 30, 2022
This is too much
It's not even funny
This girl is cheap n trying to take publicity even frm this
Crap
Rishabh shld file a complaint against her for torturing mentally later https://t.co/RpZYsijxlu

— Shamika_ke_vichar 🖋️ (@Sakhi_0_Sakhi) December 30, 2022
Pant and Urvashi were rumoured to be in a romantic relationship.  According to reports, Rishabh went to a late night dinner with the actress day before the third t-20 against west Indies. The buzz also says that the young cricketer parted ways with his long time girlfriend Isha Negi. The actress who is known for acting in Sanam Re (2016), Great Grand Masti (2016) and Hate Story 4 (2018), recently had an online banter with the happening cricketer.