UNSEEN VIDEO : Real Reason Behind Saravanan's Termination Revealed ?? WATCH !!
Written by Dhiwaharan Published on Aug 06, 2019 | 21:33 PM IST | 127
Follow Us
Comments: 0
Bigg Boss came up with an unexpected twist in yesterday's episode which shocked the viewers of the show. Actor Saravanan, who bragged about having sexually harassed women on buses during an episode of Bigg Boss Tamil last week, was eliminated from the show allegedly for his controversial comments.
[wp_ad_camp_1]
Last week, Saravanan attempted damage control by saying in a subsequent episode of the show, "No one should commit the same mistake I did. If you do that there is punishment for sure. I raised my hand when Kamal (Haasan) sir asked the question only to reiterate that no one should do that."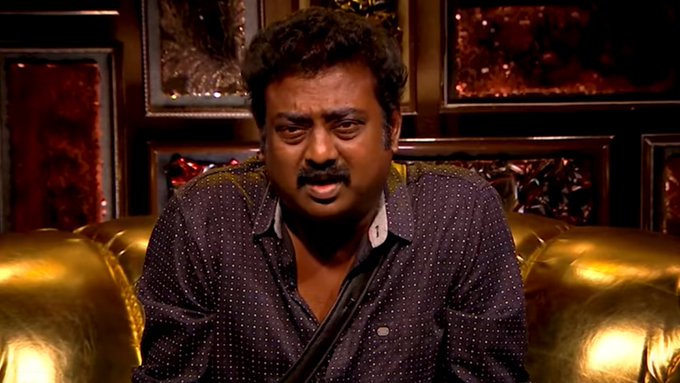 After having him till nomination process and a task, Saravanan was called into the confession room by Bigg Boss. "Though you apologized for your comments during Kamal Haasan sir's episode, the administrational members of Bigg Boss thinks that you should be terminated from the show. The show was watched by crores of families across the world. As the show authorities are busy negotiating about Cheran-Meera issue, due to  lack of time, we could not concentrate on the comments you made. You can leave the show by now through the door by your left side" said Bigg Boss to Saravanan.
[wp_ad_camp_1]
Saravanan who looked dejected has not uttered a word and was seen leaving the show immediately. However, among the users of social media, the topic became a subject of debate. Many supported the decision that Vijay Tv made and the other set of people condemned the television for the way Saravanan was terminated.
Meanwhile, according to few people, the real reason behind Saravanan's termination is not his comments on harassing women but his comment during the Sunday's show. Saravanan was allegedly disrespected Kamal Haasan during the show while the veteran was explaining a task to the contestants.
When Kamal Haasan was explaining "Koodu vittu Koodu Paayum" task to all the contestants, According to netizens, Saravanan was evidently seen saying "Ivan Kothu Vidraan", mentioning Kamal Haasan to Madhumitha.
Watch the video here :
சரவணன் வெளியேற்றப்பட்டதற்கு இது தான் உண்மையான காரணமா?
Saravanan : "இவன் கோத்து விறான் "#BiggBossTamil3 #BiggBossTamil #BiggBoss #LosliyaArmy #Losliya #Saravanan pic.twitter.com/pqfGNikvPG

— ʟᴏꜱʟɪʏᴀ ᴀʀᴍʏ (@LosliyaArmy) August 6, 2019
Many people thinks this as the real reason behind Saravanan's termination. Instead of terminating him during the Kamal Haasan's episode or before, the Bigg Boss management decided to do it on Monday which instigated the netizens to speculate this way. Check out some of their reactions :
Why is #Saravanan eliminated after apologising?! Is this eviction because of him saying "kothu vidran" at Kamal?!

— Madan Gowri (@madan3) August 6, 2019
His verbal with cheran. May be nadigar sangam pressure to vtv. He called kamal in disrespectful way during tht koodu vittu payum task. Saying kothuvittutanda ivan….

— sathya rajagopal6 (@sathus6raja) August 5, 2019
Another side…. pic.twitter.com/2gnIqhNlsW

— Christopher Kanagaraj (@Chrissuccess) August 5, 2019
Yes omg I noticed this yesterday kothu vidran after KH paired them for task..
I thought was over thinking nd none pointed out while scrolling tag,so left it.
So this is one of the reason for today's action 💩 https://t.co/K0QeIqDYo6

— 🍁 (@AishTweetssz) August 5, 2019
[wp_ad_camp_1]
Eviction kaaranam-Sunday Kamal sir new task kodukum podhu saravanan mikela "kothuvidran" nu kamala insult panaru adhu audienceku nalla ketuchu this was the reason behind eviction.

— Patturajan (@SureshshrutikaP) August 6, 2019
What do you think on this immediate eviction of Saravanan ?? Comment your views below !!