UNEXPECTED : Premji Uploaded A Video Of Actor Vijay !! Fans Couldn't Believe !!
Written by Dhiwaharan Published on May 25, 2019 | 18:13 PM IST | 78
Follow Us
Comments: 0
"Thalapathy" Vijay and "Thala" Ajith are two of the most talented actors in the cinema industry of Tamilnadu. The rivalry between both the actors is less as far as the rivalry between their fans is considered.
[wp_ad_camp_1]
Its been a long time since actor Ajithkumar and Vijay declared as official rivals. Only on few occasions both these actors movies released together but on that day the opening of both the movies would be a deadly one.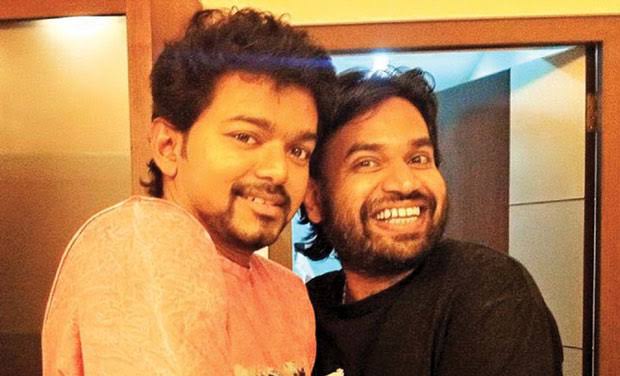 Comedy actor Premji, who is very well known as a Ajith fan today posted video of Actor Vijay. The video is a compilation of Actor Vijay speaking his heart out in the audio launches of his very own movies. The video motivated enormous number of his fans who are keeping them as their Whatsapp, Instagram stories till date.
Premji added a caption saying "AMAZING THALAIVAAAA 🙏🙏🙏 @actorvijay"
Watch the video here :
AMAZING THALAIVAAAA 🙏🙏🙏 @actorvijay pic.twitter.com/NXsxSuvtRt

— PREMGI (@Premgiamaren) May 24, 2019
Though Premji is vocal about his admiration on actor Vijay, Fans couldn't believe what Premji did for a moment which is evident through the comment section. Even some fans believed that Premji is going to do a role along with Vijay one of his upcoming flick.
[wp_ad_camp_1]
Check out some of their reactions here :
வழக்கமா இந்த கேங் தலைவனை புகழாதே? 🙂 https://t.co/CAduolGsc3

— Sonia Arunkumar (@rajakumaari) May 25, 2019
என்ன திடீர்னு 😳😳

— Joseph Suhasini (@suhasinichen) May 24, 2019
Enna anne intha pakkam
Ethum commit aagirkingala🙏🙏🙏 pic.twitter.com/Tw7TMZgBSF

— Jilaajeeva (@jilaajeeva) May 25, 2019
Next movie la iruparo😎😎😎 pic.twitter.com/5BEF9kBtdl

— THALAPATHY S Ashok🤘🤘 (@ashokkuttyma522) May 24, 2019
என்னாச்சு இவனுக்கு🙄🙄

— 🚶543💕Twitz🎶 (@Dhanus_) May 24, 2019
புரியல #கசடதபற ஆடியோ Function க்கு தளபதி வாறாரு 😍❤️ pic.twitter.com/17NYvsI8BZ

— ᴅᴏᴍɪɴɪc♥️ (@Dominic_MrD) May 24, 2019
Enna thideeranu kaathu intha pakkam veesuthu……😂😂😂

— Sarathi🏃‍♂️🏃‍♂️ (@sarathivfc) May 24, 2019
Why suddenly many celebrities sharing thalapathy's inspirational speeches?😳 Anyway I am glad to see.. ❤️

— நண்பன் (@ramu_pradeep) May 25, 2019
என்ன திடீர்னு..
அண்ணா அடுத்த ப்ராஜக்ட் @vp_offl உங்ககூடவானா

— தேவ் (@Devamanirajan83) May 25, 2019
[wp_ad_camp_1]
என்னுமோ நடந்து இருக்கு 😂

— மாஸ் தமிழ் (@Mass_Vfc_) May 24, 2019
Though the actors themselves enjoying a healthy friendship between them, verbal spats between their fans has always been a never ending one. Then it took place in movie theatres but now as social media has been an easy accessible one to every smartphone users, it became very common. So it is no wonder fans getting surprised to see Premji posting a video of Vijay.
Both the Ajith and Vijay are praised each other for their respective skills and has separate fan base as we all know. Ajith who is known for his screen presence would set the screen on fire making his entry in his films. Meanwhile Actor Vijay known for his exceptional dancing skill.
What do you thinki on this motivational video ?? Comment your views below !!