"Un Maamanar Thaan Kaaranam" – Ilayaraja About Rajinikanth To Dhanush
Dhanush
Ilayaraja
rajinikanth
1 year ago
By Dhiwaharan
Videos and pictures of actor Dhanush performing in Ilayaraaja's "Rock with Raaja" event are doing rounds in social media platforms ever since it happened. Dhanush attended the event with his sons Yatra and Lingaa and sung some of the chartbusters of the legendary musician in the event. An incident where Ilayaraja mentioned superstar Rajinikanth as Dhanush's "father-in-law" grabbed special attention from the fans.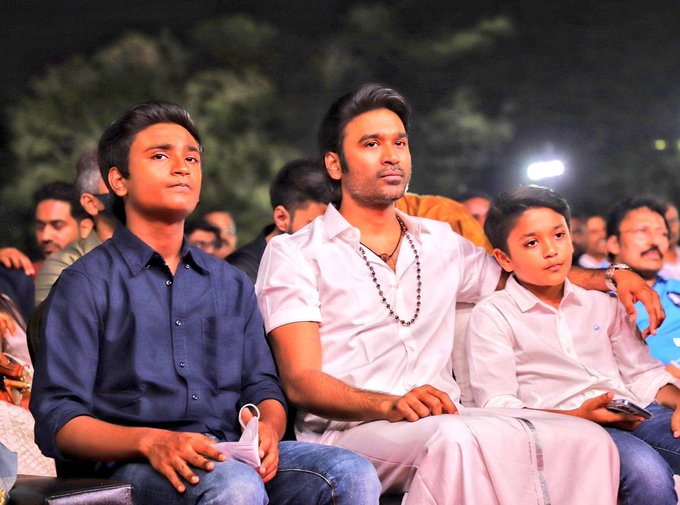 Known as an ardent fan of the senior music director, Dhanush took part in the "Rock with Raaja" event along with other celebrities. He sung songs with Yuvan Shankar Raja, Karthik Raja and also dedicated a song of Ilayaraja to his sons.
Mesmerizing voice 💯
Especially ilayaraja song !@dhanushkraja ❤#RockWithRaja #Dhanush pic.twitter.com/06tcEEEHn4

— 🧚𝒏𝒊𝒗𝒊✨💙 (@NivithaDhanush) March 19, 2022
Ilayaraja started the event by singing "Janani Janani" song and continued performing "Ennulle Ennulle" song from Rajinikanth's "Valli". After completing the song, Raja asked Dhanush who was sitting with his songs to stand up. The musician continued by giving credits of the song's output to Superstar who directed the film "Valli".
To convey the same, Ilayaraja said "Your Father-in-law is the reason for this song's nice output. The way he narrated the situation made me to compose such a song" to Dhanush to which the latter replied with a smile.
Watch the video below :
On 17th of January, Dhanush announced that he is going to separate from Aishwarya Dhanush.  "18 years of togetherness as friends, couple, as parents and well wishers to each other. The journey has been of growth, understanding, adjusting and adapting. Today we stand at a place where our paths separate.. Aishwaryaa and I have decided to part ways as a couple and take time to understand us as individuals for the better" Dhanush said in his post. "Please do Respect our decision and give us the needed privacy to deal with this. Om Namashivaaya! Spread love, D" he added. Aishwarya Rajinikanth came up with a similar post in her official Instagram account.
On Thursday, after Aishwarya Dhanush released a single named "Payani" and Dhanush wished her best by mentioning her as his "friend". However, many fans still hope for the duo to reunite soon.