Psycho directed by Mysskin is receiving overwhelming response from the audience. The filmmaker who is known for his intense and intriguing movies, directed Psycho by having Udhayanidhi Stalin, Nithya Menon, Aditi Rao in the lead roles. The film's music was composed by Ilaiyaraja. The film was produced by Arun Mozhi Manickam under Double Meaning Production.
[wp_ad_camp_1]
As soon as the movie released, reviews from all over the Internet poured in Internet. The filmmaker who has a separate set of fans for his unique way of making films, received criticisms as well. Many of them came up pointing out the flaws and logic loopholes in the film.
Meanwhile, several number of fans came with a similar complaint about the film. As the film mainly focuses on the police investigation, people who watched the film raised a question by asking why the police officers who are investigating the murders are not considering CCTV cameras. Few even questioned when the story of Psycho is happening.
Check out some of their reactions here :
Someone should inform the director that we do have CCTV's available in market and this is not 1990s.#Psycho Effect!

— Christopher Kanagaraj (@Chrissuccess) January 24, 2020
#Psycho

Railway station la CCTV camera irukatha 🤔

— 💕 Sri Ram 💕 (@SriRam001_vfc) January 25, 2020
[wp_ad_camp_1]
#Psycho @Udhaystalin i think your #Director and Team Forgot #CCTV in Ur movie 😏😏

Apartment la kooda #CCTV illaya ??

Enna koduma sir idhu 😷😷😷

— Ajith Aribabu (@AjithAribabu007) January 25, 2020
Apart from audience, reviewer Blue sattai Maaran also asked the film crew about CCTV cameras, in a way of trolling them. Now, Udhayanithi Stalin, the protagonist of the film has came up with a screenshot of his Whatsapp chat to reply to all the trolls and criticisms.
The forward message that was received by Udhayanithi showed one of his contact telling that there is no CCTV camera in the movie psycho because it happened in the period when former chief minister Jayalalitha was admitted in Apollo hospital. The message also said that it might happened in the period when accused Ramkumar died in jail. Udhaynithi Stalin who replied to the message with laughing emoji posted the screenshot of it from his official twitter account.
Check out the screenshot here :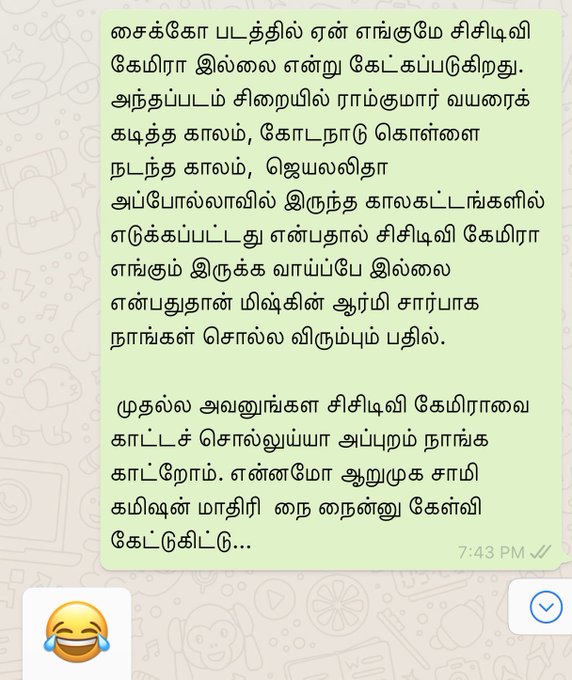 Sharing the screenshot in his official twitter account, Udhayanithi wrote "Just a whatsapp forward msg #psycho #myskkinarmy #cctv #apollo 🙏🏼"
[wp_ad_camp_1]
Check out his tweet below :
Just a whatsapp forward msg #psycho #myskkinarmy #cctv #apollo 🙏🏼 pic.twitter.com/RRqFOlhg8v

— Udhay (@Udhaystalin) January 26, 2020
The film's storyline is about a blind man (Udhayanidhi Stalin) trying to rescue his girlfriend who was abducted by a psycho. He uses various methods to find the killer before his girlfriend gets killed. The movie shows story of him becoming a psycho and his redemption caused by the heroine since she forgives him because of his innocent mind and the torture he underwent during childhood.
What do you think on this reply from Udhayanidhi ?? Comment your views below !!