While celebrities posting tweets lauding the Dhanush-Mari Selvaraj's recently released "Karnan", Politician cum actor Udhayanithi Stalin uploaded a tweet pointing out a logic loophole in the film. He said that the incident of police brutality took place during the governance of AIADMK and the film showed it as it was happened on 1997 which is a ruling period of DMK. Udhay also said that he talked to the film crew regarding the same and confirmed about the change in two days time.
[wp_ad_camp_1]
As soon as the film got released in theatres, reports emerged saying that the film is based on a true incident that took place during mid 90s in a village named "Kodiyangulam". Karnan's plot revolves around a fearless youngster fighting against the influential people who are oppressing the villagers. The period film which is set in the suburbs of Tirunelveli district, talks about the struggles faced by the people who belong to a small village named "Podiyankulam".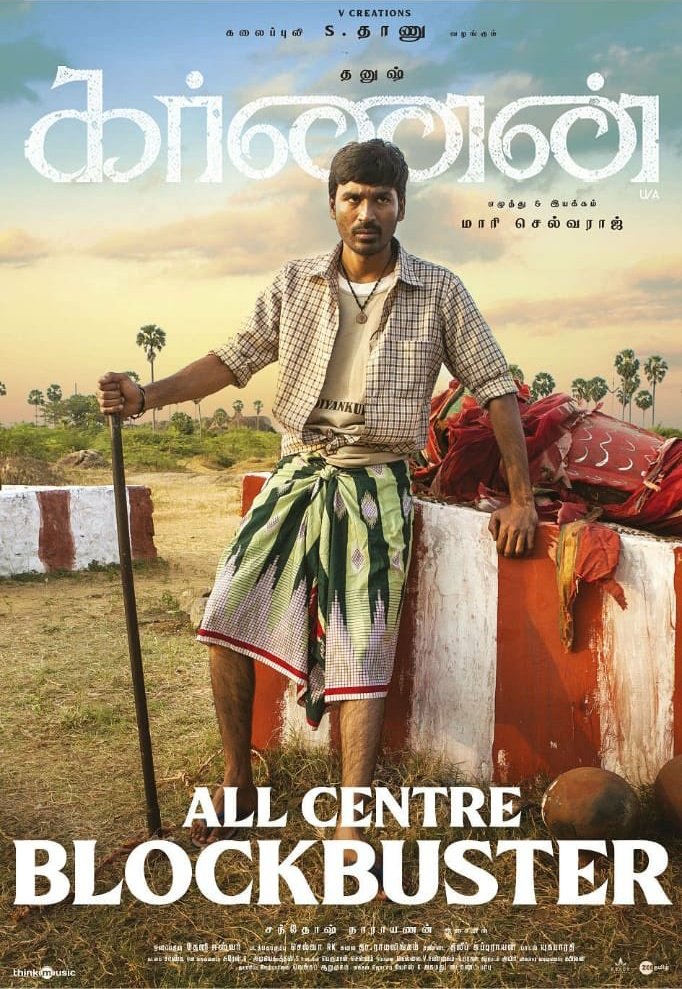 One of the main problems which acts as a barrier for the growth of "Podiyankulam" residents is the absence of government buses and a bus stop. As a result, people are finding it difficult to make ends meet. Men couldn't go to work, Pregnant women couldn't make it to the hospital at the right time and youths are finding it difficult to get educated.
It has been reported that the film got collected Rs. 10. 50 crore on the first day and became the first film of Dhanush to reach such number of the first day itself. Critics are also lauding the film's intriguing content and the performances of the leads. From Vijay Sethupathi to ace cinematographer PC Sriram, almost all the celebrities expressed their awe after watching the film. Notable political personalities also posted tweets appreciating the film.
[wp_ad_camp_1]
Now, DMK's youth leader Udhayanithi Stalin uploaded a tweet in his official twitter account saying that he watched the film and it must be celebrated as it narrated the pain of the oppressed without exaggeration. "I talked to Dhanush, Mari Selvaraj, Dhanu and expressed my love and wishes" he said in his tweet.
"The film which was based on the 1995 ADMK government's Kodiyankulam riots, was shown in the film as it was happened under the governance of DMK in 1997. I have pointed out the loophole to the producer and director. They have promised me to correct it within two days" he added.
Check out his tweet below :
1995 அதிமுக ஆட்சியில் நடந்த கொடியன்குளம் கலவரத்தை மையமாக வைத்து எடுக்கப்பட்டுள்ள இப்படத்தில் அச்சம்பவம் 1997ல் கழக ஆட்சியில் நடந்ததாக காட்டப்பட்டுள்ளது. இதனை தயாரிப்பாளர், இயக்குநரிடம் சுட்டிக்காட்டினேன். அந்தத் தவறை இரு தினங்களில் சரிசெய்துவிடுகிறோம்' என உறுதியளித்தனர். நன்றி.

— Udhay (@Udhaystalin) April 13, 2021
Earlier IPS officer Vijayakumar, politician Jothimani and many other important icons of the state have lauded the film by posting tweets.
[wp_ad_camp_1]
karnan resist and rise against unfairness and injustice,
make the audience pause and reflect. powerful film! #karnan
நேர்த்தியாக எடுக்கப்பட்டுள்ள சிறந்த திரைப்படம். #கர்ணன்

— Vijayakumar IPS (@vijaypnpa_ips) April 12, 2021
கர்ணன் ஒடுக்கப்பட்ட மக்களின் வாழ்வை, நியாயத்தை,வலியை,எதிர்வினையைப் பேசும் ஒரு வலிமையான படம். நெஞ்சை உலுக்கும் காட்சிகளும்,குறியீடுகளும் நிறைய.அந்த உச்சந்தலை முத்தம் ❤️ சாதி எங்கிருக்கிறது என்று கேட்பவர்களை எங்கில்லை? என்று பொட்டில் அடிக்கும் படம். பாராட்டுகள் மாரி செல்வராஜ்!

— Jothimani (@jothims) April 12, 2021
The Reality #Karnan speaks is so painful..

Big hugs & Congrats to whole team 🤗👍#TheniEashwar, #SelvaRK & @Music_Santhosh has elevated @mari_selvaraj writing beautifully..@dhanushkraja performance makes us wonder how much more he has in store to give .. 'Nadippu Karna' 🙏🏼😊

— karthik subbaraj (@karthiksubbaraj) April 13, 2021
Sleepless.. ! #karnan

— Kavin (@Kavin_m_0431) April 11, 2021
.@VijaySethuOffl #VijaySethupathi ♥️😊 #karnan celebrity show@dhanushkraja @mari_selvaraj @theVcreations @Music_Santhosh pic.twitter.com/fgeeXE4zFD

— Karnan (@KarnanTheMovie) April 10, 2021