Popular actor and politician Udhayanithi Stalin's comment on Sivakarthikeyan's one of the recent movies "Don" made users of online platforms to share it widely with hilarious reactions. In the video, Udhayanithi Stalin was seen saying that the whole comedy portion of "Don" didn't make him laugh and he even asked Sivakarthikeyan to trim the movie if it's possible. Udhay made the revelation during an interview with popular youtuber Irfan.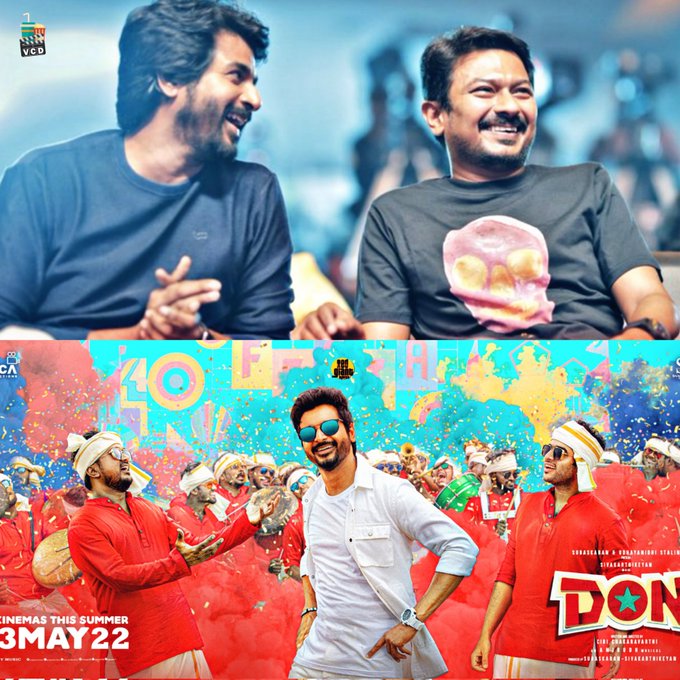 Along with Sivakarthikeyan, the film "Don" has an ensemble cast including Priyanka Mohan, SJ Suriya, Bala Saravanan, Mirchi Vijay, Sivaangi, Raju Jayamohan, Kaali Venkat, Samuthrakani, Munishkanth and others. Directed by Cibi Chakravarthy, the film was jointly produced by Lyca productions and Sivakarthikeyan Productions. Anirudh has composed music for the film.
Plot of "Don" revolves around a youth played by Sivakarthikeyan who was compelled to join engineering by his father and a strict Dean who wants his students to be disciplined. The youth wants to find his area of interest throughout the film and also involves in mischievous activities. The film also talks about the importance of looking after our parents while they are alive.
However, after getting released in Netflix, many online users who watched the film for the first time, seemingly got disappointed and few even bashed the film over its content. Now, Udhayanithi Stalin, in his recent interaction with a YouTube channels, had said that the film didn't make him laugh.
"I watched the film with my friends and it didn't make us laugh at all. We looked at each other and wondered how it will work among audience. I even asked Sivakarthikeyan to trim the film, a bit but he extended it" Udhayanithi Stalin said in the video.
Watch it below :
Don படம் பார்த்து சிரிப்பே வரல இதெல்லாம் காமெடி னு எடுத்து வச்சிருக்கானுக 😂 pic.twitter.com/73Y3NPqUME

— MSR (@itz_chillax) November 15, 2022
Check how audience reacted to the same :
அனிருத் கடைசி 20நிமிடம் இல்லன்னா டான் இன்னொரு பிரின்ஸ் லக்ல ஓடிருச்சு

— SDSKMADHI (@sds1987007) November 16, 2022
@Siva_Kartikeyan தலைவரே பாத்தீங்களா நீங்க விஜய் க்கு நல்ல கதை select பண்ணி நடிக்க சொன்னிங்க இப்ப அந்த நிலமை உங்களுக்கே வந்துட்டு இதுக்கு பெயுருதான் கருமா 😂😂

— MBSA (@beliver1797) November 16, 2022
அப்பா இப்பவாது உண்மைய சொல்லிட்டாப்லையே 😂😂 https://t.co/7fH0ta3sXh

— (ரெமோ) (@Remo006) November 16, 2022
Don படம் எப்படி ஹிட் ஆச்சுன்னு இதுவரைக்கும் புரியாத புதிரா இருக்கு 😬 https://t.co/9wpyWJ5R1N

— Paiyaa Naveen (@itsNaveen_M) November 16, 2022
ஆனா @Udhaystalin கிட்ட புடிச்சதே இதான் உண்டு இல்லனு பிரான்கா சொல்லிடுவாரு 😂😂😂#Varisu #VarisuPongal https://t.co/W4r8tYsaAl

— Suresh  (@KrishVJOff) November 16, 2022
படம் மொக்கனு இப்பயாவது ஒத்துக்கிட்டாங்களே 😂😂 https://t.co/rRTL8jd88f

— Quagmire Boy 😎 (@Quagmireboy_) November 16, 2022
இத சொன்ன என்ன புழுத்தின்னு சொன்னங்க Fdfs பாத்தவங்க https://t.co/uKiXui3vIA

— Rowdysir 🙅 (@RowdySir) November 16, 2022