Promotions for "Jagame Thanthiram", the upcoming film of Tamil actor Dhanush are in full swing. Director Karthick Subbaraj has been attending interviews and Netflix India which bought the film is extremely busy promoting it through their frequent social media posts and campaigns for the film which is getting released on Friday at 12 30 PM. Now, the official twitter account of Russo Brothers, makers of four films in the Marvel Cinematic Universe, has tweeted about the film and fans of actor Dhanush couldn't keep calm.
[wp_ad_camp_1]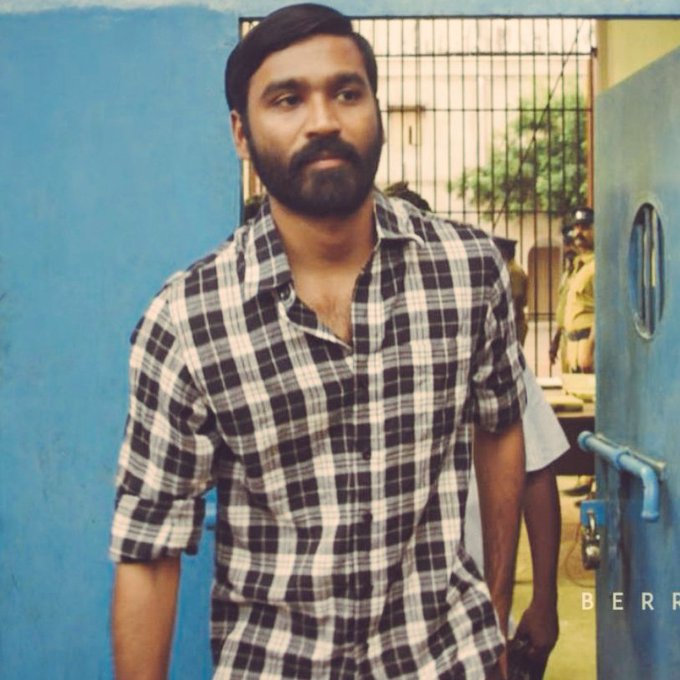 Trailer of "Jagame Thanthiram" released recently in youtube and garnered huge reception from the fans. The film which is touted to be a gangster flick, created much anticipations from fans as it was director by new gen filmmaker Karthik Subbaraj who is very much known for his intriguing screenplays and unexpected climax twists. The film marks his fifth directorial and the music was composed by Santhosh Narayanan.
After so much expectations about the film's theatrical release, the film was sold to Netflix due to the COVID 19 pandemic. It was announced that the film will be released on 18th of June after so many postpones. As a part of the film's promotion, Dhanush made his presence in Twitter space. Now, makers of Avengers "Russo Brothers" came in to the scene to promote the film. It is notable that they are directing Dhanush in "Grey Man", one of the upcoming project which exclusively being made for Netflix.
The most interesting part is, Russo Brothers talked in Tamil by uttering a dialogue from the trailer of "Jagame Thanthiram". They tagged Karthik Subbaraj, Dhanush and Sashi's Y not studios by sharing the film's trailer to get the attention of the global audience. "Super da thambi! Excited to be working with
@dhanushkraja and good luck with #JagameThandhiram @karthiksubbaraj @StudiosYNot" read the tweet of Russo Brothers.
[wp_ad_camp_1]
Check out the tweet below :
Super da thambi! Excited to be working with @dhanushkraja and good luck with #JagameThandhiram @karthiksubbaraj @StudiosYNot
Watch the trailer HERE: https://t.co/ERrt7vfNy8

— Russo Brothers (@Russo_Brothers) June 17, 2021
Replying to the tweet, Dhanush said "Thank you so much. That's very sweet of you. Means a lot to me."
Thank you so much. That's very sweet of you. Means a lot to me. https://t.co/SraBgHztgr

— Dhanush (@dhanushkraja) June 17, 2021
Here's how Karthick Subbaraj replied :
Wow…Thanks so much ANNAs🙏🏼

Your wishes means a lot to team #JagameThandhiram @dhanushkraja @Music_Santhosh @sash041075 @NetflixIndia @kshreyaas @vivekharshan @kunal_rajan @MrJamesCosmo @AishwaryaLeksh4 @DineshSubbaray1 @Stylist_Praveen @tuneyjohn @sherif_choreo @santanam_t https://t.co/bBJeL5CwWk

— karthik subbaraj (@karthiksubbaraj) June 17, 2021
Fans of Dhanush and Tamil cinema got extremely excited on seeing the tweet. "This will happen only for Dhanush. Wishes from Kollywood to Hollwyood" a fan wrote whereas another one said "This is possible only for Dhanush in Tamil cinema"
Check out some of their reactions below :
Andha Avengers list la namma Suruli-ayum sethu vidrathu 👀 https://t.co/G0h9HuTXEj

— Netflix India (@NetflixIndia) June 17, 2021
இதெல்லாம் தனுஷ்க்கு மட்டுமே சாத்தியம் டா !😉கோலிவூட்ல இருந்து ஹாலிவுட் வரை வாழ்த்துக்கள் குவியுது.. 😍🔥 pic.twitter.com/W18y88Vj8v

— மாரி™ (@MaariBala_Offl) June 17, 2021
[wp_ad_camp_1]
இந்த மாதிரி போஸ்ட் ல தமிழ் சினிமா தனுஷ் க்கு மட்டும் தான் சாத்தியம் !🔥 pic.twitter.com/OPazO9BRiy

— சுருளி シ︎🥀 (@Dfan_Arun) June 17, 2021
RUSSO BROTHERS TWEETING FOR #JagameThandhiram on Netflix!!!!! This can't get bigger 😍😍😍😍❤️❤️❤️❤️ https://t.co/LUqgg1CwLp

— Priangka Elizabeth (@priangkaea) June 17, 2021
Its dream for all actors 🙂

INTERNATIONAL STAR @dhanushkraja #suruliManiaBegins #JagameThandhiram #dhanush https://t.co/ZXGJTC8Oqb

— DHANUSH CHOW3 (@dhanush_chow3) June 17, 2021
An Indian actor,a Tamil actor getting global recognition❣️

Way to go @dhanushkraja🔥🔥🔥 https://t.co/XSzXfksndD

— ஜீவா (@EaswaranTweets) June 17, 2021