TTF Vasan's Important Message To News Channels & YouTubers!!
Written by Dhiwaharan Published on Sep 28, 2022 | 18:08 PM IST | 111
Follow Us
Comments: 0
After getting bail for the cases he has been booked under, TTF Vasan released a video sending an important message to news channels and youtubers. The moto vlogger said that he is not afraid of news channels and warned them not to spread fake news against him. He also alerted his fellow youtubers saying that the media will use them for clicks and views and would ruin their reputation.
According to Behindwoods, the youth surrendered in the court after a number of cases filed against him due to a video of him with famous youtuber GP Muthu. It has been reported that Vasan was issued bail in the case related to Sulur police station and he is yet to appear in court for the case that was filed against him in Pothanur police station.
Now, the youtuber came up with a video in his channel, conveying an important message to his fans, followers, subscribers, news channels and his fellow youtubers. He uploaded the video as a reaction to the news that surfaced in a news channel. "It feels like saying that news channels are playing with me without knowing my power, but I won't. I am not afraid of news channels and I am not afraid of anyone" he said.
"There is limit for everything. You are breaching all the limit. We all youtubers will unite together to expose what you are doing if this continues. Don't spread fake news hereafter. If you ask me whether I am sending a threat, I am not. A small suggestion to all the youtubers, these news channels have destroyed many youtubers such as Madan OP, Irfan's views and myself. They are doing this to gain views  by using us. So be careful" he further said.
Watch the video below :
மீடியாக்களுக்கு TTF வாசன் அண்ணா எச்சரிக்கை. pic.twitter.com/C8zNAzV6Iy

— Alíén 👽 (@BlueFDR) September 28, 2022
Watch the full video below :
It all started after Vasan released a video with his fellow youtuber GP Muthu. In the video, Vasan drove his super bike in 150 KMPH speed which caught the attention of public. Earlier, D 3 police station filed TTF Vasan under section 276 of Indian Penal Code and 184 of Motor vehicle act. Later, three more cases were filed against him by Sulur Police station.
Earlier, Pothanur police station of Coimbatore district, released a press note stating that the individual booked under relevant sections for riding vehicle in a careless way causing danger to the lives of others.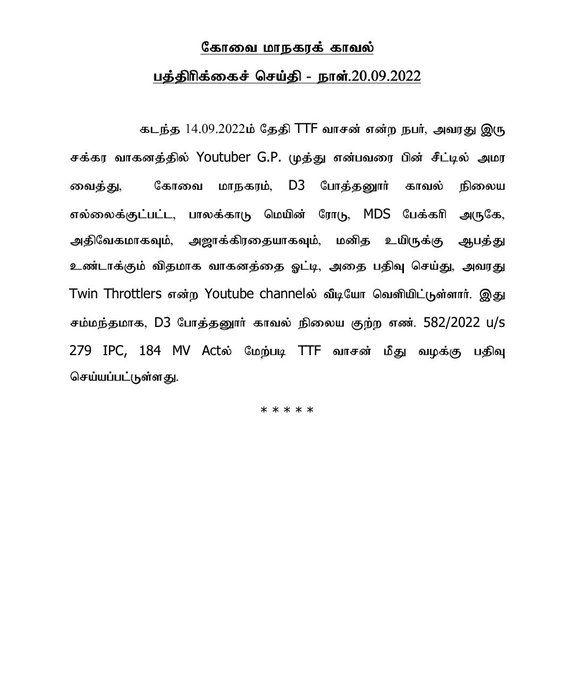 Days ago, Vasan released a video in his youtube channel, giving clarification about the video he released with GP Muthu, another youtuber and social media icon. Vasan said that he did the video only to make fun and cure the depression of youngsters and requested the media channels to go easy on him.
TTF Vaasan, a youtuber who enjoys 3.2 million followers for his youtube channel, grabbed the attention of the mainstream online users after celebrating his birthday with 8000 plus followers of him in Chennai. After uploading the birthday celebration video that last 30 plus minutes, TTF Vasan became a subject to the attention of mainstream media as media portals such as Sun news covered a piece about his birthday celebration.