TTF Vasan's Advice To Female Followers Of Ayyappan Ramasamy !!
Written by Dhiwaharan Published on Mar 18, 2023 | 17:28 PM IST | 131
Follow Us
Comments: 0
TTF Vasan advised Ayyappan Ramasamy's female followers in his latest video in which he sent a strong message to the latter based on the video which got leaked by Madan Ravichandran, a political journalist. Vasan advised the female online users not to follow someone based on their looks but to support people who work hard with talent. He also warned Ayyappan Ramasamy saying that he will break his face if he ever meet him in person in the video.
also read : TTF Vasan's Direct Warning To Ayyappan Ramasamy !! Video Out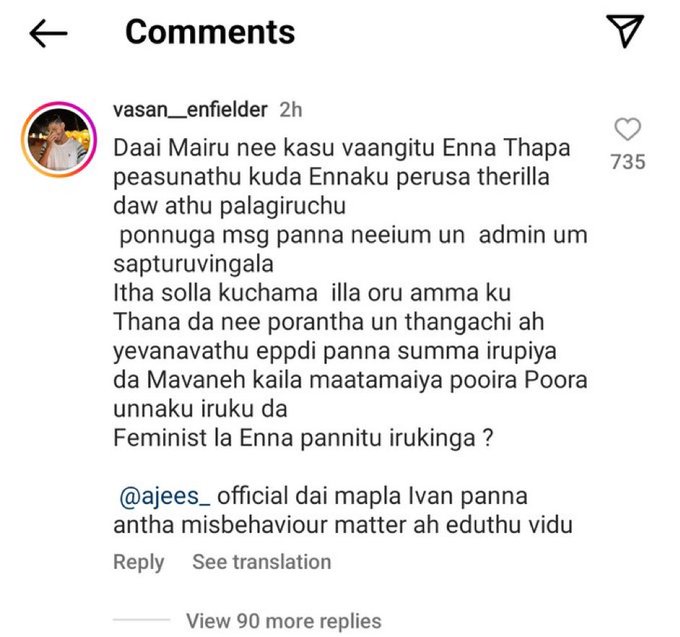 It all started after Ayyappan interviewed TTF Vasan, months ago. Ayyappan Ramasamy, in the interview, addressed almost all the issues caused by the moto vlogger ever since he celebrated his birthday by gathering his followers. Right from questioning about why he is failing to follow the traffic rules to the connection between himself and an accomplice of School Education minister Anbil Mahesh, Ramasamy asked questions based on the bad influence TTF Vasan is causing among the youngsters.
In the interaction that took place for Newsglitz, Ayyapan Ramasamy asked various questions to TTF Vasan including why he is influencing young kids to ride bike in a dangerous way, why he allows his fans to meet him irrespective of Police orders etc. Throughout the interview, TTF was seen justifying his activities. When the anchor asked him about the way he entered court to get bail for a case that was registered against him, TTF Vaasan who visibly got irritated, removed the mic and left the spot.
also read : Ayyappan Ramasamy's Instagram Followers Decreased After Video Leak ?? Check Out Some Of The Reactions
"On seeing the way you entered the court and made videos after committing a violation, youngsters might think that it is a kind of pride to get cases and enter the court by wearing suit" said Ramasamy to which TTF replied back saying "You are asking controversial questions right from the beginning"
He further asked "You asked for an interview and I accepted. Did you ask one question without controversy ? You should see things from my shoes. I came here after facing so many controversies. I don't feel like answering" TTF said and left the spot.
View this post on Instagram
The video garnered wide reach among the internet audience and Ramasamy received accolades from many online users for asking right questions to the youngsters. After the interview interacted with his fans and answered to their questions. To the one who asked about the Newsglitz interview, TTF Vasan said "I have received a world record. They didn't ask one question about the record but kept asking controversial questions for the views of their channel"
also read : TTF Vasan Walked Out Of Interview In Midway !! WATCH VIDEO
Recently, after Ayyappan Ramasamy caught into the controversy, TTF released a video in his social media handles, issuing a direct warning to Ayyappan. "I have no respect for that dog at all. He lost his respect. If you say that I have to give respect for his age, No, that is not required. Only, respect will be given based on an individual's activities. He received Rs. 45,000 as bribe and spoiled the lives of others, he didn't deserve respect" Vasan said.
In the full video, TTF Vasan requested the female online users not to go after the looks of an individual and to respect others based on their hard work and talent. In the video, TTF Vasan also wondered what feminists are doing without questioning the behaviour of people like Ayyappan Ramasamy.
Watch the video below :
source : Twin Throttles