TTF Vasan Responded To The Ongoing Controversy !!
By Dhiwaharan
TTF Vasan, a famous youtuber who is known for uploading motor vlogging videos, released a video in his youtube channel, giving clarification about the video he released with GP Muthu, another youtuber and social media icon. Vasan said that he did the video only to make fun and cure the depression of youngsters and requested the media channels to go easy on him.
View this post on Instagram
TTF Vaasan, a youtuber who enjoys 3.2 million followers for his youtube channel, grabbed the attention of the mainstream online users after celebrating his birthday with 8000 plus followers of him in Chennai. After uploading the birthday celebration video that last 30 plus minutes, TTF Vasan became a subject to the attention of mainstream media as media portals such as Sun news covered a piece about his birthday celebration.
Watch the video below :
Tamil nadu based youtube users who are born between 1990-99 baffled on seeing a video which shows thousands of people who are believed to be born after 2000 gathering to witness TTF Vasan. Most of the 90s kids are upset over the younger generation getting addicted and following a single personality who runs a youtube channel streaming the videos of his bike rides. At that time, TTF was accused of riding his bike at 247 KMPH speed by the online users.
Now, months after the incident, the youtuber got accused of riding bike in a way of causing danger to the human lives. Coimbatore Police department released a press note stating that the individual booked under relevant sections for riding vehicle in a careless way causing danger to the lives of others.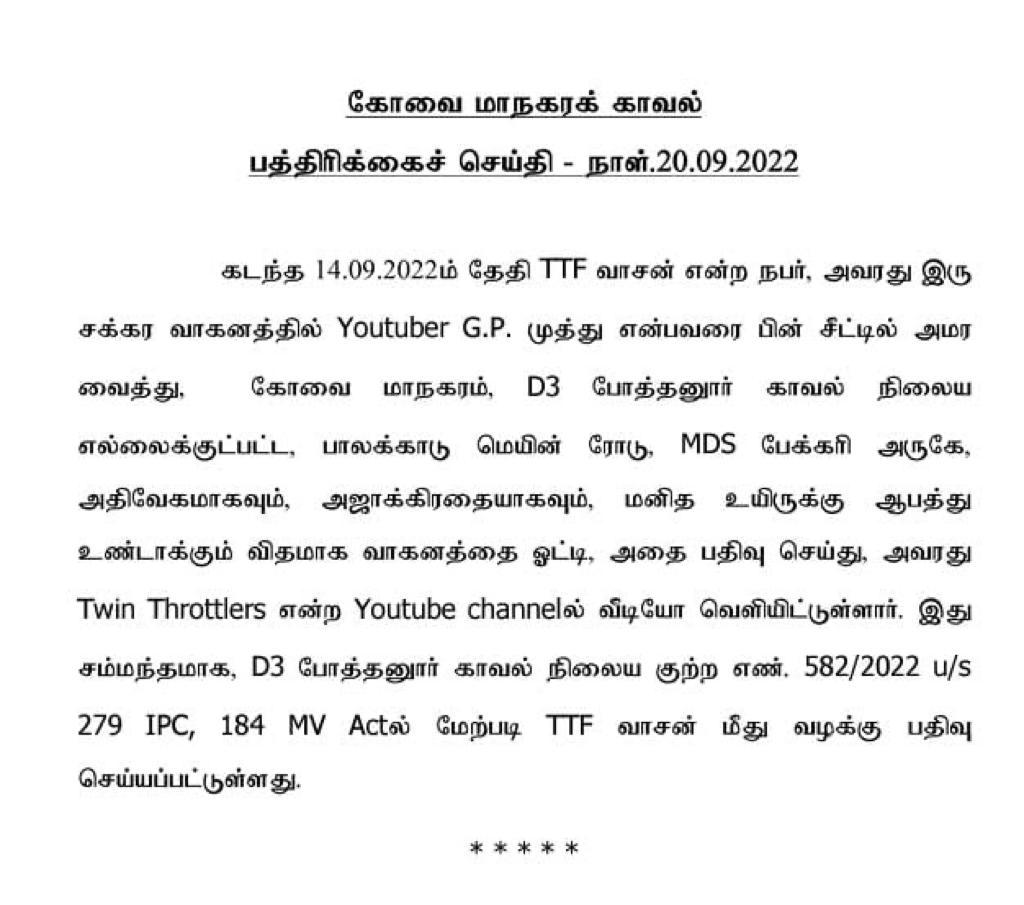 Reacting to the news that surfaced over it in the news channels, Vasan released a clarification video saying that he did it just for fun. Titling his video as "Dear news channels, I am going to surrender", Vasan said that he didn't expect his video with GP Muthu to go at trending number one.
"My approach towards my videos will always be humorous to reduce the depression of people who work all day. The video with GP Muthu Anna was uploaded with same intention. Many people would have relieved from stress on seeing that video but the angle you guys are seeing it is completely different" TTV said.
watch the video below :
"I have committed a mistake. I won't deny it. Riding the bike at 150 KMPH speed is my mistake. I have been reducing the speed of my bike after an issue erupted in the previous occasion. I will be reducing my speed hereafter but accusing me and demanding a jail sentence against me is not fair" Vasan said. The moto vlogger also revealed about his future plans about acting in short films and feature films. He also said that he will be going for a non-stop ride from Kanyakumari to Kashmir and about his travel to Ladakh and northeast.