Trisha's Recent Social Media Post About Her Health Left Her Fans Extremely Sad !!
By Dhiwaharan
Tamil actress Trisha who is known among the audience for pairing up with Vijay and Ajith, on Friday, came up with a post updating about herself testing positive with the COVID 19 virus days before the New year eve. The actress updated that she is recovering well and feeling good due to her vaccinations and also hoped to fly back to home after clearing her tests. Trisha's post left many of her followers sad with her colleagues and others wishing her for a speedy recovery.
Trisha is one of the leading actresses of Tamil film industry who acting career spans more than 18 long years. She is also one of the very few heroines in Tamil film industry to last in Tamil cinema after debuting in 2002. The actress enjoys a huge fan following in social media platforms and is engaging her fans by posting her pictures and videos in a daily basis.
Last seen in a film named "Paramapadham Vilayattu", Trisha is expected to appear in films such as "Ponniyin Selvan", "Garjanai", "Sathuranga Vettai" and "Rangi". The actress who was inactive in social media platforms for past few days, on Friday night, opened about herself getting infected with the COVID 19 virus.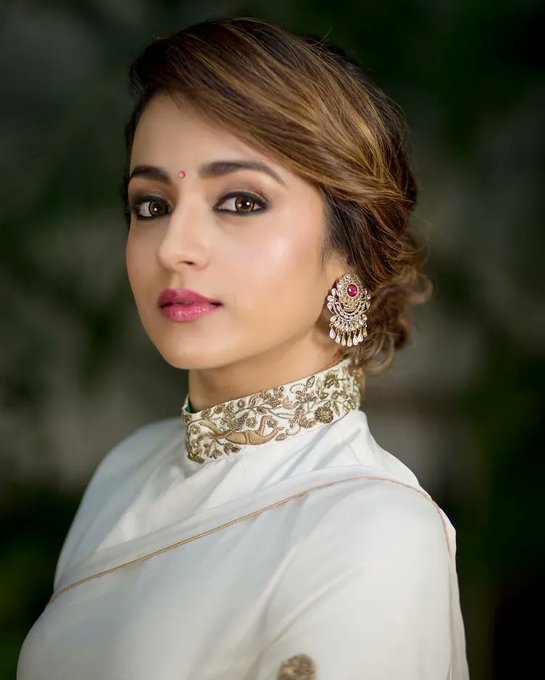 Trisha said that she tested positive just a little before New year, despite of taking all the precautions and safety measures. The "Gilli" actress said that she had all kind of symptoms and it was one of her harrowing weeks. However, the actress said that she is recovering and is feeling better due to her vaccinations. She advised people to wear mask and thanked her family and friends for all the prayers.
"Despite taking all the precautions and safety measures, I tested positive just a little before the New Year. You name the symptoms, I had it! Even though it was one of my most harrowing weeks, I am recovering and feel better today thanks to my vaccinations. I request everyone to do the same and mask up. Hoping to clear my tests and fly back home Soon. My heartfelt thanks to the best family and friends I have and for all the prayers" Trisha's post read.
Here's her post :
— Trish (@trishtrashers) January 7, 2022
Many of her followers, including her colleagues, wished her a speedy recovery. Some of the actress's fans also felt sad and requested Trisha to take care of her health.
Check out some of the reactions below :
Take care and get well soon dear.. loads of love to you and sending across virtual hugs 🤗🤗🤗🤗❤❤❤❤❤💐💐💐💐

— KhushbuSundar (@khushsundar) January 8, 2022
Wish you a speedy recovery
Take care.

— R.Seenu Ramasamy (@seenuramasamy) January 8, 2022
Wishing you speedy recovery dear.

— Sanam Shetty (@ungalsanam) January 7, 2022
Takecare!

— kiki vijay (@KikiVijay) January 7, 2022
Please take care @trishtrashers

— Brindha Gopal (@BrindhaGopal1) January 7, 2022
Wishing you a speedy recovery, Trish. ❤️ Sending love & prayers.

— Dr. Malvika Iyer (@MalvikaIyer) January 7, 2022
உடம்ப நல்லா பாத்துக்கோ சொல்லமே.. வீட்டுல மிளகு ரசம் வச்சு தர சொல்லுமா.. கண்டது கடியத சாப்டாம சரியாகுற வர கண்ட்ரோலா இருக்கனும் சொல்லமே..எல்லாம் சரி ஆகிரும் சீக்கிரமா.. எல்லாம் ஓகே ஆன அப்பரம் நச்சுனு ஒரு போட்டா சூட் வச்சு போட்டா வந்தா மனசுக்கு நிம்மதி செல்லம்.. பாத்து இரு பத்தரமா❤

— Sabarish ARR (@MeSabarish7) January 7, 2022
Take care.. Whenever you feel down, remember you have your fans by your side. Stay strong as always

— Sumedh D (@Sumedh2D) January 7, 2022
Sorry to hear about your infection. Hope you recover fast and recover soon to your normal self. Take care and best wishes for your speedy recovery. 👍👍👍

— Satish Rao Maganti (@SatishRaoMagan1) January 7, 2022
Thalaiviii #southqueen @trishtrashers pls take care of your health 😔😔😔😔😔…….We will pray for you❤❤

— Ladysuperstar Trisha FC 👑 (@superstar3sha) January 7, 2022
Darlinggg 😢😢😢 pls pls take care….❤❤

— Uthra💕TRISH (@uthratrisha) January 7, 2022
Oh No,,,….

😢😢😢😢😢
I wish you for a speedy recovery dear @trishtrashers..

Come soon Mam. 😔

— Actor_Guhan (@guhan_actor) January 8, 2022