Trailer Of "The Gray Man" Released!! Here's How Dhanush Fans Reacted
Dhanush
Fans
The Gray Man
Trailer
CM / Updated: 2022-05-24
22:58 IST
By Dhiwaharan
The much awaited trailer of "The Gray Man" released in internet on Tuesday evening with much expectations from fans. Directed by Russo brothers of "Avengers" fame, along with globally acclaimed stars Ryan Gosling, Ana De Armas and Chris Evans, actor Dhanush who is known for predominantly appearing in Tamil films, has played a pivotal roles and the Netflix project has special attention from Indian fans due to the presence of Dhanush.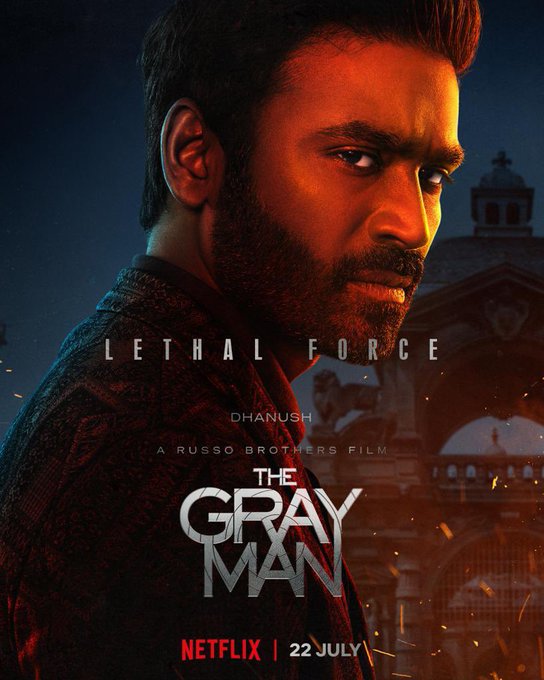 Now, as the trailer got released, many kind of reactions are being flooded in the internet related to Dhanush's presence. Many seem to be worried about the screen presence of the national award winning actor as he barely appeared in the 2 minutes and 12 seconds long trailer.
The action packed trailer shows all the lead artists involving in fighting men with rage. It has been reported that Ryan plays the titular role "The Gray Man". Chris Evans has played the role of his psychopathic adversary in the spy thriller. Based on the novel, " The Gray Man", the film is directed by Anthony and Joe Russo.
Watch the trailer below :
As soon as the trailer released, many of Indian fans who are waiting to witness the film only to witness Dhanush, expressed a little bit of their disappointment. Tweet of Russo brothers was filled with comments from Dhanush fans questioning about the weightage of his character.
"You took INDIA's best actor.. @dhanushkraja Does he have any screen time in the film @Russo_Brothers ? " a fan commented whereas another one said "Please, don't make my man danush look like anil kapoor in mi5 or 4 please, that's my only concern. I believe in your direction skills but it's a big thing for us indians. Just saiyan!". Many other fans of Dhanush commented saying that they are waiting for the movie only for Dhanush.
Check out some of the reactions below :
Please, don't make my man danush look like anil kapoor in mi5 or 4 please, that's my only concern. I believe in your direction skills but it's a big thing for us indians. Just saiyan!

— Saiki. K – Guy Who Gives A Damn! (@anonymunda) May 24, 2022
Am @dhanushkraja Sir Fan why are showing in single shot in trailer????

— Sandy (@Sandy450417) May 24, 2022
in trailer just a 3 or 4 sec @dhanushkraja coming.
if you add a dialog of @dhanushkraja may be View will going million with in 30min, its my concern. @netflix @NetflixIndia ☺️

— Sivam 'சிவம்' (@shivalogan) May 24, 2022
You took INDIA's best actor.. @dhanushkraja
Does he have any screen time in the film @Russo_Brothers ?
Waiting eagerly.❤🔥🤞

— rithwik (@rithwik27880036) May 24, 2022
One and only for @dhanushkraja
I hope you guys used him well @Russo_Brothers 🙏

— ~VaáThi ) _ (@San22sravan) May 24, 2022
Make sure @dhanushkraja is fully there in the film and not 10 or less minutes ! If not @Russo_Brothers are going to lose a lot of fans!

— SP THIVA (@SpThiva) May 24, 2022
sad to see no verbal context for Dhanush in the trailer

— Venkatesh (@imvenkyZirdi) May 24, 2022
So stunning Dhanush role co equipping #LloydHansen " teaming up" his group 💪💪✊✊✊✊👊👊👊👏👏👏👏👏👏👏💣💥💣💥💥💥💣💣💣

— maria gabriela fernandez (@mariaga99537204) May 24, 2022
Dhanush 🥺❤️🔥 pic.twitter.com/VaxysmLrh6

— вυnny♡ (@gurugtweetz) May 24, 2022