Top Heroine's Official Clarification About Acting With "Legend" Saravanan !! Check Reactions !!
Written by Dhiwaharan Published on Oct 02, 2019 | 17:46 PM IST | 142
Follow Us
Comments: 0
For a very long time, there was this news of Saravana Stores owner Legend Saravanan is making his debut in Kollywood as protagonist. Earlier it was reported that he made Lady Superstar Nayanthara to nod to pair with him in his debut. But that doesn't elevate to next level and ended up as a mere rumour.
[wp_ad_camp_1]
Selvarathinam's son Saravanan Arul who controls different shops of Saravana Stores expected to enter Tamil film industry as a producer initially but after the reach of his advertisements, he decided appear as hero it seems. Saravana Arul who uses "Selvarathinam" logo for the stores under his control has appeared in several advertisements of his own shops.
Legend Saravanan is very much popular among Tamil netizens for his appearance in the advertisements of his own products. He paired up with Hansika and Tamanna simultaneously in few advertisements which caused hilarious video memes, created by netizens. He even made almost every TV actors to feature in one of his advertisements for Saravana stores.
[wp_ad_camp_1]
Earlier it was reported that he was impressed by the story narrated by director duo, JD – Jerry (Joseph D Sami and Gerald) and given nod to act in the film. It was also reported that some of the top heroines are approached to pair up with Saravanan in the movie. A recent news said that the actress Hansika was confirmed as lead lady in the movie which is touted to be a fantasy thriller.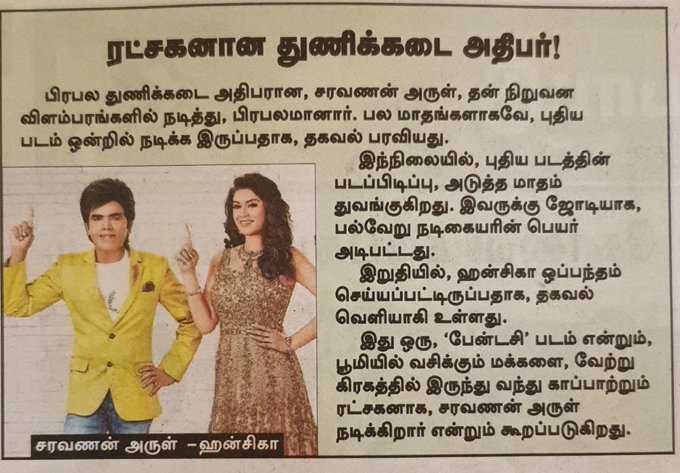 Now, in a way of denying this news, actress Hansika Motwani who debuted to Kollywood through Danush's Mappillai posted a tweet in her official twitter account. She uploaded the above image and said that it is "NOT TRUE" in her tweet. Check out the tweet here :
NOT TRUE ! ❎ pic.twitter.com/uY0jq5OH8q

— Hansika (@ihansika) October 2, 2019
However, this tweet from Hansika made netizens to talk about the pair teaming up to act together in a movie. Check out some of the reactions this post of Hansika received :
😂😂😂😂😂 ஆமா ஏதோ புதுசா இப்படி பன்ற மாதிரி.
உதயநிதி கூட நடிக்கிறப்ப, இந்த ஆள் கூட நடிக்க என்ன கஷ்டம் pic.twitter.com/cUrrcjHBAH

— வினித்தியன் தல⁶⁰ ⚡️ ˢᵒᵒⁿ (@Vineethian10) October 2, 2019
Saravana annachi mind voice: alagaha poranthathu en thappa 🤣🤣 pic.twitter.com/vXmUXinWTK

— onida mandayan (@onidamandayan) October 2, 2019
[wp_ad_camp_1]
ஏம்மா Add la மட்டும் சோடி போட்ற படத்துல சோடி போட மாட்டிகளோ..

ஆனா இப்டிதான் சொல்விங்க கடசியா சம்பளம் ஏத்துனதும் கதை எனக்கு பிடிச்சதால் நடிக்குறேன்னு உருட்டி விடுவிங்க

— Thara Selvi 😐 (@itzqueen_06) October 2, 2019
😂😂😂😂😂 pic.twitter.com/9xiBCcimKL

— M ʀ . B ɪ ɢ ɪ ʟ ᴜッ (@ThalapathyanDaw) October 2, 2019
Enna dhaan poi ya irrundhalum oru nyayam venama da alien lam vechi kalaichi irrukingala da 🤣🤣🤣

— PraveeN (@Praveen70612106) October 2, 2019
What do you think on this clarification from Hansika ?? Comment your views !!