Dance choreographer cum actor and leading filmmaker Raghava Lawrence announced that he is going to provide a new house for Parvathi Ammal, life story of whom was made as a film by actor Suriya's 2D entertainments. The actor who became one of the leading heroes of Tamil cinema through his horror flicks, is very much known for helping poor, needy and specially abled people. The announcement made by the actor is being welcomed by public and he is received accolades from all over the Internet.
[wp_ad_camp_1]
The actor said that he became aware about the hardship Parvathi Ammal going through in real life after watching a video made by "Valaipechu" YouTube channel. Bismi, Sakthivel, Anthanan who are running the channel, met Parvathi Ammal in her village and presented her a gold chain. They also reported about the state of her rental house through their video and asked actor Suriya to provide permanent solution for her living.
Watch the video below :
"Valaipechu" makers also pointed out that Parvathi Ammal didn't belong to "Irular" community but to a community named "Kuravar". They wanted Suriya and co to help Parvathi Ammal without delay. On seeing the video, Raghava Lawrence released a video promising to provide a new house for Parvathi Ammal and her family.
"The hardship Parvathi Ammal is going through after facing severe punishment for a crime that her husband didn't commit, affected me a lot" Raghava Lawrence said giving credits to "Valaipechu". "After knowing about the details, it worried me more. I have promised to build a house for Parvathi Ammal. I thank Valaipechu team for making me aware of Rajakannu's wiife Parvathi Ammal" the actor-director said in his post.
[wp_ad_camp_1]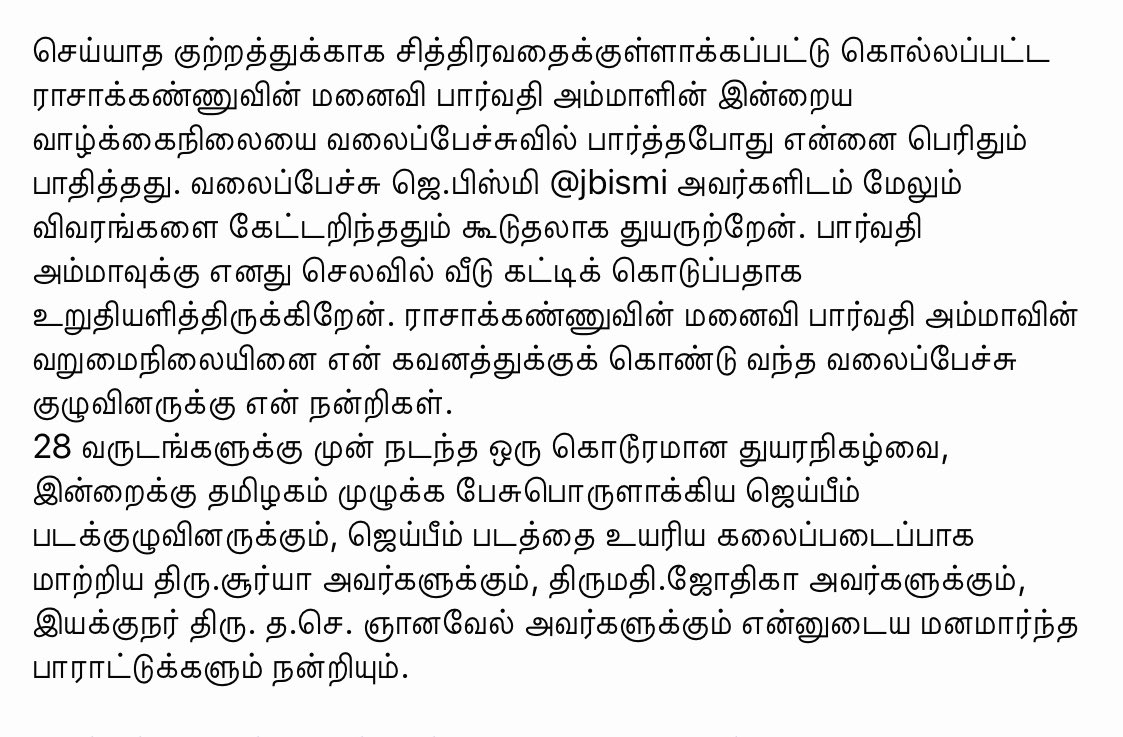 Lawrence also thanked "Jai bhim" team for causing the discussion about the cruel incident that took place 28 years ago. He ended his note by thanking Suriya, Jyothika and Gnana vel. Check out the tweet of the actor below :
A house for Rajakannu's family 🙏🏼 #JaiBhim #Suriya @Suriya_offl @2D_ENTPVTLTD @rajsekarpandian @tjgnan @jbismi14 @valaipechu pic.twitter.com/nJRWHMPeJo

— Raghava Lawrence (@offl_Lawrence) November 8, 2021
Here's some of the reactions his post garnered :
#JaiBhim ❤️🙏 pic.twitter.com/BXnXwictcW

— Ajai Aju (@Ajaiaju_offl) November 8, 2021
[wp_ad_camp_1]
இதனால்தன் உங்களை எனக்கு ரொம்ப ரொம்ப புடிச்சிருக்கு , நான் ராகவா லாரன்ஸின் ரசிகன் என்பதில் மிக மகிழ்ச்சி அடைகிறேன் 💙🥰🙏🤗 @offl_Lawrence #raghavalawrence #JaiBhim #JaiBhimOnPrime @Suriya_offl #JaiBhimMovie #rudhran

— Mahesh Vijay (@MaheshDevan7) November 8, 2021
Intha tweet ahh patichathum kannu kalangitu na vera level negga 😭

— 𝙆𝙚𝙙𝙖𝙧𝙞 𝙠𝙖𝙧𝙩𝙝𝙞 (@KarthiKedari) November 8, 2021
உதவின்னு வந்துட்டா அதை யோசிக்காமல், பிரதிபலன் பார்க்காமல் செய்றீங்க பாருங்க அந்த மனசு தான் சார் கடவுள்.

— Arun (@nask08) November 8, 2021
"Jai Bhim" released on Amazon Prime on 1st of November with much expectations among fans. The film is getting humongous amount of positive response from fans and is being widely watched due to the word of mouth. Based on a true event that happened in the year 1995, the film concentrates on showing light to the hardship people of tribal community went through at that time. Exposing the police brutality, the film shows how lawyer Chandru won the case without receiving a penny from his client who is a wife of the victim. Though the incident took place 25 years ago, it looks still relevant due to the police atrocities that are still taking place in the state.