Top Filmmaker Trolled Kamal Haasan Ahead Of His Birthday ??
Birthday
Kamal Haasan
rajinikanth
CM / Updated: 2021-11-06
18:51 IST
By Dhiwaharan
A reply tweet made by actor cum director Venkat Prabhu to an ardent fan of actor Rajinikanth offended Kamal Haasan fans. Attempts in trending negative hashtags against the filmmaker is also being made by Kamal fans. It all started when a Rajinikanth's fan wished advance "Happy Birthday" for Venkat Prabhu who is going to celebrate birthday on 7th of November on the same day of Kamal Haasan's birthday.
[wp_ad_camp_1]
It is very well known to all of us that Ulaganaayan Kamal Haasan and Superstar Rajinikanth are the two pillars of Tamil cinema. Every aspiring actor who wants to be an actor in Tamil cinema must have been inspired either by Kamal Haasan or by Rajinikanth. Both of them achieved many milestones in their respective career and fan base of both the actors is immense even today.
Being introduced by legendary filmmaker K Balachander, both of them identified as best friends since the day they started sharing screen space together. After appearing along with Kamal Haasan in few movies as a character artist, Rajinikanth started acting as solo hero in movies once Kamal Haasan advised him to take care of his own career. Now he has a fan base which no other hero in the world could imagine.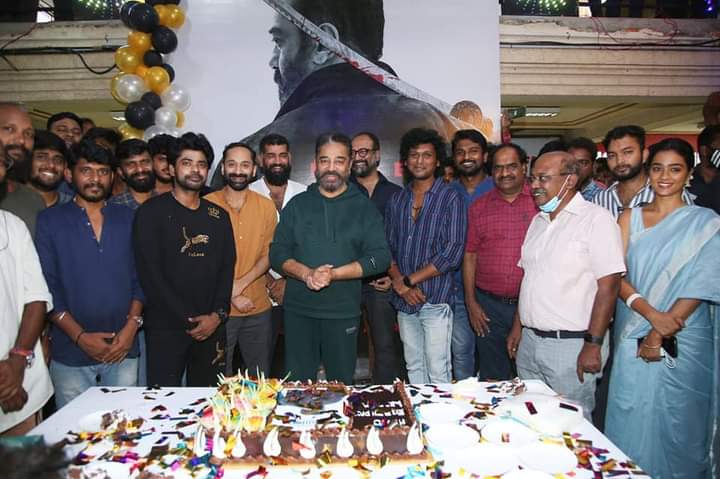 Now, both the actors are being considered as rivals and the fans of both of them are involving in verbal spat in online platforms. On 7th of November, Kamal Haasan is going to celebrate his 66th birthday. Director Venkat Prabhu of Chennai 28 and Mankatha is also celebrating his birthday on the same day.
One of Rajinikanth's fans, in a way of trolling Kamal Haasan, wished Venkat Prabhu by mentioning him as an multi faceted personality. "நாளை (நவம்பர் 7) பிறந்த நாள் கொண்டாடும் தமிழ்த் திரையுலகில் நடிகர், இயக்குநர், தயாரிப்பாளர், பாடகர், பாடலாசிரியர் என்று பன்முகத் திறமை கொண்ட சகலகலாவல்லவர் @vp_offl அவர்களுக்கு முன் கூட்டிய இனிய பிறந்த நாள் நல்வாழ்த்துகள். வாழ்க வளமுடன் & நலமுடன்" tweet of Mayavarthanan, one of Rajini's ardent follower wrote in his tweet.
[wp_ad_camp_1]
Check out his tweet below :
நாளை (நவம்பர் 7) பிறந்த நாள் கொண்டாடும் தமிழ்த் திரையுலகில் நடிகர், இயக்குநர், தயாரிப்பாளர், பாடகர், பாடலாசிரியர் என்று பன்முகத் திறமை கொண்ட சகலகலாவல்லவர் @vp_offl அவர்களுக்கு முன் கூட்டிய இனிய பிறந்த நாள் நல்வாழ்த்துகள். வாழ்க வளமுடன் & நலமுடன்.

— மாயவரத்தான் கி. ரமேஷ்குமார் 🤘 (@mayavarathaan) November 5, 2021
Replying to him, Venkat Prabhu said that he initially thought that he got wrongly tagged. "Only after seeing it completely, I realized the inner intention" Prabhu said in his tweet. "Hehehehehe thank q saar!! Avlo build up pathoney thappa enna tag panniteenga pola nu nenechen!! Apparam thaan ull kuthu Purinjidhu!! 😁"
Here's his tweet :
Hehehehehe thank q saar!! Avlo build up pathoney thappa enna tag panniteenga pola nu nenechen!! Apparam thaan ull kuthu Purinjidhu!! 😁

— venkat prabhu (@vp_offl) November 6, 2021
This reply of Venkat Prabhu irked Kamal fans as a result of which they started trending hashtag against him. Check out some of their reactions below :
#எச்சப்பய_வெங்கட்பிரபு
நல்லா வந்துருக்க வேண்டிய ஆளாச்சே…டேலன்ட் இல்லைன்னும் சொல்லமுடியாதே…ஏன் இவரு தடுமாறுறாருன்னு நெறைய தடவை தோணியிருக்கு. இப்போ தெரியுது…மனசு முழுக்க வன்மம். Headerல அவர் இருக்குற படத்தை வச்சிக்கிட்டு அவரையே ட்ரோல் பண்றீயேய்யா நியாயமா?? pic.twitter.com/cFume7AOdl

— Karthik Bala (@kb4bala) November 6, 2021
[wp_ad_camp_1]
You lost your name & credibility., you deserve this hashtag 😡

@vp_offl#எச்சப்பய_வெங்கட்பிரபு

— Rajesh (@rnrajesh23) November 6, 2021
இதுக்கு எல்லாம் பேர் என்ன தெரியுமா #எச்சப்பய_வெங்கட்பிரபு
pic.twitter.com/evXwLnd0PU https://t.co/LyqNYtpttX

— Mathan K5 (@MathankamalTUTY) November 6, 2021
Respect you had been lost today. Yes you are talented but you are also a disrespectful donkey. No wonder #Ajith is not calling u again even after a hit. Your attitude sucks. Ask an open APOLOGY to #KamalHaasan sir and fans. @ibalamurugan72 @SakalaVallavan#எச்சப்பய_வெங்கட்பிரபு

— அப்துல் Bhaai (@NewBhaai) November 6, 2021
All Kamal Fans, Dont Watch his Movies on Theatre anymore. If "YES" Means "RT"@vp_offl#எச்சப்பய_வெங்கட்பிரபு

— Murugan Subbiah-MNM (@NAALAINAMATHEA) November 6, 2021
வாங்க உள்குத்து #எச்சப்பய_வெங்கட்பிரபு pic.twitter.com/UM6LmWTWXJ

— Gym Swathi ❤️🏋️💪 (@Gymswathi) November 6, 2021