Top Director Slammed Cheran For Not Letting Kavin & Losliya To Marry Each other !! Check His Full Statement !!
Bigg Boss Tamil 3
Kamal Haasan
Kavin
Losliya
4 years ago
By Dhiwaharan
Bigg Boss show is keeping not only viewers of it busy but also the people who are connected to the contestants. With three promos and a show streaming time for 1 hour per day, the show grabbing headlines almost everyday. Many incidents that are taking place inside the house becomes the subject of debate in social media platforms. Starting from Saravanan's controversial termination to Losliya father's rejecting her love relationship with Kavin , the show never missed to entertain the audience.
[wp_ad_camp_]
This week Bigg Boss implemented the "Freeze" task in which contestants should not move when their parents or spouses enters the house to see them. In this week's "Freeze" task, Mugen's mother and sister entered the house initially which made him happy as he hasn't seen them for more than 70 long days. Yesterday, parents of Losliya entered the house to see their daughter.
They expressed their disappointment on seeing the change of behaviour in Losliya after entering the house. They asked her to concentrate on the game and to forget everything else. They also thanked Cheran for taking care of Losliya. Cheran, right from the initial episodes, disliked the relationship between Kavin and Losliya.
He advised Losliya to elevate the relationship after getting out of Bigg Boss house. He advised Kavin the same and questioned him about the same while being in the secret room. Now, after watching the yesterday's episode, popular director Vasantha Balan who is known for directing socially responsible films like Angaadi Theru, Kaaviya Thalaivan expressed his opinion on how Cheran restricted the relationship between Kavin and Losliya.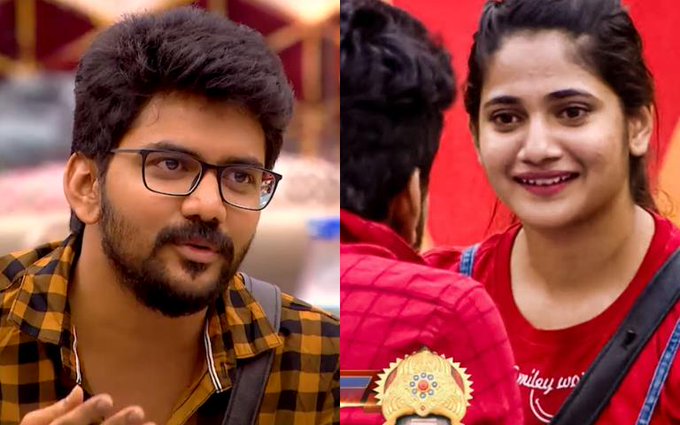 [wp_ad_camp_]
In his Facebook post, the director compared Losliya and Kavin's relationship with Malayalam season-1 Bigg Boss couple Pearle Maaney and Srinish Aravind's relationship. Srinish Aravind, being a Tamil tv actor, participated in the first season of Malayalam Bigg Boss and fell in love with Pearle Maaney, a video jockey. They both involved in a deep relationship while being inside the house and got married after getting out of Bigg Boss house. On 17 January 2019, Srinish got engaged to Pearle at a private ceremony. They got married at a church in Aluva on 5 May 2019 and on 8 May 2019 they had a Hindu wedding ceremony as well.
Check out this short video of them :
Coming back to the FB post of Vasantha Balan, the director terms Bigg Boss show as "Miniature" of this entire world. "But everyone kept reminding the duo that it is just a "Game" show. Especially, Cheran kept insisting it on both of them. So still Tamilnadu stands tall as a state that opposes "Love". What would "Bigg Boss" do?? According to me Bigg Boss is not a game. It is a life and everyone should live in it. In that life Love and Tears are common." said the statement of Vasantha Balan.
Check out the screenshot of his FB post here :
[wp_ad_camp_]
"Being a father of my daughter, I will maintain my standard. I felt really bad when people around me talking bad about my daughter. If they are talking like that infront of me. How extreme they will go in my absence" worried Losliya's father about the public in yesterday's episode. "Even people who know me very well asked me if I am going to attend my daughter's marriage while I was coming here. Imagine how I would have felt." he said.
Comment your views on Vasantha Balan's statement ?? Let us know your views !!