Top Director Got Severely Criticized For Disrespecting Rajini & Vijay !! Here's His Clarification !!
Written by Dhiwaharan Published on Aug 02, 2019 | 14:40 PM IST | 106
Follow Us
Comments: 0
Raju Murugan is a writer, journalist turned filmmaker from Thanjavur. His works include Vatiyum Muthalum, Ondru and Gypsy, all of which were published in Ananda Vikatan.[1] He made his directorial debut with Cuckoo. His second film, Joker, was awarded the Best Feature Film in Tamil award at the 64th National Film Awards. It was accoladed by many cinema celebrities and fans for its strong content.
[wp_ad_camp_1]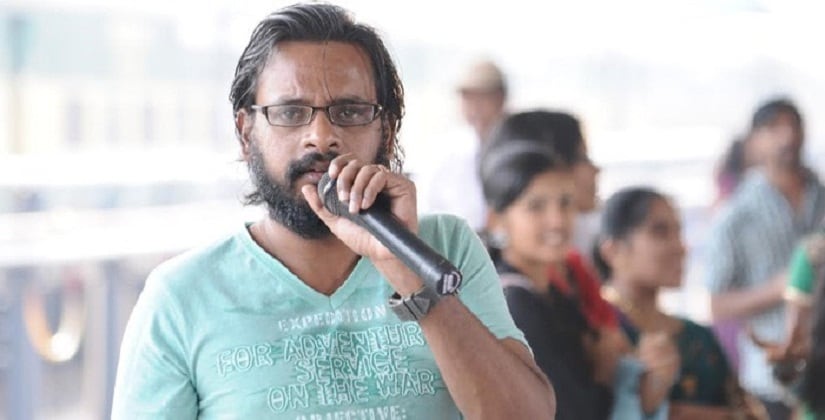 At the audio launch of the movie, "Munthirikaadu", Director Rajumurugan caught in controversy for disrespecting the tag names of Rajinikanth and Vijay. While wishing the film for a success, Director Rajumjurugan requested to director turned politician Seeman, to keep a tag name for the hero of the movie.
"Where there are Superstars and Ilayathalapathys, please keep a tag name for our hero" he asked to Seeman in the audio launch while giving his speech. Check out the video here :
Had very high regards for this gentle man @Dir_Rajumurugan and look at him now. Thank you for bringing out your true colours out, director SIR. Thalaivar's 40 years of hardwork in this industry isn't joke. We wish you good luck for all your upcoming movies. God bless. pic.twitter.com/qSaV2fW9ZM

— Rajinifans.com (@rajinifans) August 1, 2019
This speech from the director faced the wrath of fans who follows Superstar Rajinikanth and Ilayathalapathy Vijay. They tagged the director in Twitter and expressed their disappointment over his speech.
@Dir_Rajumurugan You seriously need to learn moral values, discipline and ethics immediately. The consequences of not doing it may be a disaster in your life. Later repentance is of no value dear. #rajinikanth pic.twitter.com/ce8NSjjPtk

— Gabriel_Unchained 🤩 (@Gabriel11161362) August 1, 2019
[wp_ad_camp_1]
If some other person gives poor statement or spoke bad that's different .

But when comes to respectful director who spoke poor statement it's very hard they losing their respect .
Anyway he apologized . #IgnoreNegativity #Thalapathy @Dir_Rajumurugan

— Raghul (@raghulsibi96) August 1, 2019
@Dir_Rajumurugan i had respect for you.. now its gone.. better be careful with words., otherwise nai kooda unna mathikkathu.. #Superstar title was given coz love from people.understand it 😡😡

— Sadique (@ersadique) August 1, 2019
இவர்தான் சூப்பர் ஸ்டார்.
யார் யாருனுலாம் பாக்கமாட்டார், தட்டிக்கொடுத்துட்டு தன் வழியில் போய்ட்டே இருப்பார்.@Dir_Rajumurugan https://t.co/DjUxAAX528

— °தியானி° 👒 (@AthiKaari) August 1, 2019
@Dir_Rajumurugan r u mad ? Stupid speech about Thalaivar and vijay we r condemned

— K.KANNAN (@JURASICPINK) July 31, 2019
[wp_ad_camp_1]
However, Director Rajumurugan who became aware of the situation immediately posted a tweet and said that he respects the hard work of both the actors. "I feel sorry for the inappropriate words" the director wrote in his tweet. I respect their  contribution to the art of cinema" Raju Murugan added in his tweet. Check out his tweets here :
ஒரு இசை வெளியீட்டு நிகழ்வில் எந்த உள்நோக்கமும் இல்லாமல் உற்சாகப்படுத்துவதற்காக பேசப்பட்ட விசயம் அது. வார்த்தைகள் தவறாக அமைந்ததற்கு வருந்துகிறேன். ரஜினி அவர்களும், விஜய் அவர்களும் தங்களது உழைப்பால், அர்ப்பணிப்பால் தமிழ் சினிவாவின் இந்த உச்சங்களைத் தொட்டவர்கள்.

— Director Rajumurugan (@Dir_Rajumurugan) August 1, 2019
கலைத்துறையில் அவர்களது பங்களிப்பின் மேல் உயர்ந்த மரியாதை எப்போதும் எனக்கிருக்கிறது! @rajinikanth @actorvijay

— Director Rajumurugan (@Dir_Rajumurugan) August 1, 2019
Raju Murugan is awaiting for the release of his upcoming movie Gypsy which has actor Jiiva in the lead. What do you think on this incident ? Comment your views below !!