Tim Paine Wife's Hilarious Reaction To ICC's Painting !! You Just Can't Believe This !!
By Dhiwaharan
The International Cricket Council (ICC) announced the awards for the year 2018 on Tuesday. While Virat Kohli swept the top three awards, the youngster Rishabh Pant won the Emerging Cricketer of the Year award for the sensational start to his Test career. More than that, the way the ICC's Twitter handle congratulated him has left many in splits and Tim Paine's wife Bon Paine has loved it as well.
[wp_ad_camp_1]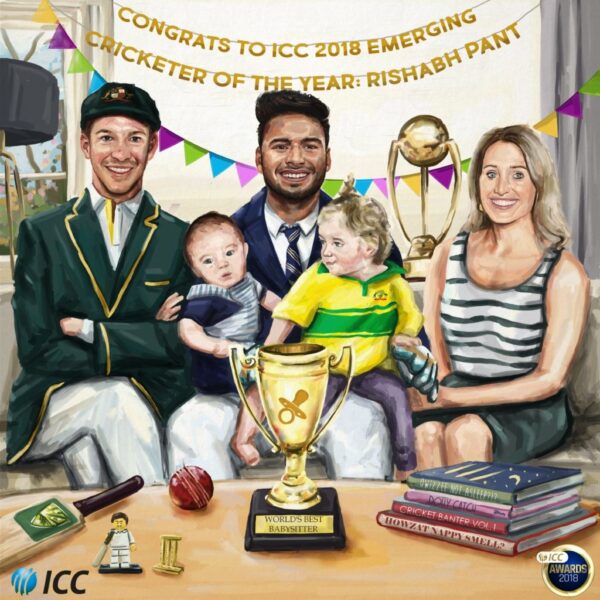 ICC posted the picture which consisted the Tim Paine and Bon Paine sitting with their kids along with Rishabh Pant in the middle babysitting them. The banter goes back to the third Test between India and Australia in Melbourne when Paine, while wicket keeping, had offered a babysitter role to Pant.
Tim Paine doing some recruiting for the @HurricanesBBL out in the middle of the 'G… 😂 #AUSvIND pic.twitter.com/6btRZA3KI7

— cricket.com.au (@cricketcomau) December 28, 2018
On Tuesday, ICC posted a sketch of Pant with Paine family on social media, captioned: "Champion babysitter and champion cricketer. Rishabh Pant is the ICC Men's Emerging Cricketer of the Year 2018!"
Check out the tweet here :
Champion babysitter and champion cricketer. @RishabPant777 is the ICC Men's Emerging Cricketer of the Year 2018!#ICCAwards🏆 pic.twitter.com/xrVuyNjao0

— ICC (@ICC) January 22, 2019
Meanwhile, Bon Paine has loved to see her family with Rishabh Pant. However, she has hilariously trolled herself with a cheeky comment in her latest Instagram story. Ever since the babysitter banter gone viral, she has time and again tagged Rishabh in her stories asking for his availability for the role and also credited the 22-year-old for her instant increase in followers on social media as well.
[wp_ad_camp_1]
"haha dying over this sketch. But I do wish my bust was that big" Bon wrote in her Instagram story while expressing her delight over ICC's tweet.
Tim Paine and Rishabh Pant were constantly involved in sledging banters during the ongoing four-Test series between India and Australia. In one of the funny exchanges, Paine had asked Pant, "Do you babysit? I can take my wife to the movies while you watch the kids."
[wp_ad_camp_1]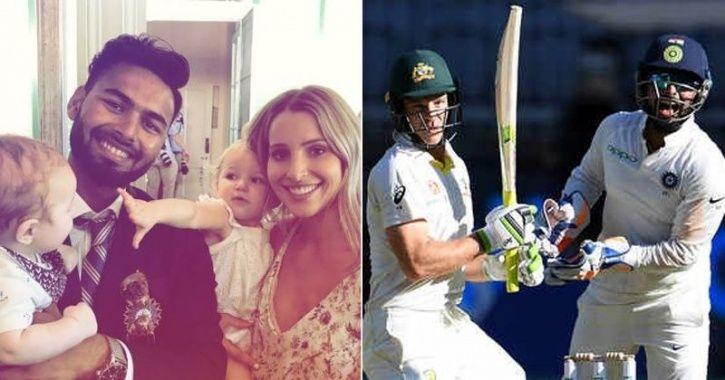 Well, a few days later Tim Paine's wife, Bonnie Paine took to Instagram to share a photo of Pant with her kids and captioned it: "Best babysitter". Notably, on New Year's day.
Pant remained in high demand even from the Indian camp. Rohit Sharma, who recently became a father, wondered whether Pant would be happy to take over babysitting duties. Pant became the first Indian wicket-keeper to score a Test century in England, and equalled the record for the most catches taken in a Test, with 11 against Australia in Adelaide in December.
He was also the first Indian wicket-keeper to score a Test hundred in Australia.