This Tweet From Harbhajan Made Tamizh People Go Crazy !! Check out !!
Written by Dhiwaharan Published on Oct 04, 2018 | 09:31 AM IST | 63
Follow Us
Comments: 0
After winning hearts in Telugu filmdom with films such as Pellichoopulu and the path-breaking Arjun Reddy and the recently released Geetha Govindam, Vijay Devarakonda is all set to test his luck in Tamil filmdom with his next project Nota, a Tamil-Telugu bilingual, being directed by Irumugan fame Anand Shankar.
[wp_ad_camp_1]
The film officially went on floors in March after its release it was officially launched in Chennai. With the film which is in the post-production stage, the makers are aiming for a release on October 4, two weeks before the Ayudha Pooja festival.
Tipped to be a political thriller, Deverakonda agreed to do a bilingual for the love of Tamil audiences. "For all the love people from Tamil Nadu have given me, let me tell them that they'll see my performance in my own voice. I can guarantee it. Tamil audiences love made me want to go bilingual," the actor reportedly said.
ijay will dub himself in Tamil for his character in this political thriller. The film has Mehreen as the leading lady and Chennai's supermodel Sanchana Natarajan essays a key role. This will be the second film in Tamil for Mehreen after Nenjil Thunivirundhal. The film is produced by KE Gnanavel Raja of Studio Green. The technical crew of the film includes Shankar–Ehsaan–Loy for music and CS Shyam for cranking the camera.
[wp_ad_camp_1]
He currently has a slew of films in his kitty including Taxiwala which has Malavika Nair as his co-star and DearComrade lined up for release.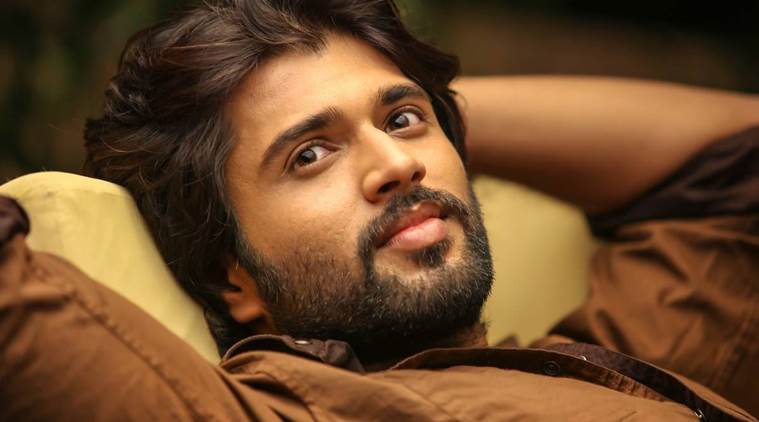 In his recent video for youtube channel Put Chutney, the actor performed a comedy play. In the video he demands a pure Tamizhan to teach him how to become a chief minister of Tamilnadu. They sarcastically trolled every politician of Tamilnadu through this video. In the beginning they also referred cricketer Harbhajan Singh as a tamil poet.
On seeing the video, Harbhajan Singh in his twitter account posted a write up in Tamil as a note of wishing the actor for his upcoming film. Though it is a known fact that it is his fab from Tamilnadu writing Harbhajan's tamil tweets, people from Tamilnadu went crazy on seeing the tweet.
[wp_ad_camp_1]
Check out the tweet here :
வணக்கம் அர்ஜுன் ரெட்டி எப்பிடி இருக்கீங்க தம்பி இப்போ தான் வீடியோ பாத்தேன் உங்க மரியாதை பார்த்து சிலிர்த்து போய்ட்டேன் இந்த பேரு, புகழ் எல்லாம் தமிழ் மக்கள் குடுத்தது வாழ வைக்குற தெய்வம் உங்க படம் நல்லா வரட்டும் தம்பி வாழ்த்துக்கள் @TheDeverakonda @put_chutney @StudioGreen2 pic.twitter.com/mmHiluQXCs

— Harbhajan Turbanator (@harbhajan_singh) October 4, 2018
Check out the reactions from people here :
#harbhajansingh #Ha jai bajji pic.twitter.com/A4c8G4cqTJ

— 🎭jåGäÑ $mårT🎭 (@jaganjagan07) October 4, 2018
தமிழ் மீதும் தமிழர்கள் மீதும் பெரும் பற்று கொண்ட தன்னை தமிழனாகவே என்னும் தமிழன் அன்பு அண்ணன் ஹர்பஜன் சிங் அவர்களுக்கு நன்றியும் வணக்கமும்.. 💝💝💝😍😘🙏

— Selva Thamizh (@selvanov26) October 4, 2018
Thamizhans: hey bhajji nama tamizh baashai pesurapala💕💕💕 pic.twitter.com/m1vZ1gIIDX

— Contractor Nesamani (@Bulla_Mohd) October 4, 2018
தன்மான தமிழன் ஹர்பஜன்சிங்கே தமிழகம் வா, தலைமையேற்க வா.

— Nellai Bala⚓ (@JESUBLN) October 4, 2018
தமிழ் மீது உங்களுக்கு உள்ள பற்றுக்கு நாங்கள் மிகவும் மகிழ்ச்சி அடைகிறோம்
😍😍😍

— Sha Vj (@thisisshavj) October 4, 2018
அப்ற மாமு எப்டி இக்கிற 😂😂😂@harbhajan_singh

— Arunasaithambi (@arunasaithambi) October 4, 2018
@harbhajan_singh கெத்து சார் நீங்க pic.twitter.com/qc4l5eSosm

— தென் பாண்டி தேவேந்திரர்🌾🇧🇫🗡️ (@dmrovqkthffYAYN) October 4, 2018
அடப் பாவியளா 😂😂

— Pirai Kannan (@piraikannan) October 4, 2018
உன் தமிழ் பற்றுக்கு தமிழனாய் தலை வணங்குகிறேன் 🙏🙏

— தேனி தமிழன் `CVF (@theni_kesavan) October 4, 2018
தெய்வமே இங்க வந்துருங்க தன்மான சீக்கியன 🔥 முதல்வராக்கி அழகு பாக்குறோம்.. 😍😍😍🔥🚶

— 💃💃லில்லி பூட்💃💃 (@teddyraju) October 4, 2018
What do you think on his tweet ?? Let us know !!