Popular director Cheran is one of the contestants in the third season of the TV reality show Bigg Boss Tamil. The last film he helmed was 'Thirumanam' which released earlier this year. Recently, during a task on the show, Cheran had revealed why he entered Bigg Boss Tamil 3. He shared that actor Vijay Sethaputhi was the one who made him enter the show. Answering a question on why he chose to be a part of the show.
[wp_ad_camp_1]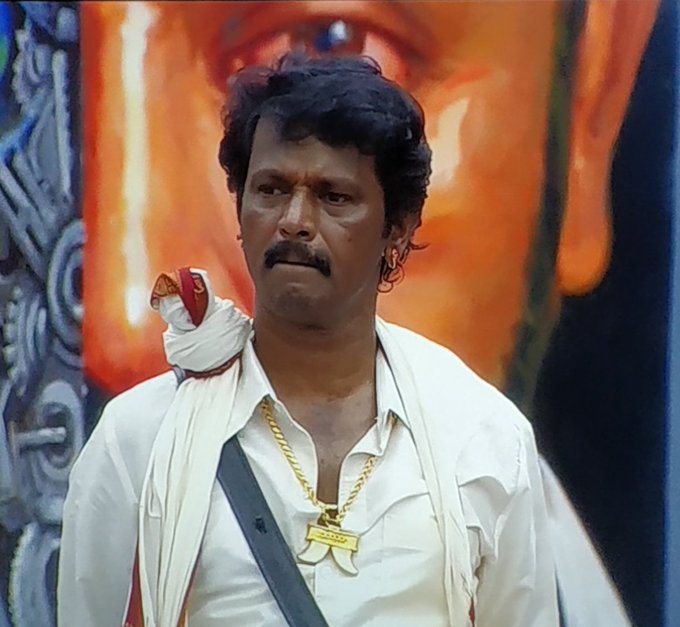 After eliminating Vanitha Vijayakumar and Meera Mithun,  two of the most controversial contestants of Bigg Boss show, viewers of the show thought that there would be no place for arguments anymore. But yesterday's episode showed "Chithappu" Saravanan having an heated argument with Director Cheran.
When the contestants are asked whom they think the worst performer in "song" task, Cheran said that Saravanan didn't do anything similar to Vijayakanth apart from dancing. In a way of hitting back, Saravanan said that Cheran looked funny in Rajinikanth's character. This led to a serious argument where Saravanan called Cheran "names". Later Cheran said that Saravanan is an elder of him and there is nothing hurtful in what he did. Saravanan shared things that happened between them in the past where Cheran was an assistant director. Saravanan also said that he asked for an opportunity in Cheran's movies when he was struggling for money, later in his career. He also said the housemates that Cheran denied giving opportunity it in a subtle way.
On seeing this show, famous director Vasanta Balan, who made films like Angadi Theru, Kaaviya Thalaivan etc, wanted Cheran to get out of Bigg Boss to avoid further humiliations. His Facebook post said "அன்புள்ள சேரன் சார் அவர்களுக்கு வணக்கம்!உங்களுக்கு இது கேட்காது என்று தெரியும்.
காற்றின் ரகசியப் பக்கங்களில்
இந்த செய்தி ஊடேறி
உங்களைத்தொடும் என்றே நம்புகிறேன்.
உங்களின் படங்களின் ரசிகனாய் சொல்கிறேன்.
வித்யாகர்வத்துடன்
நீங்கள் இருந்த இடம் மிக கம்பீரமானது.
பருந்து பறக்கும்
வானத்தின் உயரத்தில் சஞ்சரிப்பவர் நீங்கள். பாரதிகண்ணம்மா,பொற்காலம்,ஆட்டோகிராப்
என அற்புதமான இலக்கியப்படைப்புகள்.
திரையில் இலக்கியம் செய்ய ஆசைப்பட்டு
அதில் வென்று காட்டியவர் நீங்கள்.
காலத்தின் கரையான்
உங்களையும்
உங்கள் படங்களையும் அழித்துவிடமுடியாது.
இயக்குநர் மகேந்திரன்,
இயக்குநர் பாலுகேந்திராவுடன்
ஒப்பிடக்கூடிய திரை ஆளுமை நீங்கள்.
பிக்பாஸ் அரங்கில் இருப்பவர்களுக்கு
உங்களின் உயரம் தெரியாது.
நீங்களும் நடிகர் சரவணனும் ஒன்று என்று தான் நினைப்பார்கள்.
அறியாமை என்ன செய்ய……
உடனே பிக்பாஸ் வீட்டை விட்டு வெளியேறுங்கள். இயக்குனர் சங்கப் பதவியில்
கௌரவக்குறைவு ஏற்பட்ட போது
உடனே அதை விட்டு வெளியேறினீர்கள்.
ஆகவே கலைஞன் எந்த நிலையிலும்
அவனின் மேன்மையை
எந்த கீழ்மைக்கும் உட்படவிடுதல் வேண்டாம்."
Check out his post here :
[wp_ad_camp_1]
To this post one of his follower said that Cheran is getting 50 Lakhs to participate in Bigg Boss show. Vasanta Balan said that it seems he is going to bear this humility along with the money throughout his life.
[wp_ad_camp_1]
People in social media who are already pissed due to Saravanan's bus controversy, thrashing him left and right. Saravanan who supported Cheran in Meera issue is being against Cheran right from the first episode.
What do you think on this statement of Vasanta Balan ?? Comment your views below !!