Climax Sequence From "Valimai" Is An Utter Copy From Jackie Chan's Police Story?? WATCH
Written by Dhiwaharan Published on Mar 05, 2022 | 19:00 PM IST | 64
Follow Us
Comments: 0
Despite the humongous numbers that "Valimai" has been doing in the box office, the film is receiving criticisms and trolls from a set of fans for it's weak plot and predictable screenplay. Releasing after three years of production, Ajith Kumar's "Valimai" ended up as a just another mediocre cop action film. Director H. Vinoth who is known for his detailed scripts with engaging screenplay, didn't meet the expectations of fans with his recent venture.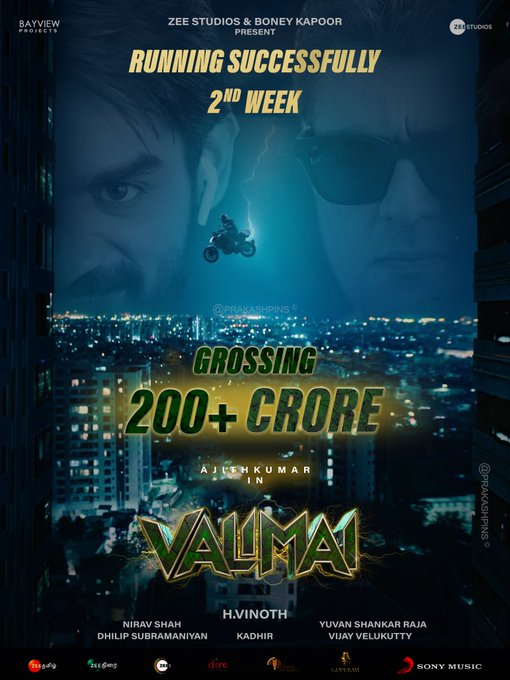 Now, a video surfaced alleging that an important face off scene between hero and villain in the climax of "Valimai" is a rip off from Jackie Chan's "Police story". Both the scenes shows the protagonist trying to save his dear ones who are hanging in the rope by shooting the villain but couldn't do it as has the control over the ropes of the victims. Both the villains could be seen sliding with a rope to reach the surface from first floor.
"Valimai" revolves around a cop named Arjun who is about to hunt a biking gang which is involved in causing harm to the people of Chennai by providing drugs, committing murders and chain snatching by using their bike riding skills. When Arjun is all set to nab them with his experience in Police department, he comes to know about his own brother being the part of the evil gang.
Rest of the film lies on whether Arjun saved his brother and youngsters from the head of the evil gang. Initially, netizens compared the film with a 2016 released Kollywood film named "Metro". They felt that "Metro" also contains similar plot with aspects such as "Drug consumption",  "bike riders", "Chain snatching", "brothers sentiment" etc.
Now, a video is circulating in online platforms confirming that the climax sequence is a ditto from Chan's "New police story" which was released in the year 2004. Watch the video below :
Thalaivan Atlee to Vinoth now:
Vaanga vaanga thala.. We hereby award you our '7 Swarangal' group oda basic entry membership card .. Amaal Dumaal thaan 😂😂😂
pic.twitter.com/y06VNHjGS3

— The Illusionist (@JamesKL95) March 5, 2022
Check out some of the reactions regarding the similarities between "Valimai" and "Police Story" :
Wokkali ithalam inspiration ungalku theriyatha 🥲🥲🥲

Annaya Atlee panna Mattum tha copy otherwise inspiration 💩

— VIJAY TEAM ONLINE (@record_creator) March 5, 2022
Atlee lam plot la aarambichu scene by scene copy pannuvan avan padatha breakdown panna athukkulla vera 100 padam irukkum.
Athanalathan antha attack avanukku..
Still didnt expect this from HV

— Ahmath Sibi (@AhmathSibi) March 5, 2022
TL la vanthathu… Last 3 movies la copy nu solika oru scene varathu hv movie la aana valimai la new police story scenes irukum nu sonanga. . kandipa irukathunu dhan nanum ponen.. Aana enaku hv surprise panitaaru 😪😪 @RogerVirat ithaiume sonna adipanga.. 😷😷 https://t.co/TUqwZ3JYUM

— ஜண்டா (*VALIMAI*) (@JandaOff) March 5, 2022