"Blue Sattai" Maaran is one of the prominent movie reviewers of Kollywood films. He is very well known for his rural slang, funny phrases, short stories and real life incidents in his movie reviews. For his unique style of movie reviewing, the man who always wears blue shirt has a separate set of fan following and his youtube channel Tamil talkies enjoys more than 8.5 lakh subscribers.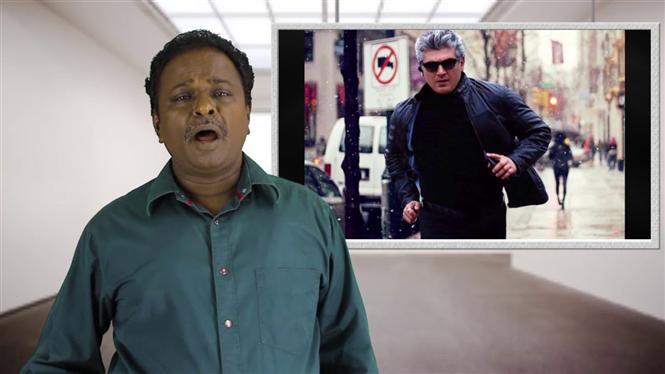 Her is also known as one of the controversial reviewers in the industry as he had clash with the makers of the films often. "Goli Soda" Director Vijay Milton condemned him for the way he reviewed the movie "Vivegam" which had actor Ajith in the lead.
[wp_ad_camp_1]
Recently a case was filed against him by "Amma Creations" Siva for his way of reviewing  Charlie Chaplin-2 movie. In the review he criticized the makers by accusing them for not having common sense.
Maaran is one kind of a reviewer who enjoys a massive fan base and equal number of haters. Probably he would be the person whom the people of Tamilnadu asked to make a movie the most for his way of criticizing the movies. In a way of replying to them, the reviewer announced that he is going to make his directorial debut in his official twitter account today.
The tweet he posted read as "நான் இயக்கி வரும் படத்தின் கதை மிக நன்றாக வந்துள்ளதாக நம்புகிறேன், என்கூட பணிபுரியும் assistant களுக்கு நன்றிகள் பல."
நான் இயக்கி வரும் படத்தின் கதை மிக நன்றாக வந்துள்ளதாக நம்புகிறேன்,

என்கூட பணிபுரியும் assistant களுக்கு நன்றிகள் பல.#bluesattai #bluesattaiDirectorialDebut

— BlueSattai (@tamiltalkies) May 6, 2019
நான் இயக்கவிருக்கும் படத்தின் வேலைகளை பார்க்க சென்னையில் office அமைத்து உள்ளோம்.
Casting anand selections இங்கு நடக்கும் முகவரி விரைவில் இங்கு கொடுக்கப்படும்.#bluesattai

— BlueSattai (@tamiltalkies) May 9, 2019
This is the address folks, show us ur talents, we need you. See you there .

Tamil Talkies
No 97 2nd street,
krishnanagar 2nd main road, alappakkam, chennai 600095#bluesattaiMovie #CastingCall

— BlueSattai (@tamiltalkies) May 9, 2019
Blue Satta is a person who has a good knowledge in world cinema as we can evidently see it through his movie reviews. He also has a past with tamil cinema industry as well as he worked there in various departments.
[wp_ad_camp_1]
Now check out the reactions for the tweet he posted :
மொத ரீவ்யு நான்தான் பண்ணுவ

— கார்த்திக் சின்னராஜ் (@karthikchinnar1) May 6, 2019
The name is Moththathil intha padam epdiirukku naa.

— Sai Akshay (@saiakshay2more) May 6, 2019
Un movie kaga than Tamil cinema ve Kathu kitu iruku…. Apade ena than eduka pora nu papom

— Jaganathan R (@JaganR612) May 6, 2019
Un padatha ne review pannuviya thala

— MuthukumaraN (@Kumarann_vijay) May 6, 2019
அந்த படத்த யாராவது பச்ச சட்டைய வெச்சு ரெவ்யூ பண்ணனும்!!

— Krishna samy (@KrishnaNall) May 6, 2019
All producers and directors right now pic.twitter.com/BbPbPXWGIF

— Jeyram Ramani (@Jeyram) May 6, 2019
[wp_ad_camp_1]
அடடா… அந்த காவியத்தை காண இந்த நாடே தவம் கிடக்கிறது… எந்த குறையும் இல்லாமல் எப்படி வருதுன்னு பாப்போம்.. #bluesattai #Bluesa

— Senthil (@dssenthil2003) May 6, 2019
Thalaivaa padathukku muthal review nee thaan

— VIJAY LOVE💪👊 (@VIJAYLO12080029) May 6, 2019
What do you think on this announcement of Blue Satta ? Comment your views below !!