Former Bigg Boss contestant Vanitha was called upon as a guest to stay in the hotel until the luxury task ends. Vanitha after entering the house, gave her piece of advice to each and every contestant. She projected the good and bad views of the Bigg Boss contestants left in the house.
[wp_ad_camp_1]
Vanitha Vijayakumar, the third evicted contestant of Bigg Boss show is facing the wrath of public again for her behaviour. Since the re-entry of Vanitha, no one thought of romancing with their pairs as she slammed everyone who are involved in that sort of relationship. She made it clear that they went inside the house to play the game and win it.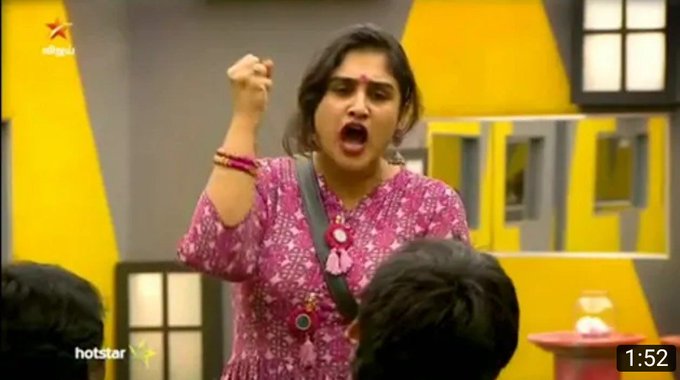 On the next days of Vanitha's entry, literally explosions took place inside the house. Vanitha, who entered the Bigg Boss house again as a guest, was seen talking to Abhirami about Mugen. She once said that she is going to ask Kamal Haasan in weekend to open the door for 10 minutes to eliminate the contestants who are not willing to take part. She also said that she is going to display a "Kurumpadam" for Tharshan during an argument between boys and girls.
Now, actress and a member of Makkal Needhi Maiam, Sri Priya watched the show and slammed Vanitha for her atrocious behaviour. The way she made statements of doing the jobs of Kamal Haasan irked the actress who paired with him in number of movies.
In her tweet Sri Priya wrote "Watching BB…I have a doubt வனிதா அவர்கள் சொன்னால் BB வீட்டு கதவு திரந்து வைக்கப்படுமா?வனிதா அவர்கள் சொன்னால் குறும்படம் போடப்படுமா?அப்பா…."
Watching BB…I have a doubt வனிதா அவர்கள் சொன்னால் BB வீட்டு கதவு திரந்து வைக்கப்படுமா?வனிதா அவர்கள் சொன்னால் குறும்படம் போடப்படுமா?அப்பா….

— sripriya (@sripriya) August 15, 2019
[wp_ad_camp_1]
In the reply section, Vanitha got extremely thrashed by the followers of Sri Priya. Check out some of their reactions :
Kuruma kuda kedikadhu. Idhula kurum padam kekudhu. Nansanse begavior of india by vanitha.

— JAMMY🔦 (@jamshey) August 15, 2019
Vanitha is overplaying.. Hope Kamal sir questions her.. Provoking nature.. Vanitha was famous just bcoz of her celebrity parents, not of her own talent

— PriyaK (@PriyaK77) August 15, 2019
Next season no established actors or directors will take part in BB . Kavin n Sandy no respect for elders . Now they ganged up. Fun is good but what they do is mocking..

— Nisha Narayanan (@NishaNarayanan4) August 15, 2019
வனிதா மனசுக்குள்ள லேடி பிக்பாஸ்னு நினைப்பு.

— புத்தன் (@iRajeshkanna) August 15, 2019
Good question. I too thought the same thing. Who gave this power to her? Kamal sir or Biggboss? They should clarify this. Annoying character #Vanitha . We are missing your BB comments everyday mam.#BiggBossTamil3 #BiggBossTamilS3 #BiggBoss3 #BiggBossTamil

— Magesh (@magitwitt) August 15, 2019
இதே கடுப்பு தான் எங்களுக்கும். இவ தர்ஷனால வெளிய போன கடுப்பில அவருக்கு ஆப்பு வைக்க நிக்கிறா. எங்க பையன் ஆட்லறி குண்டயே தாண்டி வந்தவன் இந்த குங்பு பண்டா எல்லாம் எம்மாத்திரம்

— suganya (@suganya47822638) August 15, 2019
[wp_ad_camp_1]
அதானே ஒன்னும் புரியலையே சசிகலா ஜெயிலில் இருந்து ஷாப்பிங் போய் வந்த மாதிரி இவங்களும் பிபியில் இருந்து வெளியேறி மீண்டும் வந்துவிட்டார் பிபி உரிமையாளர் ஆகிவிட்டாரா

— s.n.manohar (@snmanohar) August 16, 2019
What do you think on this statement of Sripriya ?? Comment your views below !!