"This Is How Much I Earn Through Youtube" – TTF Vasan Opened !
CM / Updated: 2022-07-04
23:17 IST
By Dhiwaharan
Youtuber Vasan who has been running a youtube channel titled Twin Throttles, is trending ever since celebrating his birthday with his 8000 plus followers. The 22 year old appeared in an interview with Thanthi news channel and shared about his journey as a youtuber. Talking about how he drove till Nepal and Ladakh, Vasan also revealed about his income from youtube in the interview and also shared about his future plans.
Two minutes of silence for those who don't have a clue about this part of TN and beloved Vasan TTF Anna.#HappyBirthdayVasanTTF pic.twitter.com/wURZngHou5

— Why so serious? (@Piliral) July 1, 2022
TTF Vaasan, a youtuber who enjoys 2.7 million followers for his youtube channel, grabbed the attention of the mainstream online users after celebrating his birthday with 8000 plus followers of him in Chennai. After uploading the birthday celebration video that last 30 plus minutes, TTF Vasan became a subject to the attention of mainstream media as media portals such as Sun news covered a piece about his birthday celebration.
Tamil nadu based online users who are born between 1990-99 baffled on seeing a video which shows thousands of people who are believed to be born after 2000 gathering to witness TTF Vasan. Most of the 90s kids are upset over the younger generation getting addicted and following a single personality who runs a youtube channel streaming the videos of his bike rides.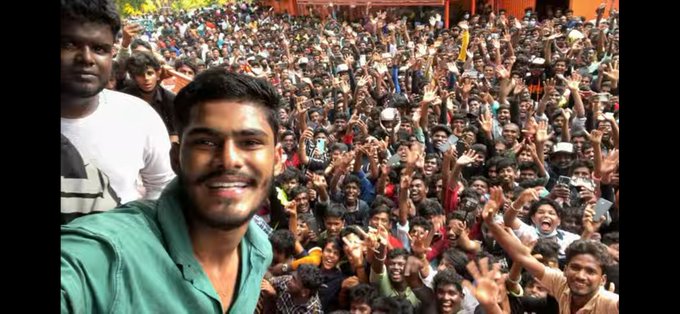 TTF Vasan is running Twin Throttles, a youtube channel that has 2.75 million subscribers. The channel which has uploaded 634 videos so far, predominantly streams videos of Coimbatore based youngster named Vasan riding his bikes. In a recent interview with Thanthi channel, Vasan said that most of his youtube revenue are being spent for his bike alone as it is giving only 10 kilometre mileage.
Talking about the revenue he is generating from youtube, Vaasan said that he is earning Rs. 2 lakh per month and it will increase, decrease according to the number of videos he posts per month. "Initially they were spreading rumours saying that I earn 13 lakh per month. Now only I am coming to know that it increase to 30 lakh. Tomorrow they will say that I am earning Rs. 1 crore" said Vasan reacting to the anchors question on whether he is earning Rs. 30 lakh per month.
"I haven't shared about my salary anywhere and it couldn't be shared as well. It will increase and decrease due to various aspects. If we post highest number of videos, the number will increase and if we post less number of videos, it will decrease" Vasan said. "I would post one video with one day interval. Revenue is pretty low. I will get Rs. 2 to 2.5 lakh per month" Vaasan said.
Vasan went on to share about his expenses for the salary he is receiving. "If we are buying a Super bike, the price of it is Rs. 11 lakh. For that, I have to borrow money from people who I know I person. There are many expenses such as Petrol, food, bike maintenance, requirements such as bike permit if we are riding bike to other states etc. My major problem is the mileage of my bike, it is giving just 10 kms, now you people would have found how my 2 lakh is being spent" Vasan said.
Watch the video below :
Credits : Thanthi TV