This Immense Stretch From Dhoni Impressed Everyone, Even BCCI Couldn't Stop Lauding It !!
By Dhiwaharan
MS Dhoni defied his age to display incredible fitness as he pulled off a 2.14 metres stretch to make ground and avoid being stumped during the second Twenty20 International (T20I) against Australia on Wednesday. The 37-year-old displayed his acrobatic move during the 11th over of the match after stepping out to Adam Zampa, who threw the ball wide. But the veteran was quick to react and made his ground before Australian wicket-keeper Peter Handscomb could dislodge the bails. However, the umpire went upstairs to check and ruled the decision in favour of the former Indian skipper.
[wp_ad_camp_1]
The Board of Control for Cricket in India (BCCI) applauded Dhoni's effort and tweeted, "How's that for a stretch from @msdhoni"
How's that for a stretch from @msdhoni 😮😮

📹📹https://t.co/9hYmrJBmii #INDvAUS pic.twitter.com/MXvXIvov0G

— BCCI (@BCCI) February 27, 2019
Mahendra Singh Dhoni is not only among the fittest cricketers on the planet but he is also one of the most flexible ones to grace the field as was evident yet again during the second T20 international against Australia on Wednesday.
During the 12th over of India's innings, Dhoni advanced down the pitch but Adam Zampa saw him coming and bowled it a bit wide to make the batsman miss the ball which turned away from the former Indian captain and was grabbed by the wicket-keeper.
[wp_ad_camp_1]
Peter Handscomb took off the bails in a flash as soon as he got hold of the ball. The players went up in a loud appeal with Dhoni's backfoot planted on the crease as he stretched full length to get back.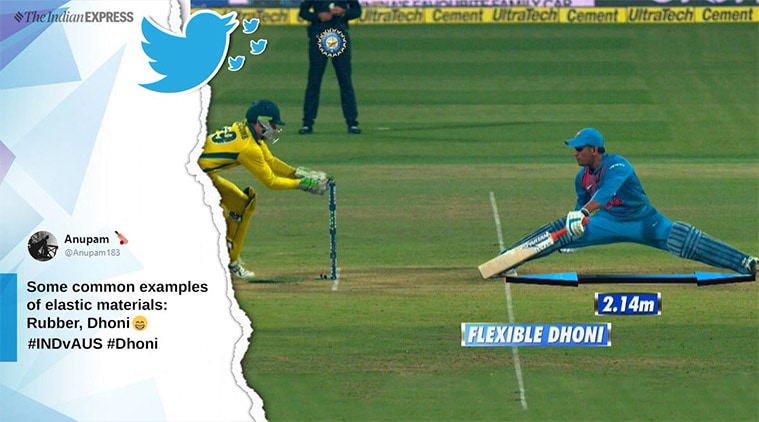 Replays showed Dhoni made the crease in time. The broadcasters further revealed that Dhoni had stretched a whopping 2.14 metres to get back in the crease and foil Handscomb's stumping attempt.
[wp_ad_camp_1]
He had just faced his second delivery at the time and was yet to open his account. For the post of BCCi many fans including Hardik Pandya reacted. Check out them here :
😍 🤸‍♀️

— hardik pandya (@hardikpandya7) February 27, 2019
Love You Dhoni 🔥🔥🔥🔥 pic.twitter.com/747itS7OnN

— S®íÑú👉🥛 (@SrinuPawanist) February 27, 2019
Dhoni giving stress to 'critics' with that stretch! 😍 #INDvAUS

— MEGHA PRAKASH (@iMegha05) February 27, 2019
Mr. Elastic😎😎

— தமிழன்டா✝🕉☪ (@TamizhanJF) February 27, 2019
முடியுமா….. ஹாஹாஹா லவ் யூ தல

— தல Raghu🤩🤩🤩 (@Raghu90594647) February 27, 2019
Sakshi right now… pic.twitter.com/wZWQjAoO31

— Natthulal 🇮🇳 (@PagletPiglet) February 27, 2019
This picture is for them who's Think That #Dhoni Should Retire From ODI.

— Aniket (@Acp1095) February 28, 2019
Be Aware from MSD😎🚫 @CricketAus #INDvAUS #icc

— Sheku (@Sheku__) February 27, 2019
Nobody stumps other batsmen better than Dhoni.

Nobody saves himself from getting stumped better than Dhoni. #INDvAUS

— Manya (@CSKian716) February 27, 2019
With in elastic limt.
Hook's law proved. pic.twitter.com/VC9Uz56Aev

— Pavan Venkat (@pavanANindian) February 27, 2019
That Nee Padicha School la Naa headmaster daa Moment

— Jude Ragzzz (@judevinoth) February 27, 2019
— Anupam 🏏 (@Anupam183) February 27, 2019
The 37-year-old went on to play a swashbuckling innings from there on as he added 100 runs for the fourth wicket with his skipper Virat Kohli to propel India to 190 for 4 after Australia won the toss and opted to bowl at the M Chinnaswamy stadium in Bengaluru.
Dhoni smashed 40 off 23 balls with three boundaries and as many sixes while Kohli top-scored with 72 not out off 38 balls with 2 fours and six sixes.