Articles
This Girl Who Attended The RCB vs SRH Match Grabbed The Limelight Overnight !! Check Out The Hilarious Reactions !!
It takes seconds for anyone or anything to become an online sensation. That said, people who are thrown into the internet's spotlight have a limited shelf life (thankfully) and in just a few hours the world moves on to other ridiculous things.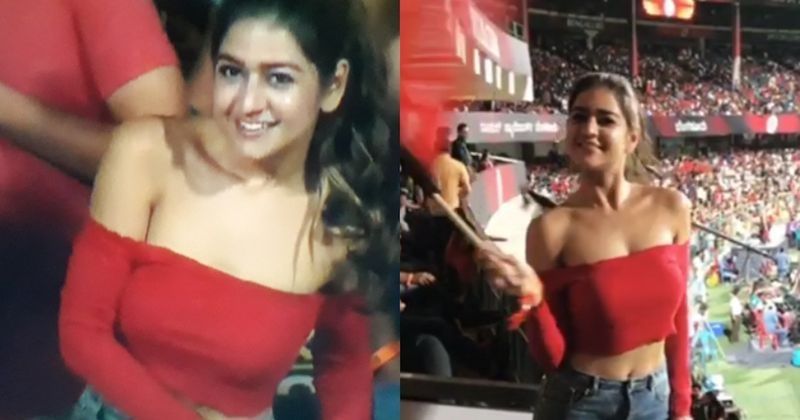 [wp_ad_camp_1]
Royal Challengers Bangalore (RCB) defeated Sunrisers Hyderabad (SRH) on Saturday. But what grabbed all the attention was a mystery girl in the stands who caught everyone's eyes when cameraman focused on her multiple times.
🤩🤩😍😍😍 RCB Fan Girl Deepika #Deeghose#RCBvSRH pic.twitter.com/4yUuuZicFF

— Jr. NTR – Virat Kohli (@vinod_baadshah_) May 5, 2019
Internet is going crazy over the girl. Her pictures from the match are being circulated on the various social media platform. Don't underestimate our netizens they have found her Instagram account as well. The girl is named Deepika Ghose.
Here's how Internet reacted on seeing her presence:
RCB Lucky Girl 😘😍😘😍❤❤#RCBvSRH #RCB pic.twitter.com/tSnzZxnJLl

— Al😊ne (@JaipalReddy0521) May 4, 2019
#RCBvSRH let this girl be the brand ambassidor for rcb ipl 2020 pic.twitter.com/lG1qNrQ6DM

— Mahesha Sanjeeva (@SanjeevaMahesha) May 4, 2019
Yesterday's #RCB girl ♥ pic.twitter.com/2rmozXcX5U

— shivakumar_b (@jack_spyarrow) May 5, 2019
#RCB girl got like 100k+ followers on Instagram within 36 hours and people are losing their shit😹

Specially girls😹

Just relax.

All she has attracted is a bunch of horny and desperate shallow minded boys.#WorldLaughterDay

— Kruti 💗 (@NautankiKruti) May 5, 2019
RCB fan girl 😍😆 pic.twitter.com/i3ariLQdLZ

— kathir suriya (@kathirsuriya___) May 5, 2019
Girls heading stadium after seeing yesterday's match viral RCB girl.#KXIPvsCSK #TenkasiAzhagiPotti @SriniMaama16 pic.twitter.com/lNdOrzHIfO

— اصفر (@itsmeasfa) May 5, 2019
[wp_ad_camp_1]
When cameraman turned the camera towards that Rcb girl

Indian Nibba: pic.twitter.com/QD4opFiJft

— Naman (@NamaCooL_) May 5, 2019
Don't worry #RCB next sala cup nimde 😍 #RCBGIRL Deepika pic.twitter.com/6uRPztxz46

— Amith CD (@Amith_Devadiga) May 5, 2019
that rcb fan girl gone viral like pic.twitter.com/2Jk3eQ2bKD

— piyush (@therebelgooner) May 5, 2019
#RCBvSRH the biggest winner of the match seems to be the RCB fan girl, she seemed to have stolen all the spotlight for the day, trending in all social media channels.

— Palani Ramaswamy (@mailpalhere) May 5, 2019
#RCBvSRH
Before first match of #rcb in Ipl 2019 :
Marry Rcb fan girl as they are more patient
After last match we found Her
..
.
..#rcbfangirl pic.twitter.com/GS21scrJx2

— Prasad Pawanism (@PrasadYallaYnV) May 5, 2019
yesterday our #RCBvSRH #rcb fan girl posts in her insta highlets befre trending

bt when she bcme famous she deleted all her personal highlets in her insta id wts gng y dis gal chnged aftr famous 🤣🤣🤣 pic.twitter.com/z5Z37D38In

— Your Crush (@saikrishnapspk) May 5, 2019
That RCB fan girl managed to unite fans from every team. No?#RCBvSRH #IPL2019

— Pradeep bedra (@pradeepbedra) May 5, 2019
Last year it was Priya Prakash Varrier aka the 'Wink Girl' become an overnight sensation courtesy a viral clip from her movie. In 2019, it is Deepika Ghose who is the new favourite of the internet. The social media is going gaga over Deepika and her cute antics from the game night (good job, cameraperson – with love, netizens). Such is the craze for 'India's New National Crush' that there are several fake accounts of Deepika created.
[wp_ad_camp_1]
She is not only an ordinary cricket fan but someone with pretty strong B-town connection as she works with them as a stylist. Going by her Instagram feed, it seems that she has worked with many celebrities and fashion events in the town. That is the reason she has pictures on her feed with Bollywood biggies.
What do you think on this girl getting the spotlight overnight ?? Commet your views below !!