At least 45 people were killed and about 250,000 people were evacuated to relief camps in the last two days after severe cyclonic storm Gaja hit the coasts of Tamil Nadu and Puducherry in the wee hours of Friday.
[wp_ad_camp_1]
Gaja made its landfall with wind speeds of 120 km per hour, leaving behind a huge trail of destruction in the districts of Nagapattinam, Thanjavur, Tiruvarur, Pudukottai, Dindigul, Trichy, Karur, Sivaganga, Ramanathapuram, Cuddalore in Tamil Nadu and Karaikal in the Union territory of Puducherry.
According to Chennai-based weather blogger Pradeep John, Gaja has been the worst cyclone to hit Tamil Nadu since Vardah in 2016, and the worst to affect the Cauvery delta since the cyclone in 1993.
[wp_ad_camp_1]
Though the assessment of damage caused to standing crops by cyclone Gaja is yet to be over, initial reports say that coconut and banana trees were severely damaged in delta districts.
While no fishermen has been affected, boats have been damaged in gusty winds that blew when the cyclone crossed the coast.
"Coconut, horticulture crops such as banana, agricultural crops such as maize and at some places paddy have been damaged.  Of them, coconut and banana have been badly damaged in delta districts. Besides, poly houses meant for growth of vegetable crops under protected cultivation, infrastructural entities such as agricultural and horticultural farms have also been destroyed," Agriculture Secretary Gagandeep Singh Bedi, who is monitoring the relief works in Cuddalore and neighbouring districts, told Express.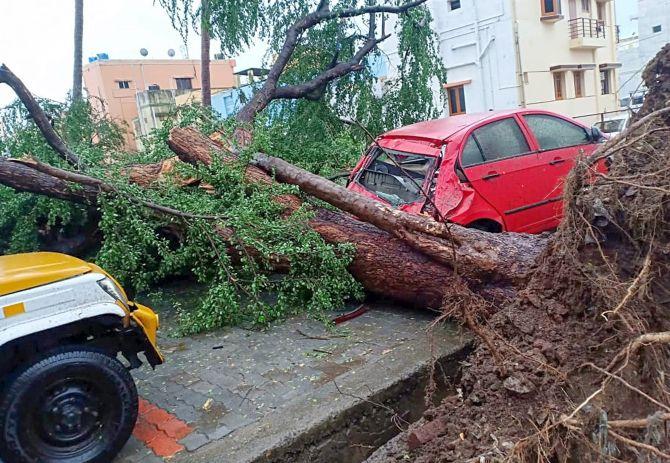 The extensive damage to coconut and banana plantations, paddy and other standing crops are yet to be assessed. In a statement, Tamil Nadu chief minister Edappadi K. Palaniswami said revenue and the agricultural department officials have been directed to estimate the damage to crops.
[wp_ad_camp_1]
Meanwhile a news surfaced on Puthiya Thalaimurai News where the college students from Trichy sent relief materials to the cyclone affected farmers through TATA ACE (Kutti Yanai). While returning the vehicle farmers who received the goods filled it with coconuts and sent back which showed their kind heart even in their bad times.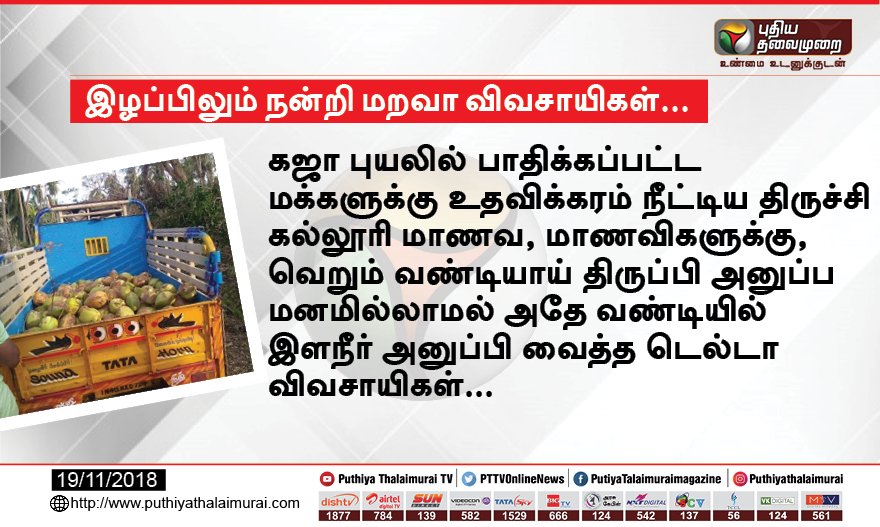 This shows even in bad times, delta farmers proved that they are the one who provides food.
இழப்பிலும் நன்றி மறவா விவசாயிகள்… #GajaCyclone #Farmers pic.twitter.com/87FvAUMNEh

— PuthiyathalaimuraiTV (@PTTVOnlineNews) November 19, 2018
This news was loved by people which is evident through their comments in the post. Check out some of them here :
இது போல செய்தியை படிக்கும் போது கண்கள் கலங்குகிறது.

— Chandrakumar (@Chandru2514) November 19, 2018
இது போன்ற நல்ல உள்ளங்களுக்கு, இறைவனின் அருளால் என்றென்றும் நலமுடன் இருப்பார்கள் 🙏

— TN Ajith E-Fans (@tn_ajith) November 19, 2018
அந்த மனசுதான் கடவுள்….

வெல்க தமிழ்…💪

— Harish (@Iamharish024) November 19, 2018
சங்கு சுட்டாலும் வெண்மையே தரும்

அதான் விவசாயி pic.twitter.com/62APNWFgqN

— முத்து (@p1LAUc5WWFxlg1Q) November 19, 2018
— Rajini Guna (@GSekar18) November 19, 2018
இதான் நாங்க-டெல்டா காரன்னு காலர தூக்கி விட்டு சொல்லுவோம்

— பாலா (@Bala4575) November 19, 2018
இழப்பிலும் நன்றி மறக்காதவன்தான் #விவசாயி 🙏🙏🙏

— Nithi Ramaswamy (@Nithicsk7) November 19, 2018
On 16 November, the state government had announced a sum of ₹10 lakh for the families of the deceased, ₹1 lakh for the severely injured, and ₹25,000 for those with minor injuries. According to the government, 249,083 people were moved to 493 relief camps.
Relief workers are trying hard to reach remote and inaccessible areas of Nagapattinam, Thanjavur, Tiruvarur and Pudukottai. The regions in the delta have remained without power supply since Thursday. More than 117,000 houses, including thatched huts and tiled roof houses, have been partially or fully damaged.