Getting your period while in transit is nothing less of a disaster. Especially when the cramps hit you, adding to the discomfort.
If a woman needs a sanitary napkin she will have to ask for it among a closed group of friends, whispering or using code language to not let anybody else find out. How often have we seen shopkeepers packing sanitary pads in black polythene bags to hide it from the eyes of our respected society.
In Karnataka, a passenger, Vishal Khanapure, along with his friend, were travelling on the 'Bengaluru to Hospet' train when the friend got her period and did not have a pad on her. He immediately called for a sanitary napkin and a Meftal Spas (a pain killer) by Tweeting to the authorities.
[wp_ad_camp_1]
The train leaves Bengaluru at 10:15 pm and reaches Bellary at 09:40 am the next day. While it was leaving Yesvantpur station, Khanapure tweeted Indian Railways and Piyush Goyal, Union Minister of Railway and Coal seeking help.
@PiyushGoyal its an emergency please help..one of my friends is traveling on train "HOSPET PASSENGER " from Bangalore to Bellary,train number 56909 ..
Coach – S7, seat number 37, c is in need of "Meftal spas " tablets.. please help her @indianrailway__ @IRCTCofficial

— Vishal Khanapure (@Vishal888782) January 13, 2019
The tweet was immediately considered and was replied with "Kindly share your PNR number along with contact number."
Kindly share your PNR number along with contact number.

— Indian Railways Seva (@RailwaySeva) January 13, 2019
Speaking to TOI, Khanapure said, "At 11.06pm, an officer reached my friend and confirmed her requirements and took down her PNR details and mobile number. At 2 am, when the train reached Arasikere station, officials of the Mysuru division were ready with all the items she had sought. We are all surprised by the quick response,"
Officers of the Mysuru division confirmed the incident and said that such requests were often made to them through tweets or on 138 and that they are always ready to help the passengers.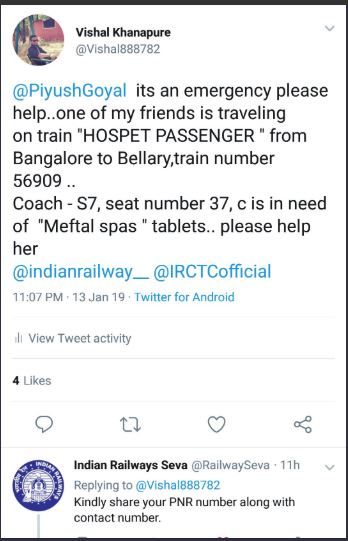 After all the arrangements, they received the pad and medication about 140 km from where they boarded the train.
[wp_ad_camp_1]
Meanwhile, to assist women in locating sanitary napkin vending machines, city-based youth from Kolkata have come up with a mobile app that will inform women about the location of such vending boxes.
While Indian Railways deserves to be lauded for the help, the situation highlights the changing attitudes within the country. Perhaps even as little as ten years ago, seeing a man publicly demand hygienic solutions for his female friend's periods would be surprising.
Moreover, the prompt request from an institution of public authority like the Indian Railways, might have raised many eyebrows.
While periods are a completely biological process, as a country, we remain largely unprepared to ensure women have access to the minimum at such times.
Moments like these, however, do show us that things are changing, and for the better.
[wp_ad_camp_1]
We must not forget that this incident also sheds light on how we need railway stations, trains and public washrooms to be more period-friendly.
Although Vishal could access social media to seek help, it may not be the case with others. And so, it is crucial that these spaces are either stocked with sanitary pads and medicines or have pad-vending machines installed to cater to women passengers.