Yesterday to our shock a video went viral on Internet in which the ace actor seen behaving very rude towards a youngster who tried to take selfie picture through his phone. The video suggested the actor arriving to a opening ceremony of some shop where a young man takes out his phone and holding it high to take selfie with Sivakumar.
[wp_ad_camp_1]
Sivakumar is an Indian actor and visual artist who has portrayed a wide range of leading and supporting roles onscreen in Tamil cinema and television. He made his acting debut in 1965. His art works include several portraits of noted celebrities are highly praised across Tamilnadu. His inspirational speeches in public meetings and TV shows also highly recognized among youngsters. The actor is also the father leading actors in Kollywood Suriya and Sivakumar.
The actor who was seen smiling and wishing everyone in the function suddenly got irritated on seeing the guy and knocked off his cellphone with his bare hands.
[wp_ad_camp_1]
The video already went viral on the Internet and the online trollers started making memes out of it. They made a template out of this video literally all of a sudden. Some expressed their hatred on seeing this video as well.
Several memes and trolls keeps on pouring using this video since this bizarre incident happened. Many abused the actor for insulting a young admirer of him.
[wp_ad_camp_1]
Meanwhile the actor himself gave an explanation to his act. According to a recorded Phone call of  Puthiya Thalaimurai , Sivakumar says "Selfie is something we should take with our families personally while going for tours to places like Kodaikanal lake, doddabetta etc. I am not eligible comment on anyone's personal life. In a public event where 200 to 300 people are present, since i got down from the car till entering into the hall, more than 25 guys not even made way for the securities and disturbed everyone in the name of taking selfie. Is it right thing to do?" the actor questioned the press.
"They might have asked me permission to take a picture, VIP are not meant to act as per the wish of public. I have taken selfie with thousands of people in airports and marriage halls. I am not Gautama Buddha but a normal human being like all of you. I am living a life which I like. I never asked anyone to follow me. Every individual is a hero in their own life. Meanwhile they should think of other people and their feelings as well" the actor said in the phone call.
Meanwhile S.R Prabhu, one of the prominent producers of Kollywood who produced important films such as Aruvi, Theeran Athigaram Ondru, Joker is a nephew of Siva kumar.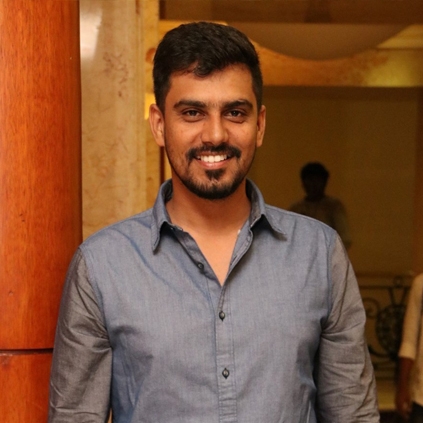 On seeing those trolls the founder of Dream Warrior Pictures posted a write which bashed the trollers. He wrote :
பெருவாரியான அறிஞர்களும் கலைஞர்களும் தங்கள் கொள்கைகளையும் நற்பழக்கங்களையும் பாதுகாக்கும் அரணாகவே அவர்களுடைய கோபம் இருந்துவருவதை பார்த்து வருகிறேன். என் பெரியப்பா திரு. சிவகுமார் அவர்களும் தன் கோபம் எனும் கவசகுண்டலத்துடன் பிறந்த கர்ணன் வகையே! அதேநேரம் கோப்பபடாத எவரும் ஒரு வழக்கத்திற்குள் வாழ இவ்வுலகம் எளிதாக விடுவதுமில்லை என்பதையும் நான் பார்க்கிறேன்!
இன்றைய நாள் முழுவதும் தன் சுய இன்பத்திற்காகவும், தங்களின் ஒழுங்கீனங்களை நியாயப்படுத்தவும் அனாயசமாக அர்த்தமற்ற கருத்துக்களை வாந்தியெடுத்துக் கொண்டிருக்கும் நவநாகரீக சமூகநலப் போராளிகளைக் கண்டு நானும் வாந்தியெடுப்பதில் தவறில்லை எனவே தோன்றியது!
இன்று அனைவரும் கேலி செய்துகொண்டிருக்கும் அவரின் உரைகள் மூலம் வந்த வருமானம் அனைத்தையும் கல்வி உதவிகள் செய்துகொண்டிருக்கும் ஒரு மாமனிதர் தன் அனுமதியின்றி படமெடுத்தவரை அறையாமல் அலைபேசியை தட்டிவிட்டதற்கே இங்கிதமில்லாமல் இங்கே இங்கிதம் கற்பிக்க முயலும் எந்தவொரு அறிவாளியும் என் வலைத்தளங்களை விட்டு உடனே வெளியேறுமாறு உங்களிடமிருந்து கற்றுக்கொண்ட அதே இங்கிதமில்லாமல் ஆணையிடுகிறேன்!
பலதிறமைகள் படைத்த புத்திசாலியைவிட பலவீனமே இல்லாதவன் பெரும் பலசாலியென எனக்குக் கற்றுவித்தவர்
உன் வருமானம் எதுவாயினும், வந்ததில் 25% தானமாக கொடு, வாழ்க்கை சிற்பாகும் என எனக்குக் கற்பித்தவர்
காசில்லாமல் கையேந்துபவருக்கு, உபதேசம் அளிப்பதை விட உன்னால் இயன்றதை கொடுத்துவிட்டு நடையைக்கட்டு என எனக்கு சொல்லிக்கொடுத்தவர்
இன்றுகூட அடுத்தவர் அனுமதியில்லாமல செல்பி எடுப்பது தவறு என அனைவருக்கும் அடித்துக் கூறியிருக்கிறார்! அவ்வளவே!!
பின்குறிப்பு: இதை ஏதோ சினிமா சண்டைக்காட்சி அளவுக்கு எபக்டுகள் போட்டு அதிவிளம்பரம் தேடிக்கொண்ட அந்த செய்தி நிறுவனத்திற்கும் அதே கோபத்துடன் என் வசைகளைப் பரிசளிக்கிறேன்!
Check out his post here :
For this post most of his fans trolled as usual. Check out some of the comments here :
#Sivakumar This Week Entertainment 😁😂 pic.twitter.com/LB1rmhLAj2

— Dhanush karthi (@Itz_Dhanush) October 29, 2018
— Karthik🗯️ (@karthikpkk87) October 29, 2018
venam philips uh…

— M O U L I (@AskMouli) October 29, 2018
Dei puthu successful producer Thatti vittatha Vida intha explanation romba kevalama iruku 😂

— 😎 (@nightmare8838) October 29, 2018
What do you think on his post ?? Comment below !!