A video of former England all rounder Andrew Flintoff surprising a young cricket fan by revealing the details about his IPL career is going viral across the social media platforms with Flintoff reacting to it. It all started after the young fan asked Flintoff whether he is a fan of cricket without knowing about the cricketer's past. In a career that spanned more than a decade, Flintoff represented team England in 79 tests and 141 ODI matches and 7 T 20 Internationals.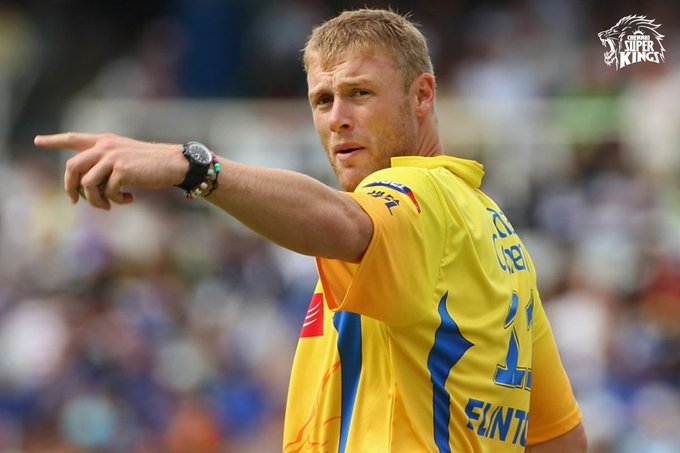 Andrew Flintoff is one of the very few former cricketers who maintained a little distance with from the sport since announcing retirement. After calling it a day in the year 2010, Flintoff has been trying out careers outside cricket. He took part in commentary and cricket related events very occasionally, as a result of which a young fan asked the all rounder whether he watches cricket or not.
Hosting the hit TV show Top gear, Flintoff sat inside with a young fan and was taken a bit aback after the fan posed im a question. "Are you a fan of cricket?" the young fan asked to which Flintoff took a moment and then giggled with a "Yes". The former all rounder was asked whether there is a cricket team he currently supports.
Andrew Flintoff replied saying that he supports "Chennai Super Kings" of IPL, a team which he represented in the year 2009 under Dhoni's captaincy. Excited fan rejoiced and called Filntoff as "My guy" before giving him a fist bump in sheer joy. Flintoff asked the fan whether he is a big of the franchise. When the fan said "Yes", the 44 year old former cricketer decided to surprise him by revealing his past to the kid.
Flintoff said that he played for the franchise once which left the fan in a puzzled state. "Really ?? What year ??" the fan asked to which Flintoff replied saying 2008. "I was a baby at that time so I didn't watch cricket" the fan said which made Flintoff to turn is head and reply with a sly "Right".
This guy asked Freddie Flintoff if he's a fan of cricket 😂😂😂 pic.twitter.com/Dc5qsVUzBD

— Cricket Mate 🏏 (@CricketMate_) December 12, 2021
Flintoff was brought for Rs. 7. 55 crore by CSK back in the day wich was higher than MS Dhoni, te captain of the team himself. However, the English all rounder played just three matches, scoring 62 runs and picked up two wickets. Here's how Flintoff reacted to the video after it surfaced in Twitter :
This guy 🤷🏼‍♂️ @ChennaiIPL @BBC_TopGear @PaddyMcGuinness @harrismonkey 😂😂 https://t.co/BT1lt0G7hy

— Andrew Flintoff (@flintoff11) December 12, 2021
Check out some of the reactions for Flintoff's tweet :
Asking this to one of the most expensive IPL players in the year 2009.

— Aditya Saha (@Adityakrsaha) December 13, 2021
We're the Chennai Boys,making all the noise… Everywheeerreeee weeeee gooooo !! @flintoff11

— Tuhin (@tuhins05) December 13, 2021
Possibly one of the funniest things on TV , the innocence of the question and the incredulous look from Freddy , if it was real brilliant if made up still funny

— Mark Middleton (@Markmid1) December 13, 2021
Dude even I feel so old after Seeing this😂
2008 seems like yesteryear 😭
Poor Freddie 🤣 pic.twitter.com/JZxwc1NuZI

— Captain & flying Saucers (@Cricket_Sutra21) December 13, 2021
"Superking, Superfam, Superfan forever! Freddie!" replied the official twitter handle of Chennai Super Kings.
Superking 🔁 Superfam 🔁 Superfan forever! 💛 Freddie!#WhistlePodu 🦁 @flintoff11 https://t.co/TZAStrJqy8 pic.twitter.com/XyKVGYqzjJ

— Chennai Super Kings – Mask P😷du Whistle P🥳du! (@ChennaiIPL) December 13, 2021