"Sherina Was Humiliated" – Viewers On The Model's Eviction
By Dhiwaharan
As the shooting of the weekend episodes got completed, eviction result is out and the users of Internet are reacting in various ways. Ulaganayagan Kamal Haasan who is hosting the show made the eviction announcement in Malayalam, says the sources.
Sherina Evicted with Malayalam Card#BiggBoss #BiggBossTamil#BiggBossTamil6 pic.twitter.com/c6pMSvEdow

— BIGG BOX TROLL (@drkuttysiva) November 6, 2022
The contestants who got nominated for the eviction are Azeem, Vikraman, Kathiravan Ayesha and Sherina. As Vikram got the highest number of votes, he got saved by Kamal Hassan in the Saturday episode of Bigg Boss show.
If reports that were released so far are true, Sherina, a famous model who went inside the house as a participant, got evicted from the house. She got warned by Kamal Haasan and Bigg Boss for talking in Malayalam in the show.
Kamal Haasan sent Sherina out by showing an eviction card that had her name written on it. Various kind of reactions are surfacing in online platforms based on the same. While few thought that it was a harsh move by the Bigg Boss crew, others said that the model deserves it.
Here's some of the reactions that surfaced based on the same :
apparently Sherina's eviction card in malayalam.

enakku puriyale. show-la irukum bothu already roasted her to MAXXXXX but was it necessary to humiliate her even during her eviction? yes, i am aware of her rule breaking, but this is just… TOO MUCH 😐#BiggBossTamil6

— kia ☆ (@jyozy0) November 6, 2022
Not a fan of sherina, but I felt bad the way her eviction was made in Malayalam. #BiggBossTamil6

— Team Kundavai Vanthiyathevan 💞 (@scribblynotes_2) November 6, 2022
Sherina getting humiliated for speaking in Malayalam while Azeem gets a free pass for everything he did/does 🤡#BiggBossTamil6

— Yaaro 🤔 (@lostsoulheree) November 6, 2022
When malayalam attitude hitting up, We Tamils have another plan 😂

Good Bye #Sherina #Ayesha #BiggBossTamil #BiggBossTamil6 #KamalHaasan𓃵 pic.twitter.com/VntrOfmN4I

— Vighnesh (@wikki971) November 6, 2022
I think Sherina felt humiliated cause the evicted card was in Malayalam. Not a cool way imo. Pona vaarame KH should've taken a strong class on these rule breaks. #BiggBossTamil6

— NOYB (@PeruVekkala1) November 6, 2022
I don't see anything was disrespectful to #Sherina in her eviction. Even after repeated warning, they didn't care about talking in different language. Showing elimination card in Malayalam is just sarcasm, not insult.#BiggBossTamil6

— BiggBossTamil ⚖️ (@BiggUnbiased) November 6, 2022
To the people who did not know:

Both #Sherina & #Ayesha mocked #BiggBoss warning and continued to wantedly speak in Malayalam by saying that they know this is a Tamil show.

What else do you expect from the show after you disrespect the show ?#BiggBossTamil

— I'm Bigg Boss (@Rock96514812) November 6, 2022
I think Sherina offended with her name in Malayalam. Straight walked out without looking back #BiggBossTamil6

— Feelingtheitch (@feelingtheitch) November 6, 2022
Can't understand why people are feeling bad for showing namecard in Malayalam despite of multiple warnings #Sherina continued to talk in mallu even mocked BB for that she deserves this for not taking the show seriously#BiggBossTamil6

— bigg boss (@biggboss6tamill) November 6, 2022
Today Eviction card will be in Malayalam for Sherina. It's humiliation,already they warned her.Then this should not be done.

For me Sherina spoke more Tamil words than Niva

Niva used to speak always in English than Tamil.What punishment for her then? #BiggBossTamil #Biggboss

— Vidya Suganya (@Vidya_Suganya) November 6, 2022
Whole #BiggBossTamil twitter wanted KH to warn/punish Sherina & Ayisha for their Malayalam stint but now same group tweeting as though it's uncalled for!! Azeem bashers now simping for him!! Ena dhanda venum unglku? #biggbosstamil6

— Mellifluous (@rajiv_great) November 6, 2022
#Malayalam talk prechana mudinchu 1 week Mela achu. this week ethuvum malayalam portions varala for #Sherina

Antha Malayalam card humiliation should have avoided.

Better people ah nadanthirukalam#BiggBossTamil6

— Sruthi Cheekoo💛 (@imjustsruti1202) November 6, 2022
That malayalam name card is slap on the face.

What kind of scene is this from #Sherina. She should have left on first week..#BiggBossTamil #BiggBossTamil6

— The_Wall 🇮🇳🇸🇬 (@_TheWall__) November 6, 2022
I didn't expect the targeting was THIS BAD.

I take back my statement. The elimination card written in Malayalam is utmost brutal. #Sherina is done for life and she will never step into anything to do with Tamil anymore. It was obvious when she left the house. #BiggbossTamil6

— Smiley ☺️ (@LovePeace2911) November 6, 2022
It's not about sherina spoke in Malayalam

Sherina was teasing bigg boss that he will warn us now and was laughing with Ayesha. She took warning as joke & made fun of him

Malayalam language is not the only reason for her eviction like sherina & few others think.#BiggBossTamil6 https://t.co/iLO5o0mZQU

— R (@Famrebe) November 6, 2022
On #Sherina's eviction card:

If you do it once, it is a mistake. If you do it again and again, it is arrogance. Now, Sherina know that arrogance hurts. Anyway Sherina like Malayalam rite?

Good luck Chechi!#BiggBossTamil #BiggBossTamil6 pic.twitter.com/Bnn1n5lf1k

— Athiban (@athiban43481241) November 6, 2022
Intha 'vanthaarai vaazha veikum ooru' lam namesake thaan la? I accept she had flaws and made mistakes too but this is not the way to eliminate her😑 I really feel bad for her #sherina – hope u don't turn back to this vj tv for any shows #BiggBossTamil6

— DISRESPECTFUL 😤 (@Maddy_pm_here) November 6, 2022
Unfair. #BiggBossTamil #BiggBossTamil6 playing dirty mind game. Surprisingly KH is also supporting this. @ikamalhaasan remember you have a Malayalam fans but this attitude has spoilt your impression

— DIVA AVID (@DIVAAVID4) November 7, 2022
If sherina is trolled for constantly speaking Malayalam. How about niva, kathiravan and few others constantly and occasionally speaking English. #biggbosstamil6

— kowcika manohar (@KowcikaM19) November 6, 2022
Bigg Boss is a reality game show that is being hosted by political party leader, actor and filmmaker Kamal Haasan. The show will see 20 plus plus celebrity contestants locked into a house with weekly elimination based on audience's vote. The one who survives till the 100th day with highest number of votes will be announced as the winner. So far, aspiring model and actor Aarav, "Madras" fame Riythvika, Malaysia based singer Mugen, Actor Aari, TV star Raju have won the titles.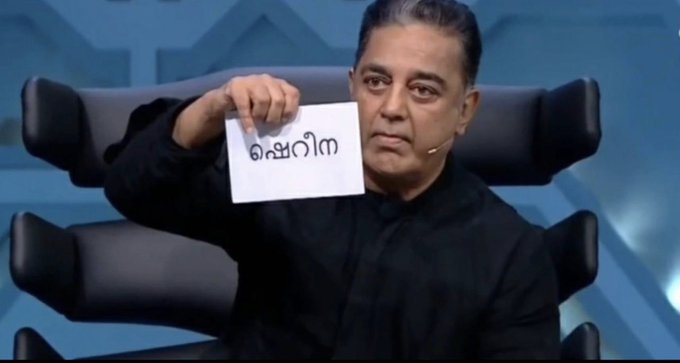 In the ultimate version of the show which was partly hosted by Silambarasan, Balaji Murugadoss won the title. The Bigg Boss house is located in EVP film city, Poonammalle. The house includes a garden, pool, activity area and gym. It also contains two large bedrooms, a living area, a kitchen, a storeroom, a smoking room, a jail, and four bathrooms. There is also a room exists named confession room where all private conversations between the housemates and Bigg Boss occur. The house is believed to prohibit television, telephones, internet and clocks.
The list of contestants for the 6th season of the show includes GP Muthu, Asal Kolaar, Mohammed Azeem, Ayesha, Robert Master, Sheriina Sam, Manikandan Rajesh, Rachitha Mahalakshmi, Ram Ramasamy, Dinesh Kanagarathnam, Janany Kunaseelan, Shanthi Aravind, Vikraman, Amudhavanan, Maheshwari, VJ Kathir, Queency Stanly, Nivaashiyini, Shivin Ganesan and Dhanalakshmi.