In the third season of Bigg Boss Tamil season 3, among all the 16 contestants, Vanitha Vijayakumar, eldest daughter of veteran actor Vijayakumar has been grabbing the attention of the viewers for all the wrong reasons. From the very first day, the former actress has been confronting with other contestants for various reasons. She mainly hated for involving in the argument between Madhumitha and Abhirami Venkatesan. Netizens has been stating that her statements are very hypocritical and biased.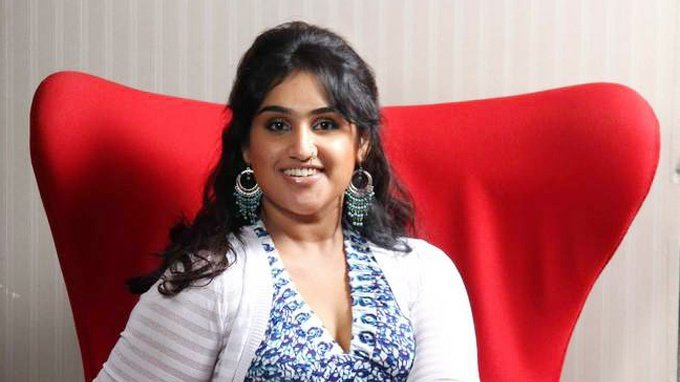 In yesterday's episode, for taking stand against her, Darshan, a Sri lanka based model is being lauded by the social media users. He said that he raised voice against her only to make her realize that her hypocrisy won't work all the time.
#darshan is d only1 who is standing up 2 #Vanitha who is nothin but a big bully trying 2 shout at ppl 2 get her way #BiggBossTamil #BiggBoss

— Madness (@madhu1291) July 12, 2019
The only man in the house, Hats off to #Darshan #BiggBossTamil3

— Rajesh Naidu (@rajesh__naidu) July 12, 2019
Vanitha criticized Madhumitha for identifying herself with Tamilnadu and the same lady did it herself while scolding darshan yesterday " Tamilnatla irunthutu ippadi panra "#BiggBossTamil3

— Nagganatha Suganthan (@btsugan) July 13, 2019
This level of hate for the actress made the audience to get interested in her past and personal life. In a video which was recorded nearly 3 years ago, Vanitha, for her movie promotion declared that she and Dance master Robert are in relationship. The video is going viral among social media platforms and receiving hilarious comments. The movie "M.G.R Sivaji Rajini Kamal" was produced by Vanitha Vijayakumar and was directed by Robert master. Both of them featured in the movie in prominent roles as well.
In a media interaction for promotional purpose, Vanitha can be heard saying "Me and Robert master are not married yet but we are in a relationship. I have said it already. If a man and woman can make a movie together and release it together then they definitely eligible to lead a happy life"
Watch the old video of Vanitha here :
According to Robert Master's latest video interview, what Vanitha said about their relationship is completely intended on promoting the movie. "There is nothing between me and Vanitha such as husband and wife at all. She already has a lover for 20 long years but didn't get married still. I could not say someone's lover as mine. She always liked the publicity and you can see it in the ongoing Bigg Boss show as well. To promote the film we acted together, she announced that we were having an affair. Then the news spread like a wildfire. When I asked her about it, she asked me to adjust and promised people will forget after the release of the film. Even my wife fought with her. But people never forgot and it is still spreading as a rumour" said Robert in the interview.
Watch the recent video of Robert master here :
Source : Indiaglitz 
Since the start of Bigg Boss Tamil 3, the show has been grabbing headlines for different reasons. The Kamal Haasan hosting reality television show conducted the opening ceremony on 23rd June. He is hosting the show for the third consecutive time and he donned different get ups for all the three times.