"They Want 20 Lakhs, 2 BHK & Gold As Dowry" – Famous Celebrity Shared The Screenshot
Written by Dhiwaharan Published on May 21, 2022 | 13:29 PM IST | 123
Follow Us
Comments: 0
Singer cum Me too activist Chinmayi Sripaada who has been raising voice against the injustices that are happening against women through her official social media handles, on Saturday, shared a screenshot of the messages she recieved from a woman who vented out her emotions on being demanded to provide expensive assets such as gold, house and huge amount of money through marriage proposals.
Ever since accusing renowned lyricist Vairmuthu of approaching her sexually, Chinmayi became the face of South India as far as MeToo movement is concerned. Women are contacting through Instagram DMs to complain about the struggles they are facing because of men in their daily lives.
The singer has exposed many men and shared hundreds of screenshots of women to let the world know about their pain and struggles. On Saturday, she shared a screenshot in which a woman explains how she is suffering due to the dowry demands from the groom and their family members.
Identifying herself as an individual from Vizag, the woman says that her father is a cab driver, according to the screenshot shared by Chinmayi. She days that men and their family members are expecting her to be working in a company but not it anything other than a software one.
She further said that the families that approached her so far, has demanded Rs. 20 lakh of money with a 2BHK flat, gold and other things as dowry. The woman also worried about being rejected as she is not working in a software company.
"They need good job from me and good dowry from me. My parents are worried about my marriage" The woman said through her texts by adding sad emojis.
Here's the screenshot of the messages :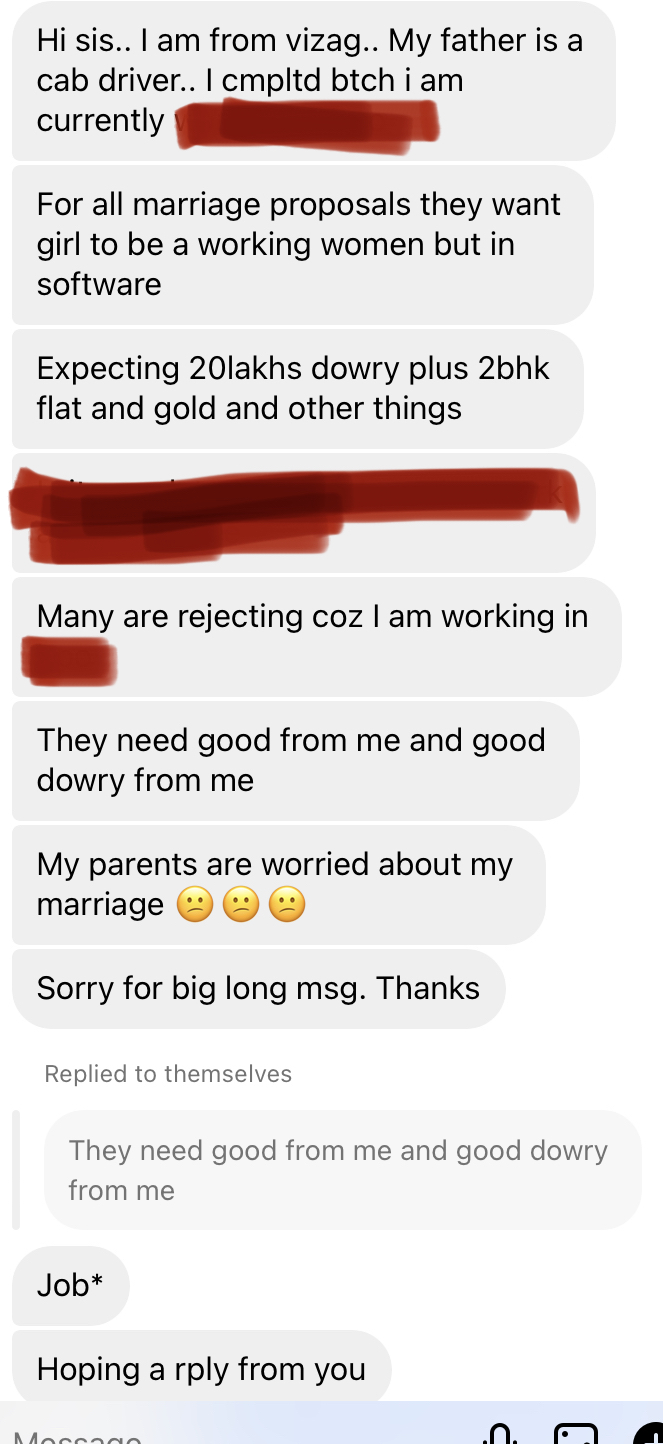 Sharing the messages, Chinmayi wondered why women are forced to marry in such conditions. The singer said that the demands makes it look like a "nice business deal" instead of a marriage arrangement.
"Why are women expected and forced to marry in such conditions? Father's a can driver. Expectation for dowry is 20 lakhs, flat, gold plus all salary post marriage. Nice business deal read the caption of the singer.
Check out her post below :
Why are women expected and forced to marry in such conditions?
Father's a can driver. Expectation for dowry is 20 lakhs, flat, gold plus all salary post marriage. Nice business deal. pic.twitter.com/nEyVpxoknk

— Chinmayi Sripaada (@Chinmayi) May 21, 2022
As a reaction to Chinmayi's tweet, many men could be seen defending the demands by saying that the family of bride also has some expectations. Others were seen condemning the "dowry" demands of grooms. Check out some of the reactions below :
Men has too many issues in these modern age! Both side should be considered as a victim here..
Would become a debate if we discuss!
I wish she'll find the right choice(men)!

— karthi S (@s__karthi) May 21, 2022
These days, marriages became very commercial. Isn't it?

— Kranthi Vardhan (@segukranthi) May 21, 2022
Even girls are expecting this sister, people just need money

— Pavan Reddy (@PavanRe58805893) May 21, 2022
love marriage enters the chat

— mersal_kiran (@mersal_kiran_) May 21, 2022
Men demanding dowry is the same as human beings demanding money for sex. Just prostitution. And totally bizarre that women fall for this garbage. Don't educate your girls if you're paying for men prostitutes. Just pay up and hope he's worth it.

— vegan 4 animals.🌱🐈🐕🐷🐄🐘❤️🇺🇸 (@girija_venkat) May 21, 2022