"They Stopped My Film From Getting Released Because Of Their Personal Problems" – Moodar Koodam Naveen's Shocking Statements !!
Written by Dhiwaharan Published on Apr 29, 2019 | 12:04 PM IST | 207
Follow Us
Comments: 0
Alaudhinin Arputha Camera is an upcoming Indian Tamil-language fantasy film, inspired from "A most unusual camera" episode from "The Twilight Zone" series, written, directed and produced by Naveen, who also stars in the film alongside Anandhi of Kayal, Pariyerum Perumal fame. Natarajan Sankaran is composing music for the film.
[wp_ad_camp_1]
Naveen is an Indian screen writer, film director, producer, and actor, who works in the Tamil film industry. Naveen made his directorial debut with the critically acclaimed Moodar Koodam in 2013. He produces films under his production company, White Shadows Productions.
Now recently a video interview of him with Puthiya Thalaimurai has been released in Youtube in which he is seen stating reason for the delay of  his"Alaudhin Arputha camera". The reason behind the delay is Flash Films company which bought the stay order from court.
Source : Puthiya Thalaimurai 
Flash films approached Naveen in 2016 to make film by having Vishagan in the lead role. "Initially I was reluctant to take the project but then they paid me the advance which I gave them back. Then I agreed to make a film for them in 1st copy basis. They paid me 44 and half lakhs as advance and I finished my script within a month." Naveen told it in the interview.
Vishagan is an aspiring actor  and business man who has done a role in "Vanjagar Ulagam" and also known as Superstar Rajinikanth's son-in law.
[wp_ad_camp_1]
"I pitched my script to Vishagan and he was very much impressed with it. Then I asked them that I have to start the shoot of the film by the next month. But they asked me to hold that it was a time of demonetisation. As they asked me to hold I started the pre production works for the movie and paid advance to all my technician. But the shoot never happened. The shoot delayed for various reasons and I narrated story to actress Samantha in between."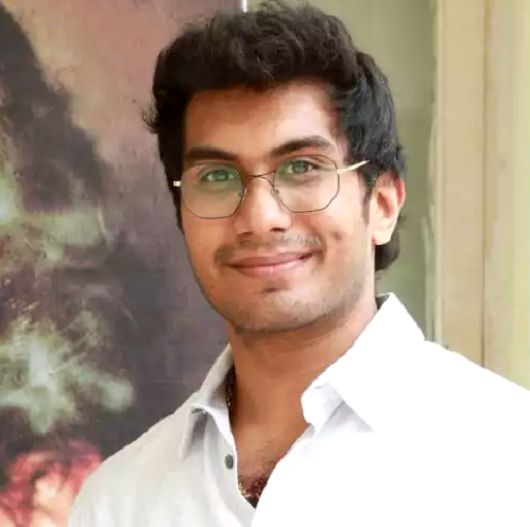 "One day Vishagan and relatives asked me to drop the project at one point. Vishagan's uncle asked me to give back 20 lakhs. But it was already spent for the pre production works of the film they committed with me. Then I moved on to start my next project and finished it with the money I bought from a financier and from three of my friends."
[wp_ad_camp_1]
"Now I have finished my Alaudhinin Arputha Camera and it is waiting for it's release. All of a sudden I am receiving a call from Qube that my film has been stopped from releasing. Now they are defaming me in meidas by saying that I haven't done my script and demanding me to pay 20 lakhs. Just ask Vishagan if he ever discussed the script with me or not. I even missed three opportunities from various production companies to do this film." Naveen told in his interview.
He even said it in his official twitter account by posting a tweet. Check out his tweet here :
இதுதான் உண்மை
முழு நேர்காணலையும் பார்த்தால் முழு உண்மை தெரியும். என்னை நேர்காணல் செய்த நெரியாளர் மதன் நடுநிலையாகவே இருந்தார்
அவருக்கு என் நன்றிகள்#AlaudhininArputhaCamera

அலாவுதீனின் அற்புத கேமரா வராதது ஏன் ? | | Moodar Koodam Naveen #PP22 https://t.co/VNDL7m4oLM via @YouTube

— Naveen.M (@NaveenFilmmaker) April 28, 2019
"They never honoured the agreement we had" said Naveen in his interview. What do you think on this issue ?? Comment your views below !!