The most powerful man in Kollywood until recently, actor Vishal, president of Tamil Film Producers Council (TFPC) and general secretary of actor's body Nadigar Sangam, is now featured in a movie named "Ayogya" as lead actor.
[wp_ad_camp_1]
Vishal scored a hit last year with director PS Mithran's Irumbu Thirai. The actor signed on Aygoya, Tamil remake of Telugu super hit film Temper, as his next flick. Ayogya, directed by Venkat Mohan, was supposed to hit the theatres on May 10. However, the film's release was delayed and released a day later.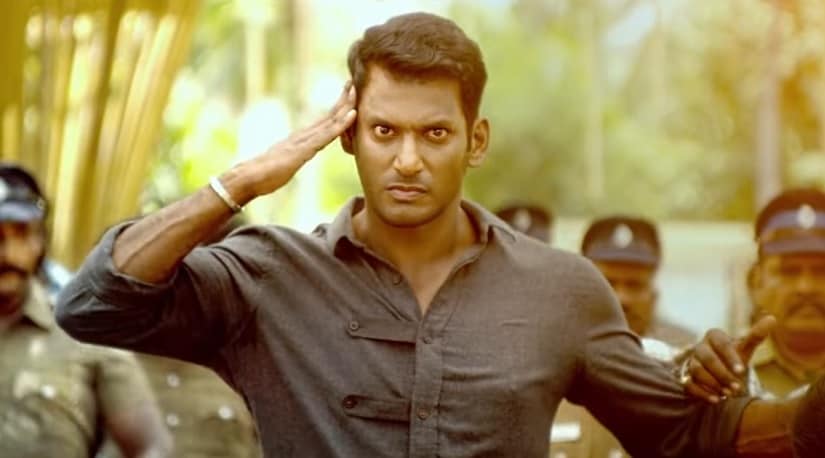 The trailer of Ayogya, which was released a couple of weeks ago, showcased Vishal as a corrupt cop who transforms into a sincere police officer when an untoward incident happens. He undergoes a transformation and fights for a woman who was raped brutally.
[wp_ad_camp_1]
In an earlier interview, Vishal, said, "I chose to do the Temper remake only because of its subject. It can reach the masses in Tamil Nadu. The punishment for rape is very light at the moment; we need tougher laws."
Now actor Parthiban who is also a part of the movie has posted a controversial statement saying that the movie was copied from his film "Ulle Veliye" which was released in 1993 and he alleged that the makers of "Ayogya" casted him in the same.
Check out his tweet here :
'அயோக்கியா'த்த்தனம்!
94-ல் வெளியான என் ginal ginal original 'உள்ளே வெளியே'படத்தை In&out லவுட்டிTemper'(Rights பெறாமல்) தெலுங்கில் Hit ஆக்கி தமிழிலும் தற்போது!அதில் என்னையும் நடிக்க வைத்து என்ன ஒரு'அ-தனம்'?குற்ற உணர்ச்சி இல்லாமல் எப்படி?வழக்கு செய்யாமல்,பெருமையுடன் பதிவிடுகிறேன pic.twitter.com/PVgQYEkxGY

— R.Parthiban (@rparthiepan) May 12, 2019
This tweet created a furore in social media where enormous number of twitter users reacted to it :
டைரக்டர் கதை சொல்லும்போதே இதை நீங்க உணர்ந்திருக்கணுமே? ஒரு வேளை தூங்கிட்டே கதை கேட்டீங்களோ அல்லது கதையே கேட்காமல் சம்பளம் வந்தா சரின்னு நடிச்சீங்களா?

— ரஹீம் கஸ்ஸாலி (@RahimGazzali) May 12, 2019
Appo padathulayum neengathaan villain padathukum neenga thaan villain pola👌👌👌👌

— Ąbű ãměęŔ (@mdvadhu) May 12, 2019
படம் ரொம்ப கேவலமா இருக்கு ஒரு பயலும் பார்க்க மாட்டான் னு தெரிஞ்சதும் இப்படி ஒரு ட்வீட் போட்டா போய் பாப்பானுங்க… அதுக்கு தான

— Praveenkumar (@PravenC11) May 12, 2019
படம் பக்கலாம்ன்னு நினைத்தேன், ok பார்த்த படத்த பாக்க வேண்டாம். நன்றி..

— சலகை விக்ரமன் (@Kapasina) May 12, 2019
Followed by this, the veteran director and actor posted another couple of tweets saying that his tweet is only a part of his promotional activity for the film. Actor parthiban is very well known for approaching a situation with different perception. As he expected, the tweet went viral and many online websites published the news.
[wp_ad_camp_1]
Check out those tweets here :
ஒப்பீட்டால் ரிப்பீட்டாகும் audience!
'அயோக்கியா'-என் பதிவு ஒரு விளம்பர யுத்தி என்பதை யாராவது கண்டுபிடித்து விடுவார்களோ என யோசித்துக் கொண்டிருந்தேன்.Goodவேளை!
'Temper'வரும்போது தெரியாது,
தமிழாகும் போது தெரியும்.இதை
கூடிப்பேசி கூத்தடிப்போம் Shooting spot-ல்.Mr vishalக்கும் எனக்கும் pic.twitter.com/AawOxRV7kl

— R.Parthiban (@rparthiepan) May 12, 2019
.Mr vishalக்கும் எனக்கும் என்றுமே பிரச்சனை இல்லை! இப்போதும் வழக்காட வரவில்லை.வழக்கமான என் (100%உண்மையான)அக்மார்க் அக்குறும்பே!கெட்ட போலீஸ்,ஒரு நல்ல போலீஸால் திருந்துவதன் விளை(யும்)வுகள்!இந்த மையக் கரு இரண்டிலும் ஒன்றே!Doubt-ன்னா பாருங்க ….
yeah AYOGYA! pic.twitter.com/0a08gISxgZ

— R.Parthiban (@rparthiepan) May 12, 2019
Ayogya has Raashi Khanna, KS Ravikumar, Devadarshini, Vamsi Krishna, Pooja Devariya as part of the supporting cast. Produced by Studio Green, the film has music by SS Thaman.
What do you think on this strategy of Parthiban ?? Comment your views below !!