Articles
"They Already Have A Plan" – Former Bigg Boss Participant !! WATCH
Danny, Bigg Boss contestant of season 2 had participated in an interaction with Producer Ravindran for Behindwoods youtube channel and revealed that he lost movie opportunities due to his Bigg Boss stint. Daniel Annie Pope who is known among audience for acting in films such as "Itharku Thaane Aasaipattai Balakumara", "Yaamirukka bayamey", "Rangoon", "Jarugandi" appeared in an interview and shared about his insights about the show.
[wp_ad_camp_1]
In the interview, Danny expressed his beliefs over the reality game show. To the people who are willing to participate in the show, Danny advised them to wait and do a quality film instead of aiming to participate in the show to gain fame. He also expressed his disappointment over the Bigg Boss management avoiding the eviction this season.
Danny firmly believed that the Bigg Boss management already has a plan and are acting according to it instead of giving value to the votes of public. Danny who expected Kamal Haasan to condemn Balaji last week, said that he got disappointed on seeing him questioning Aari. "At that time, I confirmed that things are not happening according to the votes of the public inside the Bigg Boss house." Daniel said.
"We must understand that our votes are not saving the contestants. They already have a plan. They are acting according to the plan. Within that plan, they are changing the structure of the show with the feedbacks of the public. They already have a plan and they might have fixed the finalists as well" Daniel said.
"So for 60 days were gone. Still there are 14 contestants staying inside the house. At this time, half of the contestants got evicted during my season. They are trying to make content out of their favourite contestants such as Aajeedh and Nisha" Danny said. "If there is no content, they would remove the contestant immediately. That's what happened in the first two seasons. The eviction process is the highlight of the Bigg Boss show. No one would watch the show, if there is no eviction" he said.
[wp_ad_camp_1]
"Without proper reason, they made eviction free for three weeks so far. People got bored of it. We are losing interest due to the non-eviction" he added.
Watch the video below :
Video source : Behindwoods
Season 4 of Tamil Bigg Boss show got launched on the 4th of October by Ulaganaayagan Kamal Haasan. The show's contestants included Shivani Narayanan, Vel Murugan, Rio Raj, Ramya Pandiyan, Aari Arjun, Samyuktha Karthik, Aranthangi Nisha, Gabriella Charlton, Jithan Ramesh, Aajeedh, Rekha, Anitha Sampath, Som shekar, Rekha, Suresh Chakravarty, Balaji Murugadoss and Sanam Shetty. Archana and Suchithra entered the house as wildcard contestants and Azeem, another Vijay TV star is expected to enter the house soon.
[wp_ad_camp_1]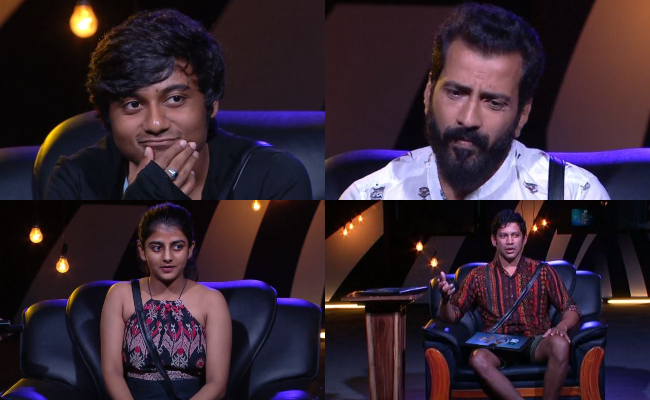 As far as the ongoing Bigg Boss season is concerned, Rekha, Vel Murugan, Suresh Chakravarty, Suchithra and Samyuktha got eliminated from the show due to the less votes they received from the audience. Ajeedh got evicted and saved himself by using a pass he won during a task.
Comment your views on these statements of Danny !!