These Top Filmmakers & Actors Got Stunned After Witnessing "Vikram" Trailer !!
Kamal Haasan
Vijay Sethupathi
VIkram
CM / Updated: 2022-05-16
15:59 IST
By Dhiwaharan
Along with fans, a number of celebrities of Kollywood and other film industries stunned on seeing the trailer of "Vikram", first film of actor Kamal Haasan in last four years. The star studded trailer which featured powerful actors such as Vijay Sethupathi, Fahad Faazil, Suriya along with Kamal has became a subject to social media trending and talk of the town after the makers conducted a huge event for the trailer and audio launch.
For "Pariyerum Perumaal" director Maari Selvaraj to "Premam" director Alphonse Puthren, a number of filmmakers got impressed with the trailer of the Lokesh Kanagaraj directorial.  Check out some of the reactions from the celebrities for Kamal Haasan's "Vikram" :
Kamal sir on FIRRREEE 💥Swag MAXXX💥
@VijaySethuOffl & #fahadfaasil TeRRRIFFIcc 💥💥💥
Machiii I couldn't take my eyes off the trailer 💯👌🏻💥 Some international stuff you have done brother @anirudhofficial 🔥🔥
Loved the cuts @philoedit 🔥👏🏻
Can't wait #Vikram https://t.co/i1gitXMngV

— Shanthnu 🌟 ஷாந்தனு Buddy (@imKBRshanthnu) May 15, 2022
This is gonna be CRAZY MAD ACTION EXTRAVAGANZA !! Loving it!! @Dir_Lokesh Pinni pedal!! Can't wait to see @ikamalhaasan saar on da big screen!! 🔥 🔥 #VikramTrailer https://t.co/9UdYDVfuAv @VijaySethuOffl #fahad @anirudhofficial #girishgangadharan @anbariv

— venkat prabhu (@vp_offl) May 15, 2022
Super….. Fireworks all thro 🔥🔥🔥👏👏👍👍 https://t.co/mt6QUdeQs0

— karthik subbaraj (@karthiksubbaraj) May 15, 2022
Fantastic brother 😍💥@Dir_Lokesh https://t.co/yn9aCOhbd1

— pa.ranjith (@beemji) May 15, 2022
#விக்ரம் @Dir_Lokesh மீண்டும் ஒரு வெற்றிப்படத்தை கொடுக்கபோகிறார் என்பதை இந்த அசத்தலான ட்ரெயிலரே கட்டியம் கூறுகிறது. படக்குழுவினர் அனைவருக்கும் வாழ்த்துக்கள்💐💐 @MrRathna @philoedit https://t.co/pMwPVpHxB5 via @YouTube

— Ravikumar R (@Ravikumar_Dir) May 15, 2022
Sema …..Vazhththukkal @Dir_Lokesh bro 💐💐💐 https://t.co/HjSQkcCxmH

— Mari Selvaraj (@mari_selvaraj) May 15, 2022
Here goes ➡️ https://t.co/Fuhuymd1nk
A @Dir_Lokesh Sambavam 🤗🤗🤗@ikamalhaasan Sir 🔥🔥🔥@anirudhofficial 💥💥💥@VijaySethuOffl Sir 🔥🤗#FahadhFaasil 🔥@philoedit Sir 🤗@anbariv Masters 🤗

#VikramFromJune3 #Vikram https://t.co/fvyQ8pNogp

— Arjun Das (@iam_arjundas) May 15, 2022
What a mind-blowing trailer & what a goosebump inducing cast & team! 🤯 🔥 Can't wait to watch this one !@ikamalhaasan @Dir_Lokesh @VijaySethuOffl #FaFa @anirudhofficial https://t.co/hT4bJEjF6I

— malavika mohanan (@MalavikaM_) May 16, 2022
Fanboy tribute at it's peak !!#Vikram #VikramTrailer https://t.co/wZ8pqYo1y8

— Alphonse Puthren (@puthrenalphonse) May 15, 2022
A லோகேஷ் கனகராஜ் கறி விருந்து. 🔥🔥💥.

Happy to co write with Nanban Loki for his Magnum opus #Vikram. Thank you @Dir_Lokesh for trusting me again & again❤️.

Amazing work@girishganges @philoedit & Highly volatile @anirudhofficial bro.🔥💥
https://t.co/fcQYsEw3az

— Rathna kumar (@MrRathna) May 15, 2022
Incredibly stunning @Dir_Lokesh 🔥🔥🔥🔥 you are shining #VikramTrailer #VikramFromJune3 https://t.co/crmeuBw7XH

— DD Neelakandan (@DhivyaDharshini) May 15, 2022
The most awaited release of Vikram's trailer and audio happened in the evening of Sunday and raised the expectation level of audience to another level. Fans started speculating the story of the multi starrer flick as soon as witnessing the two and half minute trailer. Interestingly, a video from Lokesh Kanagaraj's "Kaithi" is doing rounds in social media platforms with fans linking the connection between Kaithi universe and Vikram universe.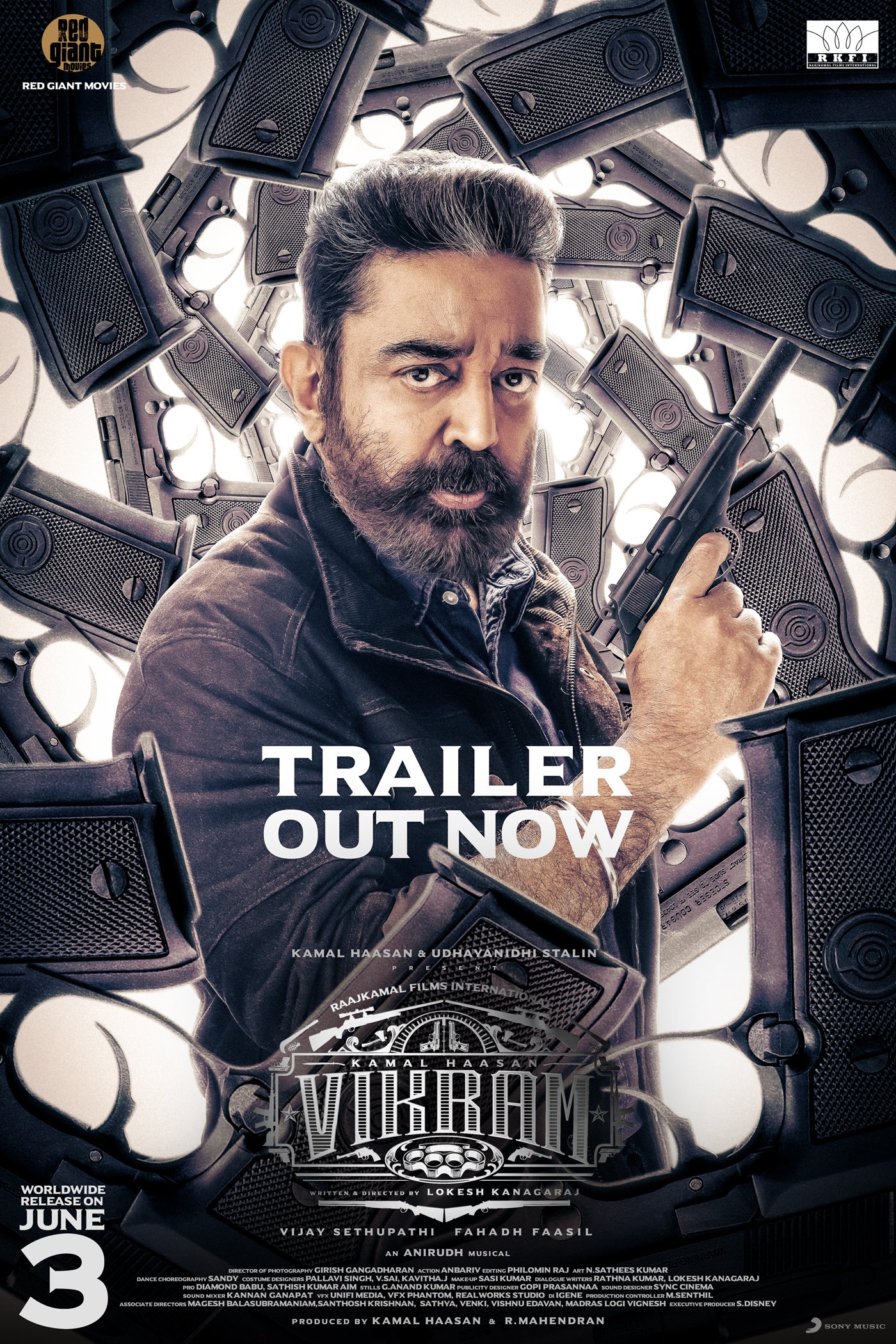 The trailer and audio launch took place as a huge event with stars such as Simbu, Vijay Sethupathi, Udhayanithi Stalin, Pa. Ranjith taking part in it. The social media platforms we're filled with the updates from the event and the trailer released around 8 pm.
The 2 minutes 39 seconds long trailer showed a battle between a trio Kamal Haasan, Vijay Sethupathi and Fahad Faazil who were dominating promotional posters ever since the project was announced. Kamal Haasan gave a narration in the background comparing the battle field with a forest that has deadly animals such as Lion, Tiger, Leopard hunting a deer.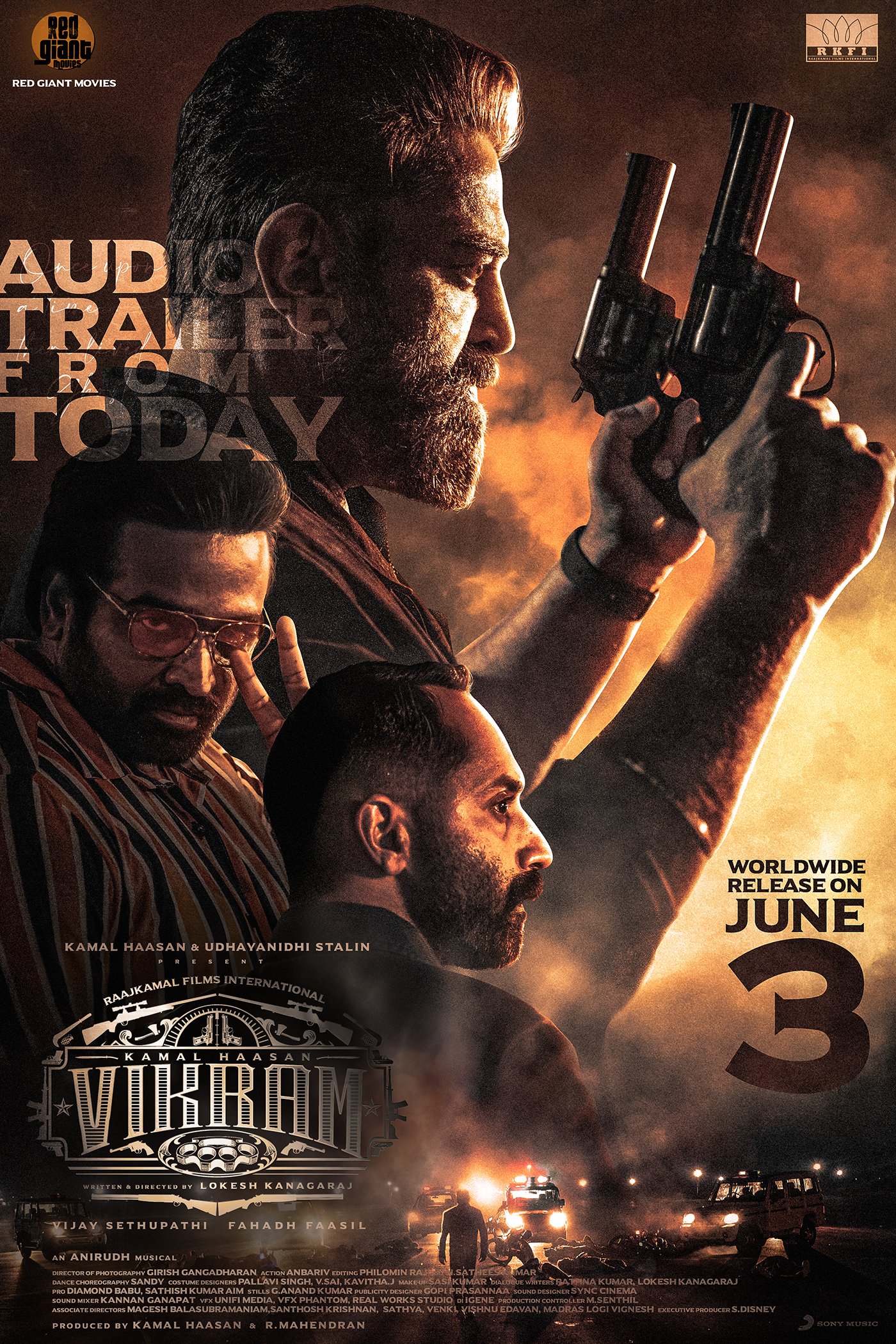 Vijay Sethupathi appeared a drug Lord who was on a mission to take back his "sarakku" (scorpion printed bags that contains cocaine). Fahad Faazil was seen involving in risky stunts and has appeared as an angry cop in the film. Kamal Haasan, the mystery man shows his combat skills throughout the trailer and ends the trailer by uttering "Vikram" three times.
Surprisingly, Actor Suriya who had played a cameo role in the film, is believed to have appeared in the trailer for a shot. The trailer promised a perfect actioner with a racy screenplay. The ensemble cast added advantage to pull the crowd for a massive opening and Lokesh Kanagaraj's screenplay is expected to help the film to have a longer run.
Watch the trailer below :