These Stars Couldn't Believe That Tharshan Got Evicted !! Check What They Have To Say !!
Bigg Boss
Bigg Boss Tamil 3
Kamal Haasan
Tharshan
CM / Updated: 2019-09-30
14:53 IST
By Dhiwaharan
Not only fans, even many celebrities couldn't believe that Tharshan got evicted from the Bigg Boss Tamil show season 3. Being one of the youngest contestant of the show, Tharshan is the only contestant who took the physical tasks of the game seriously. The eviction of him made people slamp the Television channel and even Kamal Haasan asked the fans whether they voted for Tharshan or not on seeing their applause for the model.
[wp_ad_camp_1]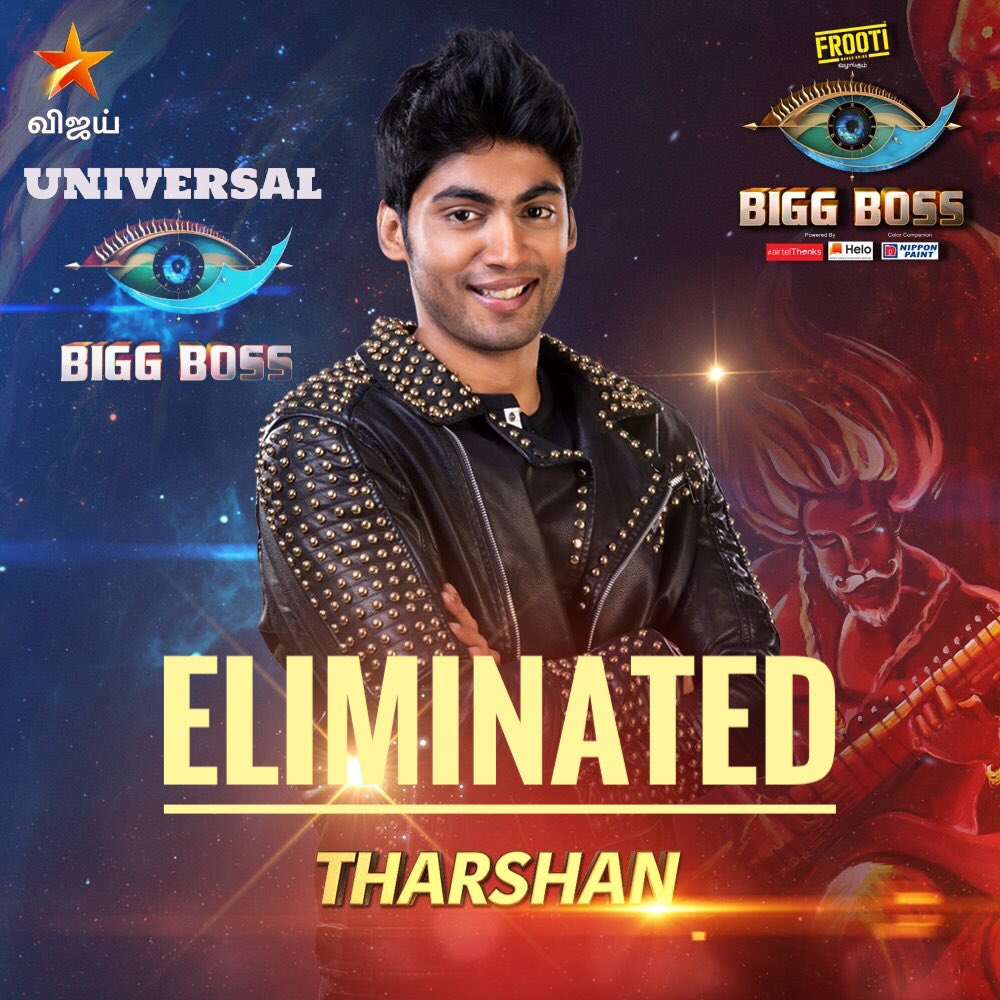 Starting from popular Kollywood hero, Shanthanu Bhagyaraj to serial actress Neelima, many expressed their disappointment on Tharshan's elimination. Shanthanu said that the voting system of Bigg Boss show is fake. Check out his tweet below :
Ada po ya !!
Indha voting ellam சரியான போங்கு #BB3 #Darshan

— Shanthnu Buddy (@imKBRshanthnu) September 30, 2019
"Singakutty" actor and grandson of legendary actor Sivaji Ganesan, Shiva kumar said that it is a political move by the Television. He said that he couldn't believe his eyes on Tharshan getting out of the house.
The program says"Expect the unexpected ".But I highly doubt whether it was a political move and not the people choice! Truly cannot believe my eyes seeing #Tharsan Leaving so early! #Tharshan #TharshanPeoplesChamp #TharshanTheRealWinner #BiggBossTamil #BiggBoss #BiggBossTamil3

— Shiva Kumarr (@Shivakumarr222) September 29, 2019
"Pyar Prema Kadhal" actor Harish Kalyan said that Tharshan won many hearts through his Bigg Boss stint and wished him the best.
Well played #Tharshan You have won so many hearts. My best wishes to all your future endeavours.. shine bright #BiggBossTamil3

— Harish kalyan (@iamharishkalyan) September 30, 2019
[wp_ad_camp_1]
Former Bigg Boss contestant Harathi said that she already thought that Tharshan would get evicted as he was celebrated by people very much. She also said that he is the pride of his nation.
ரொம்ப கொண்டாடப்படும் போதே நினைத்தேன்…..மக்களால் போற்றப்படுபவர்கள் #BiggBossTamil ஆல் eliminate செய்யப்படுவார்😥
Definitely you are winner #Tharshan My dear brother
You are #Pride of your #nation#jaffna #SriLanka

— Actress Harathi (@harathi_hahaha) September 29, 2019
Reviewer Prashanth requested the directors of Kollywood to make use of him as soon as possible.
Well. Dear tamil directors – Make use of his huge fame !! Make a movie with him as soon as possible !! #Tharshan pic.twitter.com/tztMj2pcjw

— Prashanth Rangaswamy (@itisprashanth) September 29, 2019
TV actress Neelima who is known for appearing in films like "Thimiru" said that he is the real winner and believed that an amazing career is waiting for him in outside.
You are my BIGG BOSS 3 title winner darsh!! An amazing career is awaiting for you 💐 stay strong man!!! pic.twitter.com/jQGT6nH5iT

— neelima esai (@neelimaesai) September 29, 2019
Former season's Bigg Boss title winner, Rythvika couldn't believe that he got evicted and posted an Instagram story to express it. Check out her story here :
Second season's contestant and actress Yashika anand posted stories of fans comparing herself with Tharshan by saying that they deserved to be in the finals.
[wp_ad_camp_1]
Director actor Cheran said that he is capable of winning the finals and he couldn't come out of the shock after hearing his eviction. Check out his post below :
ஆகச்சிறந்த உழைப்பை கொடுத்து விளையாடிய தம்பி தர்சன் இன்று வெளியேற்றப்படுகிறார் என்றால் அது வருத்தத்திற்குரியது.. 100 சதவீதம் பிக்பாஸ் வின்னர் என்ற பட்டமும் பரிசும் பெற முழுத்தகுதியானவர்.
அவரின் முயற்சியும் முனைப்பும் அருகில் இருந்து பார்த்தவன் நான்..
அதிர்ச்சியிலிருந்து மீளவில்லை. pic.twitter.com/lSAJ81cNML

— Cheran (@directorcheran) September 29, 2019
Sakshi Agarwal also posted tweet regarding the elimination of her co-contestant :
Now only came to know that #Tharshan evicted from #BiggBoss show.I am totally shocked on hearing this .He is a deserving contestant to win the title.Anyway #Tharshan bright future waiting for you and all the best for your future. #BiggBossTamilS3 @vijaytelevision @hotstartweets pic.twitter.com/TxxRSwhhSb

— Sakshi Agarwal (@ssakshiagarwal) September 29, 2019
Here's what Kasthuri has to say :
Tharshan walked out today like a champ. RESPECT.

No matter who wins #BiggBossTamil3 , The biggest winners will be Tharshan and Mugen, they are going to be Flooded with offers.
I cant wait to do a bunch of ads with them !

— Kasturi Shankar (@KasthuriShankar) September 29, 2019
What do you think on these reactions from the celebrities ?? Comment your views !!