These Memes On Yogi Adithyanath's TN Entry Left Netizens In Splits !!
Tamil Nadu
yogi adithyanath
2 years ago
By Dhiwaharan
To campaign for the BJP party, Uttar Pradesh Chief minister Yogi Adithyanath has planned for a two day visit in Kerala and Tamil nadu and landed on Coimbatore today. He is scheduled to address three rallies in Tamil Nadu. He is visiting the south states ahead of the elections that are scheduled to take place in a single-phase in Tamil Nadu, with the polling of votes on April 6 followed by the counting of votes and the declaration of result on May 2.
[wp_ad_camp_1]
தேசிய ஜனநாயக கூட்டணி கட்சிகளுக்கு வாக்குகள் கேட்டு

தமிழகம் வருகை தரும்

உத்திரப் பிரதேச முதலமைச்சர்
திரு.@myogiadityanath அவர்களை

வருக! வருக!! என வரவேற்கிறோம்#TNElection2021 pic.twitter.com/G0ItDV1y7K

— BJP Tamilnadu (@BJP4TamilNadu) March 31, 2021
After reaching Coimbatore at 8 : 45 A.M on Wednesday, Yogi flagged off a bike rally in Paliamkulam at 11 : 40 A.M. After addressinjg the public meeting at Theranilai Thedal at 12 : 45 P.M, Yogi left to Madurai. Addressing the second public meeting at Virudhunagar at 3 : 45 PM, he left to Mandapam at 5 : 45 PM.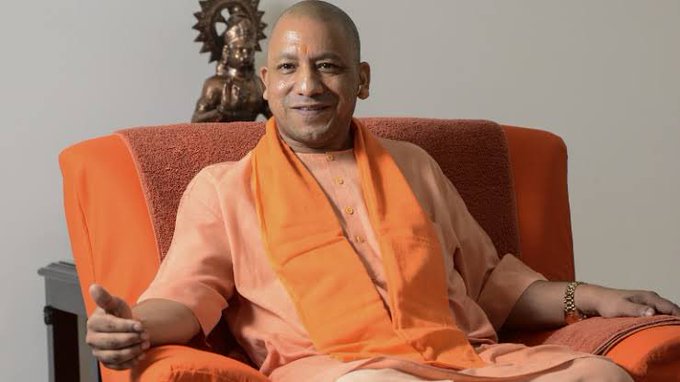 The UP CM is taking rest at Rameshwaram on Wednesday night and leaves to Kerala to attend the election rally on behalf of BJP. After attending a numbedr of meetings and rallies at Kerala, Yogi Adithyanath is planning to leave from Trivandrum International Airport at 7.30 pm and reach Lucknow Airport at 10.15 pm.
As soon as the news on Yogi Adithyanath's entry into south states surfaced, memes and reactions trolling the UP CM based on the way he his ruling his state started emerging in social media platforms. The enormous number of memes that surfaced in the social media platforms left the netizens in splits. Check out some of them below :
என்ன ஜி சின்ன பசங்க லாம் பள்ளிக்கூடம் போறானுங்க! pic.twitter.com/3KL9SMXd0q

— Ostrich Theriyumaa Ostrich (@ChittizeN) March 31, 2021
[wp_ad_camp_1]
March 31, 2021
என்ன ஜி train எல்லாம் சின்னதா இருக்கு. பச்சை கலர்ல வேற பெயிண்ட் அடிச்சு இருக்கீங்க.

அது bus ஜி pic.twitter.com/f1RYirvzpn

— அன்பே ஆண்ட்ரியா | Andrea is bae (@sowhatraa) March 31, 2021
[wp_ad_camp_1]
யாருமே பான்பராக் போட்டு ரோட்ல துப்ப மாட்றீங்க, பசுமாட்ட ரோட்ல திரிய விடமாட்றீங்க, முக்கியமா ஜெய்ஸ்ரீராம் சொல்ல மாட்றீங்க? ஊராடா இது? pic.twitter.com/ZbRyZocWiD

— ச.கருணாநிதி (@karna_sakthi) March 31, 2021
#YogiAdityanath
Coming to TN seeing beef

biryani shop pic.twitter.com/xqCMggU2U3

— ஏகலைவன்🖤❤ (@ThaladhoniDhoni) March 31, 2021
என்னடா எல்லா மதத்தினரும் ஒற்றுமையா இருக்கீங்க ! தப்புடா எப்படி டா எங்க பொழப்பு ஓடும் இப்டி இருந்தீங்கனா ! pic.twitter.com/laOCVHEHqE

— Aaina (@gaaliflower) March 31, 2021
Yogi memes made my day 😂😂 pic.twitter.com/qVmgHYEzZu

— DR.Joker (@IT_Payan) March 31, 2021
அது என்ன வெள்ள கலரு வண்டி குய்ங் குய்ங்னு கத்திட்டே போகுது.

அது ஆம்புலன்ஸ்ங்க… 😂 pic.twitter.com/afgMK5BXLg

— Kyle Kidd (@udhaysan) March 31, 2021
யோகி ~ ஊருக்கு ஊர் ஸ்கூல்,நல்ல ரோடு, கரண்ட் வசதி, எல்லா பக்கமும் குடி தண்ணிர் இதெல்லாம் இருந்தா எவண்டா நம்ம பேச்ச கேட்பான்?

எல்லாம் குடுத்து கெடுத்து வச்சிருக்கீங்க. ஊராடா இது.?! pic.twitter.com/JaKnw8TOVg

— ஜோக்கர்…😎😎 (@ItsJokker) March 31, 2021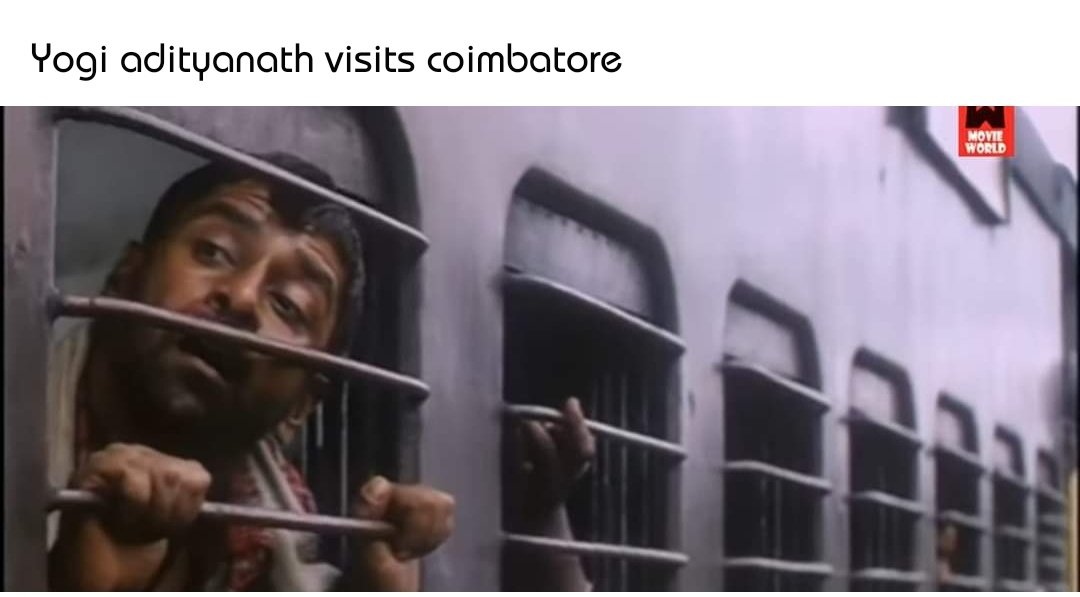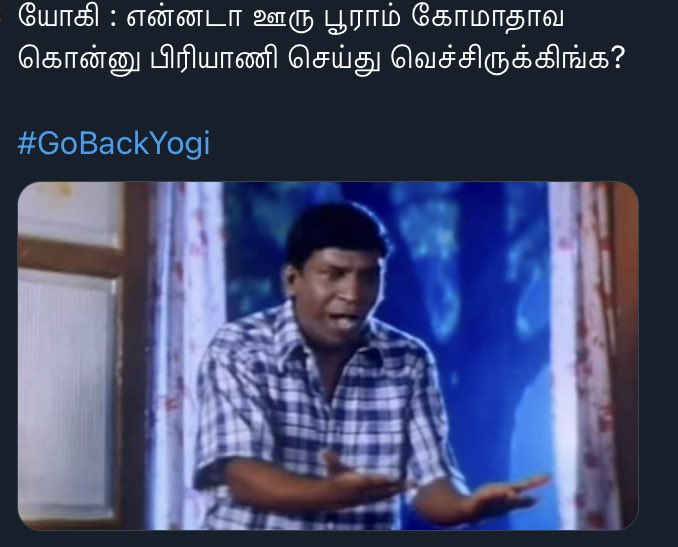 ஹே அது என்ன படிகட்டு மாதிரி இருக்கு… ஆனா தானாகே நகருது… – யோகி

இது தான் Escalator… pic.twitter.com/IwMz9SINTI

— ً𝕄𝕒𝕕𝕄𝕒𝕩 ☀️ Vote4DMK+ (@KtrMadmax) March 31, 2021
ஜி. கோவை பயணம் எப்டி இருந்துச்சு?

சங்கிகளோட கோட்டைனு சொன்னீங்க. அங்க தெருவுக்கு தெரு பீஃப் பிரியாணி கடை வைச்சுருக்கானுகடா! pic.twitter.com/HOpNngk6sm

— Gurubaai 🌻 (@ItsGurubaai) March 31, 2021
April 1, 2021
பில்டிங்க காட்டுறான்.. ஸ்கூல காட்டுறான்.‌. இந்த மாட்டுதொழுவ காட்ட மாட்டுறானேய்யா.. pic.twitter.com/bn21tvWpTN

— James Stanly (@JamesStanly) March 31, 2021
சீமான்::
மாடு மேய்த்தல் அரசு வேலையாக்கப்படும்!

யோகி::
நீ என் கூடவே வந்துர்ரியா, உன்ன நான் ராஜா மாதிரி பாத்துக்கிறேன் ….. pic.twitter.com/vKHK6AFIkv

— CSK THUG 1 (@thug1one) March 31, 2021
Dead.. 😂😂😂 pic.twitter.com/78fxOcwPsp

— முகவரி™ (@Mugavarii) March 31, 2021