These Guys Trolled Ashwin's "Mankad" By Recreating It !! Here's How Ashwin's Wife Reacted !!
Written by Dhiwaharan Published on Mar 28, 2019 | 12:36 PM IST | 94
Follow Us
Comments: 0
On Monday, Kings XI Punjab skipper Ravichandran Ashwin inflicted the first ever 'Mankad' in the history of the Indian Premier League as he ran out Jos Buttler on the non-striker's end before delivering the ball. The incident instantly stirred up a huge controversy with fans and experts producing their respective sides. While a few backed Ashwin to execute a dismissal within the laws of the game, many felt the spinner's act was not in the 'spirit' of the game.
[wp_ad_camp_1]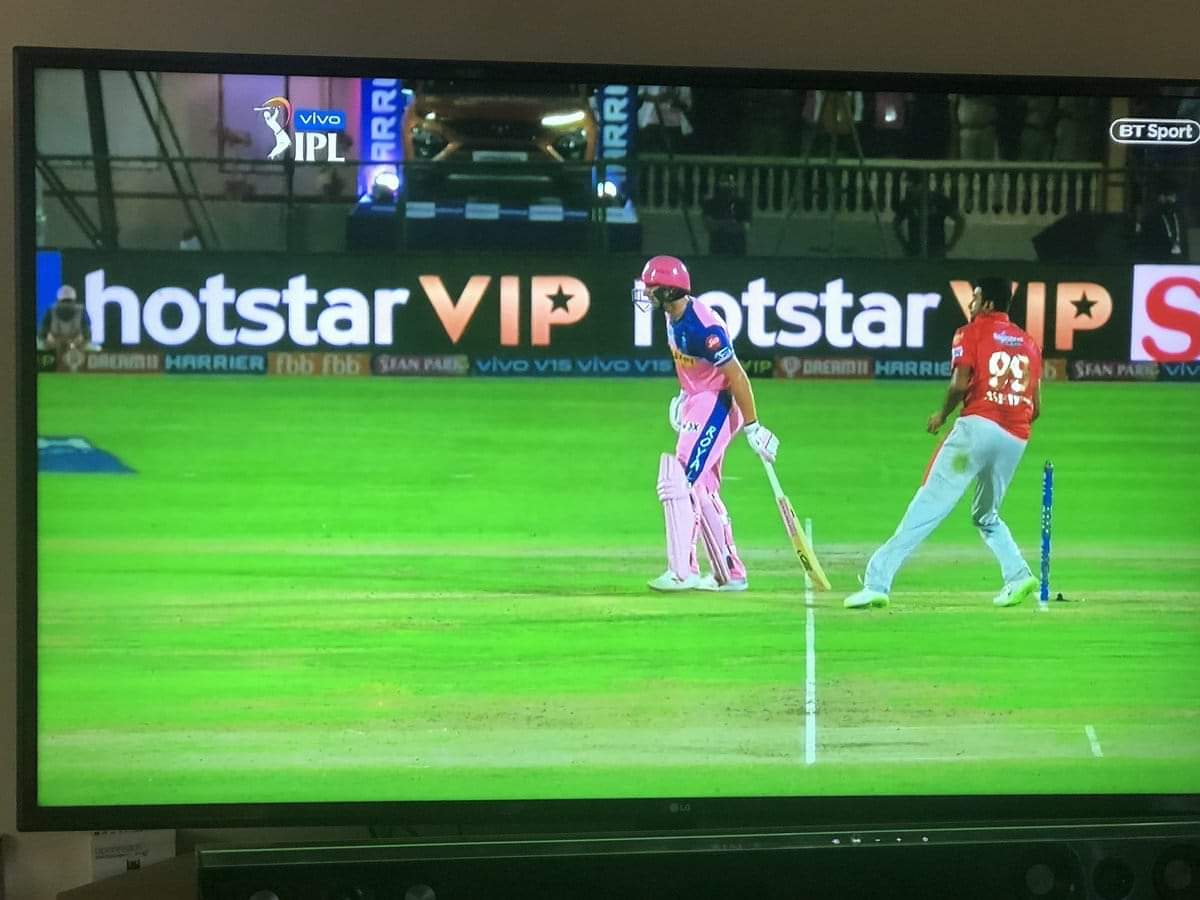 It was a 'very instinctive' decision Ashwin said in the post-match press conference after being asked about the incident which took place during Royals' chase of 185 runs at the Sawai Mansingh Stadium in their first game of IPL 2019. However, Indian spin great Erapalli Prasanna slammed Ashwin for his actions and said that the spinner was not telling the truth and tried to cover-up with his post-match.
Buttler was going strong at 69 off 34 balls looking set to take Rajasthan Royals over the line in the chase before his innings was abruptly cut short. The English batsman was left disappointed as he walked back after the third umpire adjudged him out following the dismissal. Rajasthan's chase was dented with the loss as the hosts went on to suffer a collapse eventually losing the game by 14 runs.
[wp_ad_camp_1]
"Look, it was very instinctive. On my part, it was very instinctive. It was not planned or anything like that. It's there within the rules of the game. I don't understand where the spirit of the game comes, naturally if it's there in the rules it's there," Ashwin said in the post-match press conference when asked about the whole episode.
Earlier Ashwin's wife Prithi Ashwin reacting to the trolls asked everyone to leave her alone. She also asked them to go to Ashwin's timeline instead of mentioning her in their tweets.
Ashwin Ravichandran's Wife Reacts To The Trolls & Critics On Her Husband !!
Now she has reacted to a parody video of Ashwin's Mankad in a very humorous way. The video show group of boys playing cricket where as the bowler instigates the non striker to come out of crease by making him dance to a funny song. After that the boy appeals to umpire after hitting the stumps while the non-striker busy dancing out of the crease. Frustrated non-striker slams his stick and leaves. This funny video rules many youngsters whatsapp, Instagram stories in past couple of days after Ashwin's mankad controversy.
A twitter user tagged Ashwin's wife by posting the video. Check out it here :
@prithinarayanan Hi. 😂😂 https://t.co/d3TGO6o4An

— krtgrphr (@krtgrphr) March 28, 2019
On seeing this hilarious post, Prithi wrote,"Hahaha saw this and haven't stopped laughing."
Hahaha saw this and haven't stopped laughing.

— Prithi Ashwin (@prithinarayanan) March 28, 2019
[wp_ad_camp_1]
Following this she also asked him to give the song to put it as caller tune :
Give. I'll put as caller tune.

— Prithi Ashwin (@prithinarayanan) March 28, 2019
On 13 November 2011, Ashwin married his childhood friend Prithi Narayanan. On 11 July 2015 the couple became parents of a baby girl named Akhira. Their second daughter Aadhya was born in December 2016.