"There Is No Tamil Language Without Hindu Religion" – H. Raja While Promoting "Ruthra Thaandavam"
Written by Dhiwaharan Published on Sep 28, 2021 | 19:55 PM IST | 81
Follow Us
Comments: 0
BJP politician H. Raja claimed that there is no Tamil language without Hindu religion in a press meet that took place to promote the upcoming film "Ruthra Thandavam". He who looked agitated called press reporters as "Presstitutes" for parting Tamil language and Hindu religion. He wanted them not to become the addicts of conversion. Video of his speech is going viral among the Internet users who are condemning the politician for disrespecting media personalities by calling them as "presstitutes".
[wp_ad_camp_1]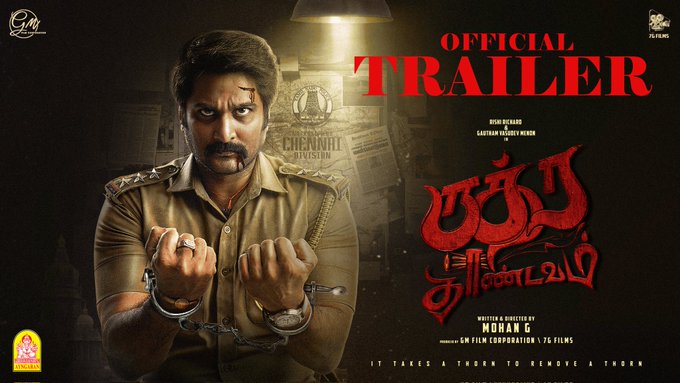 Trailer of "Ruthra Thaandavam", directed by Mohan G of "Draupathy" fame released on You tube recently and receiving reviews from all over the Internet. The 2 minute 51 seconds long trailer shows the protagonist as a police officer who is being accused as a caste-fanatic for the way he handles one of his cases. With Richard playing the lead role, the film's caste includes Gautham vasudev Menon, Dharsha Gupta, Thambi Ramaiyah, Radha Ravi and others.
The trailer ends with Richard uttering the dialogue, "I was just doing my job. You people made others to say that I am a caste-fanatic. Why are you doing this dirty politics ?". The film has been censored as U/A and the film is set to release. Considering the recent announcement of government about the 50% occupancy in theatres, the film is schedule to release in theatres from 1st of October.
Now, the promotional events of the film started taking place in the Internet platform. Tamil nadu BJP leader Annamalai watched the movie in the office of Mohan G, according to his recent and other supporters and members of BJP party are also actively involved in promoting the film.
[wp_ad_camp_1]
#ருத்ரதாண்டவம் #RudraThandavam திரைப்படத்தை தனிபட்ட முறையில் என் அலுவலகம் வந்து பார்த்து ரசித்து வாழ்த்திய தமிழக பாஜக தலைவர் திரு அண்ணாமலை அவர்களுக்கு நன்றி 🙏🏻 pic.twitter.com/5KMWDYMbCm

— Mohan G Kshatriyan (@mohandreamer) September 28, 2021
After watching the film, senior BJP member H. Raja met the press reporters and talked about the film. At a point, he who got visibly frustrated, called the press reporters as "presstitutes". "How can you say that language Tamil emerged without Hindu religion ? This is what I am talking about. You all media people, presstitutes, don't support religious conversion by saying that Hindu and Tamil is different. Don't become an addict to conversion" he says in the press meet.
பார்… முழுசா
சந்திரமுகியா மாறிய ராஜாவை பார் 😂😂😂 pic.twitter.com/x1B8hAF5P7

— Dr Sharmila (@DrSharmila15) September 27, 2021
Check out his full speech below :
Many users of Internet expressed their displeasure over the speech of H. Raja. Journalist Sandhya Rajan, in her tweet, said "High time Mr H Raja was disciplined by his party leaders. He has consistently attacked reporters in derogatory terms. If you criticise PTR, you have to act against H Raja too." with many others condemning him for the same reason.
High time Mr H Raja was disciplined by his party leaders. He has consistently attacked reporters in derogatory terms. If you criticise PTR, you have to act against H Raja too. @BJP4TamilNadu @annamalai_k

— Sandhya Ravishankar (@sandhyaravishan) September 28, 2021
[wp_ad_camp_1]
செய்தியாளர் சந்திப்பின் போது பத்திரிகையாளர்களையும் பத்திரிகை நிறுவனங்களையும் தரம் தாழ்ந்து மிகக்கீழ்தரமாக பேசியுள்ள @HRajaBJP -வை வன்மையாக கண்டிக்கிறோம். அனைத்து ஊடக நிறுவனங்களும் @HRajaBJP -வை புறக்கணிக்க வேண்டும் மற்றும் அவர்மீது சட்ட ரீதியாக நடவடிக்கை எடுக்க வேண்டும். pic.twitter.com/42EjCudzPZ

— CMPC (@CMPChange) September 27, 2021
Did the press people miss to give him back for these low words ?!

Or they just passed it and went to the next questions? #HRaja pic.twitter.com/sFcpgQtXO7

— Balaji Duraisamy (@balajidtweets) September 27, 2021
@annamalai_k ஒன்னு H.Raja'வுக்கு மனநல பரிசோதனை பண்ணு… இல்ல.. இப்படி பிரஸ் மீட்ல பேசக்கூடாதுனு சொல்லிடு https://t.co/TBwQDtvybR

— its_me_prakashraj🐼 (@its_me_dood) September 28, 2021
சமூகத்தில் அமைதியை குலைத்து கலவரத்தை தூண்டும் வகையில் தொடர்ந்து பேசி வரும் எச்.ராஜாவை குண்டர் சட்டத்தில் கைது செய்ய வேண்டும்.

— Vikraman R (@RVikraman) September 28, 2021