The most awaited Suriya's "Soorarai Pottru" film has been decided to get an online release by the makers of it. Announcing about it in his official twitter account, actor Suriya who also produced the movie, stated that the COVID 19 pandemic is the main reason behind his decision. The actor also pledged that he will complete acting in at least two films before the pandemic ends and will make people happy by releasing them in theatre. He also announced that he will be donating Rs.5 Crore to the people who are fighting against COVID 19 from the money he got for releasing "Soorarai Pottru" in "Amazon Prime".
[wp_ad_camp_1]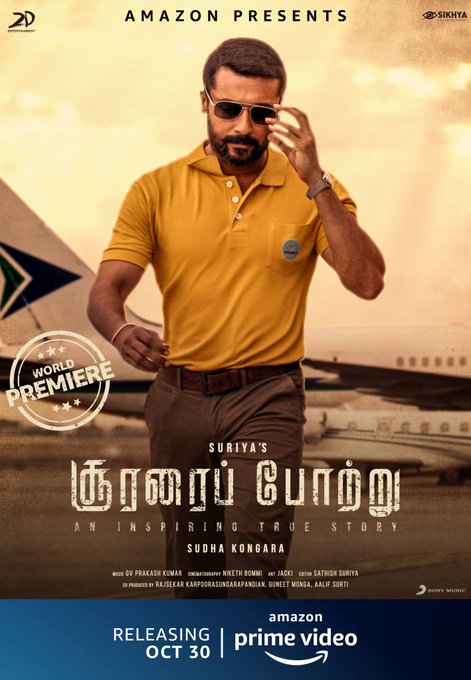 We have first broke the news on Soorarai's Pottru's OTT release during mid April. The film which is believed to be a biographical picture of Air Deccan founder G.R Gopinath, is touted to be a coming of age biographical drama. Directed by Sudha Kongara, the film has G.V Prakash as musician. It is notable that Gopinath is a retired Captain of the Indian Army, an author, and also a politician.
Here's the press release of the actor :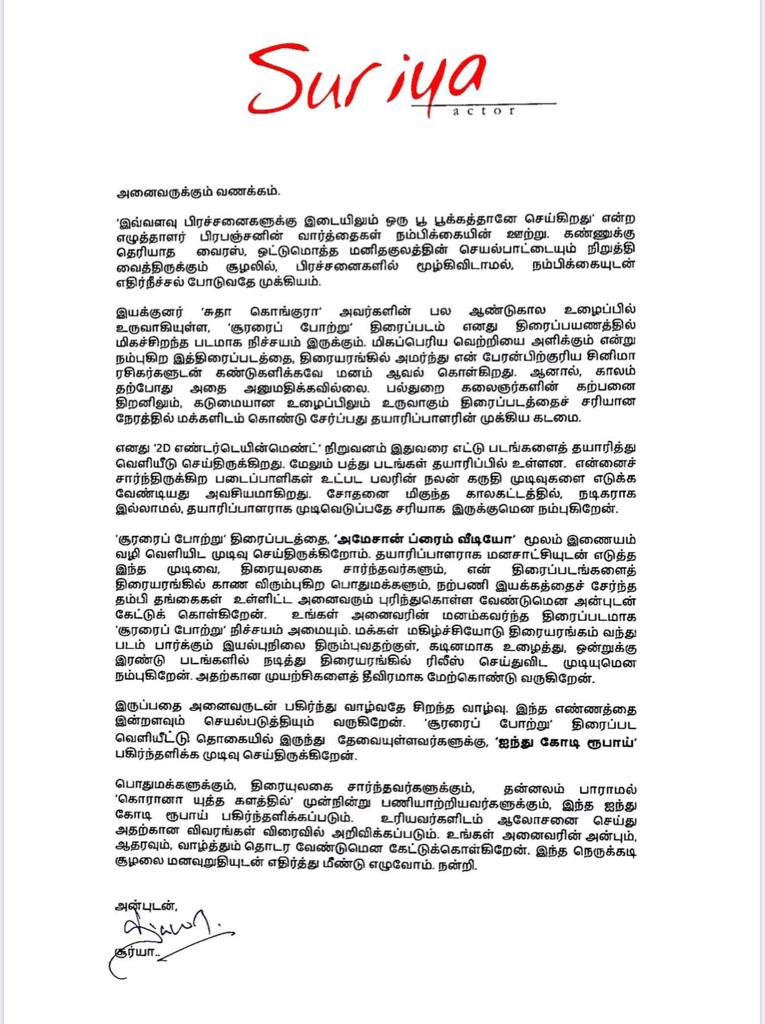 Check out the tweet Suriya posted below :
Vinayagar Chathurthi wishes to all!#SooraraiPottruOnPrime @PrimeVideoIN pic.twitter.com/ZdYSF52ye2

— Suriya Sivakumar (@Suriya_offl) August 22, 2020
[wp_ad_camp_1]
On seeing this decision from the top-tier actor, among many fans, Nikilesh Surya who manages Rohini Silver screen in Chennai, posted a tweet trolling the actor and producer. "Neengalum Vellalam Oru Kodi." he wrote in his tweet mocking Suriya for selling his film by accepting the money offered by Amazon. It is a name of a show that Surya hosted in Vijay Television as well.
Check out his tweet here :
Neengalum Vellalam Oru Kodi.

— Nikilesh Surya 🇮🇳 (@NikileshSurya) August 22, 2020
Fans of the actor who are already in a disappointed state, flooded the comment section of his tweet for trolling their idol. Check out some of their reactions below :
Yow…Yen ya..Thevai illatha.. Tweet pottukittu irukaa..Avangalae…Ipo feel panitu irukanga…Ithula yen ya.. Tweet ah del panitu po ya..

— 💥🆅🅸🅲🅺🆈 💕 (@Vicky_Jack07) August 22, 2020
இன்னும் கொஞ்ச நாள் தியேடர் ஓபன் ஆகலன நீங்களும் போகலாம் தெரு கோடி தா உனக்கு😂#sooraraipottru

— PrasantHˢᵒᵒʳᵃʳᵃⁱ ᵖᵒᵗᵗʳᵘ (@PrashhAPS) August 22, 2020
Oru manushan kastathla irukum bothu nakkal punda panna kudathu👍

— JEGAN 😎🤏 (@j_gun_) August 22, 2020
120 ரூபாய் டிக்கெட்ட 1500, 2000 னு வித்துருப்ப போச்சா ..

— ✨ᴛʜᴀʟᴀᴘᴀᴛʜʏ ˢᵃᵗʰⁱˢʰ™ (@Sathish_vj1) August 22, 2020
நல்லா வயிரு மத்தி எரியுது போல இவனுக்கு தியேட்டர் கட்டி வச்சிட்டு இருக்கோம் நீ எப்படி டா ott ல ரிலிஸ் பன்லாம்னு அப்ப நாங்க எப்படி சம்பாரிக்கிறது னு காண்டு இவனுக்கு 🤣🤣🤣

— 🔥THALAPATHY DAVID🔥 (@Davidvijay92) August 22, 2020
Must ignore rohini in future ! All fans! They just use fans for there sake ,

— Nirmal Rj (@Nirmalrj10) August 22, 2020
[wp_ad_camp_1]
However, Nikilesh Surya came up with an explanation saying that he too got disappointed on Suriya's decision. He said that the money offered by a corporate like Amazon is hard to say "no". He also hoped Vijay not to take such steps regarding his "Master" movie.
Here's his tweet :
It will take immense conviction to resist such lucrative offers. Given that this trend has been kicked off we can expect few more movies to choose this escape route out. Hope the main man #Thalapathy refrains from such thought.

— Nikilesh Surya 🇮🇳 (@NikileshSurya) August 22, 2020
This decision from the actor makes history in the 89 year old Tamil cinema. As people would think twice to spend money to watch movies in theatres post lockdown, actor Surya who also produced the film, made this decision it seems. If a film like "Soorarai Pottru" which contains high profile names such as Surya and Sudha Kongara gets an online release, it would definitely change the fate of Tamil cinema, says Cinema experts.
Comment your views on this decision of Suriya !!