"The World Is Watching Us Today" IPS Officer On Ambulance Charging 10 K For 4 Kms !!
By Dhiwaharan
Amidst the second wave of COVID 19 virus, frontline workers are putting their lives on the line to control damage. Doctors, Nurses, health workers are being lauded by the public for their work but the situation is also bringing out the worst in some people. A recent tweet uploaded by IPS officer Arun Bothra is a prime example for how some people are exploiting the situation to make more money, instead of helping the public.
[wp_ad_camp_1]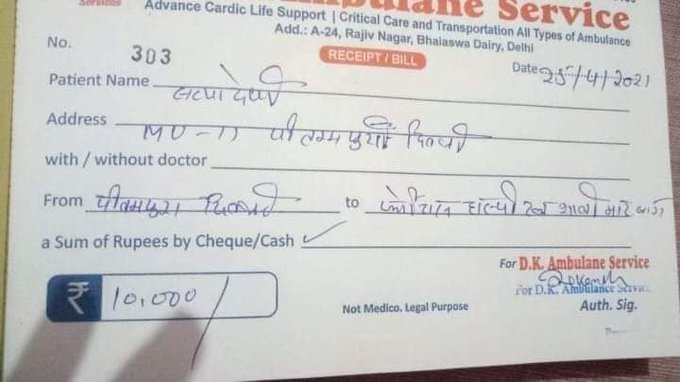 Tweeting about the incident that took place in Delhi, IPS officer Arun Bothra shared a receipt given by DK Ambulance service for payment of Rs.10,000 to take a patient from Pitampura to Fortis hospital, a 4 kilometre distance. On April 28, the IPS officer shared a tweet writing "Ten thousand rupees for a distance of four kms. Ambulance rental in Delhi. The world is watching us today. Not only the devastation but also our moral values." and added a picture of the receipt.
Here's his tweet :
Ten thousand rupees for a distance of four kms. Ambulance rental in Delhi.

The world is watching us today. Not only the devastation but also our moral values. pic.twitter.com/dZoJpSbF6c

— Arun Bothra (@arunbothra) April 28, 2021
People started demanding the Delhi government to fix the per kilometre rate of an ambulance in the city like the ambulances that are being operated in Rajasthan and Chhattisgarh were fixed by the respective governments. It has been reported that a bigger ambulance in Rajasthan is charging Rs. 17.50 per kilometre. Normally, in Delhi, Ambulances would charge Rs.500 for first 5 kilometres and Rs.50-60 for per kilometre after that.
Many people agreed with the tweet of Arun and started sharing the experience they went through. "Quoting your lines " You may extort some money from people in pain but someday your Karma will come back to settle this account" KARMA WAITING" a social media user replied whereas another one said "For 6 KM we have paid 82 k Sir"
Check out some of their reactions below :
I have bought Oxygen Concentrator for 2Lakhs. Original price of the device is 79,500

— Srinivas Velumuri (@SriniVelumuri) April 29, 2021
[wp_ad_camp_1]
One of my friend's father required #Tocilizumab injection which normally costs 37k-44K.. But in market now they say 4.25 lakhs – all human morale gone for Toss.. pic.twitter.com/D3R7jfY4hs

— Ravindar Varakala (@ravivarakala) April 28, 2021
To organise a cremation. 60k.

Was 25k, 2 weeks ago.

Oxygen cylinder 10 ltr was 7k
now it's around 40k

Oxygen Concentrator was 50k, now 1L +

Those who can loot are looting.

Morality can go take a walk.

— Shamit Manchanda (@shamit) April 28, 2021
Sir, during floods in Chennai, water can was Rs 500. Milk pocket of half a litre Rs 100. During bandh times, auto man charges sky high. I feel sir each one of the Indian is honest as long as no opportunity is available. The moment it is there, just blood curdling mercenary job.

— meenakshi (@meenavyas50) April 28, 2021
I personally paid 3k for ambulance for 4 kms.. When I asked him shockingly 3k he said 3.5k hai actually, aapko 500 discount diya.. 😐

— Crime Master Gogo (@vipul2777) April 28, 2021
[wp_ad_camp_1]
A family was asked to pay Rs 80,000 for an ambulance (Delhi to Jalandhar)

— Arshdeep Sandhu (Raavi) (@arsh11kaur) April 28, 2021
This is what happening now 😠 pic.twitter.com/VHrIGjxjC6

— Chandru_MNM (@iChanShekhar) April 29, 2021
On Thursday, Delhi reported 24,255 new COVID 19 positive cases, 395 deaths and 25,615 recoveries. Hospitals across Delhi suffering the shortage of medical oxygen refill and many deaths have been reported in past few weeks due to oxygen shortage in many hospitals.