A recent campaign advertisement released on behalf of Filmmaker cum Politician Seeman's Political party "Nam Tamizhar" subjected to extreme online troll as there are enormous number of memes are flooding the feeds of social media platforms targeting the advertisement.
[wp_ad_camp_1]
The advertisement shows a youth buying medicines worth Rs. 800 in medical shop for emergency. He who finds his purse missing, requests the shop owner to allow him some time to get his purse back from his house. He wants to take the medicine with him as it is required purpose. When the shop owner denies to give him the medicine without money, a woman who was working in the medical shop insists her owner to give him the medicines.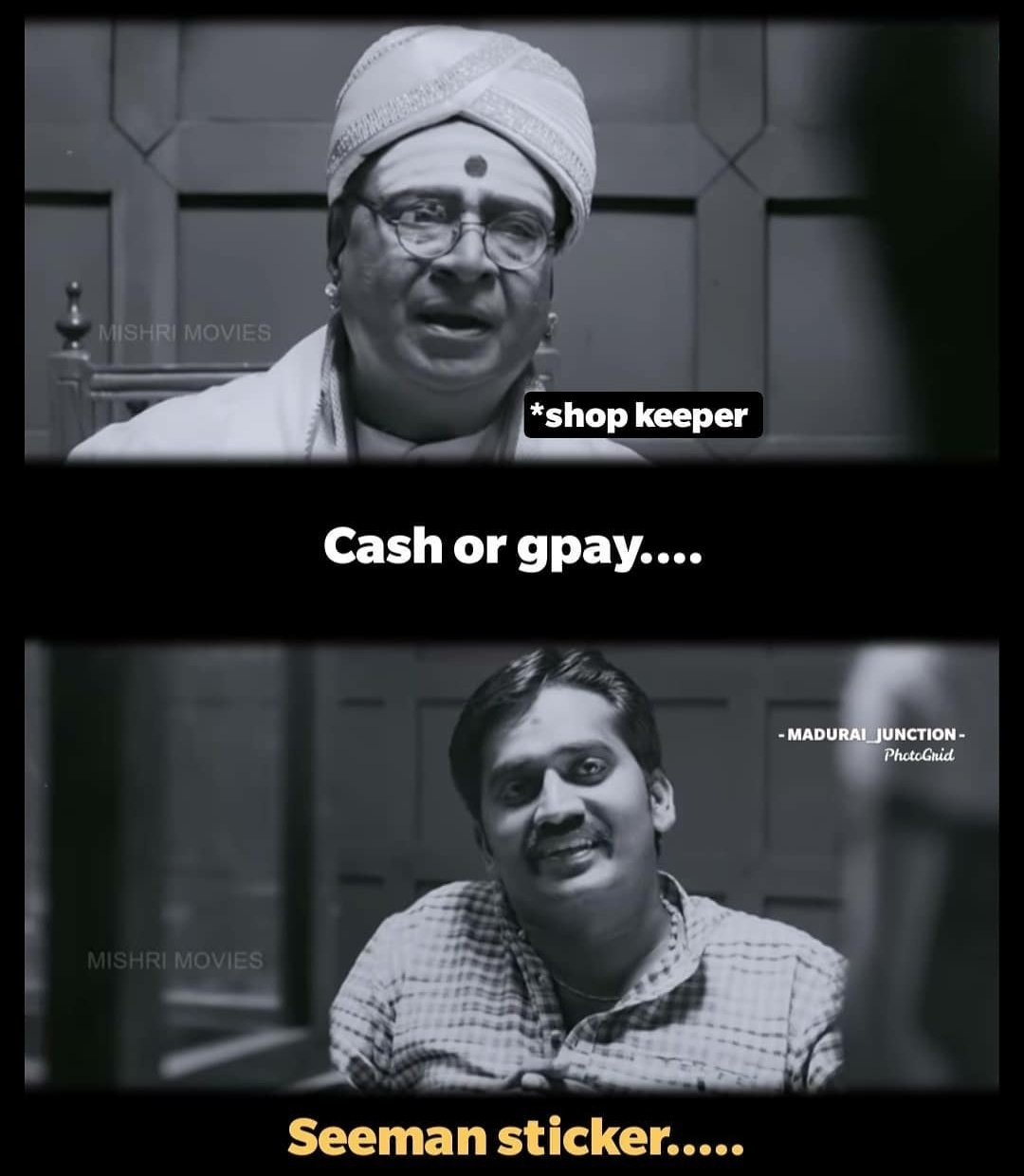 The owner gives him the medicine and warns his employee to deduct the amount from her salary if he fails to come back with money. After few minutes, the youth comes back with money to prove the owner wrong. Wondering about his employee's immense belief on a stranger, the owner asks "How you believed that he would return this much of big amount ?" to which she replies "I have see Semman brother's picture in his bike while coming to our shop. That's why I believed him. "Naam Tamizhar" means belief." she says.
Watch the video here :
சாட்டையடி வீடியோ தோழி… 😂😂😂 pic.twitter.com/kxzZ95Nxy2

— மளிகை கடைக்காரன் (@MdIbrahimSiraj) August 19, 2020
This video became a meme material in no time as people found it extremely funny. Memes surfaced adding "Naam Tamizhar" party symbol along with online payment apps and with the meme templates of Vadivelu, a popular comedian. A spoof video mimicking an iconic scene from "Sathuranga Vettai" film also released only to leave the netizens in splits.
Check out some of the reactions below :
[wp_ad_camp_1]
எல்லமீறி போறீங்கடா pic.twitter.com/bFEhxqHWNN

— SwaraVaithee (@swaravaithee) August 20, 2020
Bajanlal set: Enna ba Bike vikka vandhiya?!

~ Illa set. Bike la Sticker ottirukken. Adha kaatti Kai maaththa kaasu vaangittu polaam nu vandhen!

He: Sooththa saathittu Poidu. Vagundhu viduven! pic.twitter.com/i6DJxqSe6v

— Gurubaai (@ItsGurubaai) August 20, 2020
Ennagada Panni vechurukeenga🔥🔥🔥😂😂 pic.twitter.com/sUxjPt01K8

— Virumaandi Vettaiyan ⚔️ (@VettaiyanTweets) August 20, 2020
Seeman card😂😂 pic.twitter.com/zIshyPY7WI

— 𝕊𝔾 𝕂𝕣𝕚𝕤𝕙𝕟𝕒 𝕍𝕖𝕝 (@Wachy_Tweets) August 20, 2020
[wp_ad_camp_1]
😂 😂 😂 😂 pic.twitter.com/LN3rIdkl9D

— Dr. கவுண்டர் மஹான் பக்தன் ♣️ (@Gounder_mahan) August 20, 2020
Purse la kaasu ethuku seeman sticker irukum bothu 😂🤣😂 pic.twitter.com/WqymojdNie

— rajini (@rajini198080) August 21, 2020
Hotel owner: Ivar kitta mattum yen ya kaasu vangala?

Waiter: Ivar vandila Seeman annan sticker otti iruku sir ..#FerozBhai pic.twitter.com/OGkXtWsPJh

— நோபிட்டா (@rakks_twitz) August 20, 2020
பாத்து செலவு பண்ணுடா தும்பி.. கஷ்டப்பட்டு சேத்தது 😂😂#அண்ணன்தம்பிகள் #சீமான் #SeemanSticker #seemanisam pic.twitter.com/o2o2qznlsB

— Anand Natarajan (@Iam_NAnand) August 21, 2020
One of a twitter user went one step ahead and found the video with the same concept which was made way earlier. Communist Party of India, to campaign for their party in Kerala, made the video with similar concept earlier which evidently proved that the latest trending video is a copied one. Watch below :
தம்பிங்க கட்சி விளம்பரத்த கூட காப்பி அடிச்சு வச்சுருக்காய்ங்க 😂 pic.twitter.com/YD6s7JqeyQ

— Kanniyari (@kanniyarii) August 20, 2020
Comment your views on this short video and the reactions it is receiving !!