Thalapathy Vijay's Necklace Present To Nandhini Costs This Much?? Details Out
Written by gokul krishnan Published on Jun 20, 2023 | 20:10 PM IST | 205
Follow Us
Comments: 0
Thalapathy Vijay recently organized a remarkable event to recognize the top-scoring students in the 12th and 10th-grade board examinations. The star-studded function was an inspiring platform where deserving students received well-deserved recognition for their remarkable achievements. Among the recipients, a young girl named Nandhini stood out, having achieved a perfect score of 600/600 in her examination.
also read: Ameesha Patel Who Paired Up With Thalapathy Is Rocking The Internet At 47 !!
Nandhini, a brilliant student with an exceptional academic record, was overwhelmed with joy as Thalapathy Vijay presented her with a stunning diamond necklace, symbolizing the appreciation for her extraordinary accomplishment. The actor's gesture not only honored Nandhini but also highlighted the importance of recognizing and encouraging exceptional talent in the field of education.
The event, graced by eminent personalities from various walks of life, served as a powerful motivator for students, emphasizing the significance of hard work, dedication, and perseverance. Thalapathy Vijay, known for his commitment to social causes, took this opportunity to inspire young minds and reinforce the idea that education is the key to success.
Nandhini, in her moment of triumph, expressed her gratitude towards Thalapathy Vijay for his recognition and support. She described the experience as an unforgettable honor and an encouragement to strive for excellence in all areas of her life. Her achievement serves as an inspiration to countless students, reminding them that with dedication and determination, they too can reach great heights.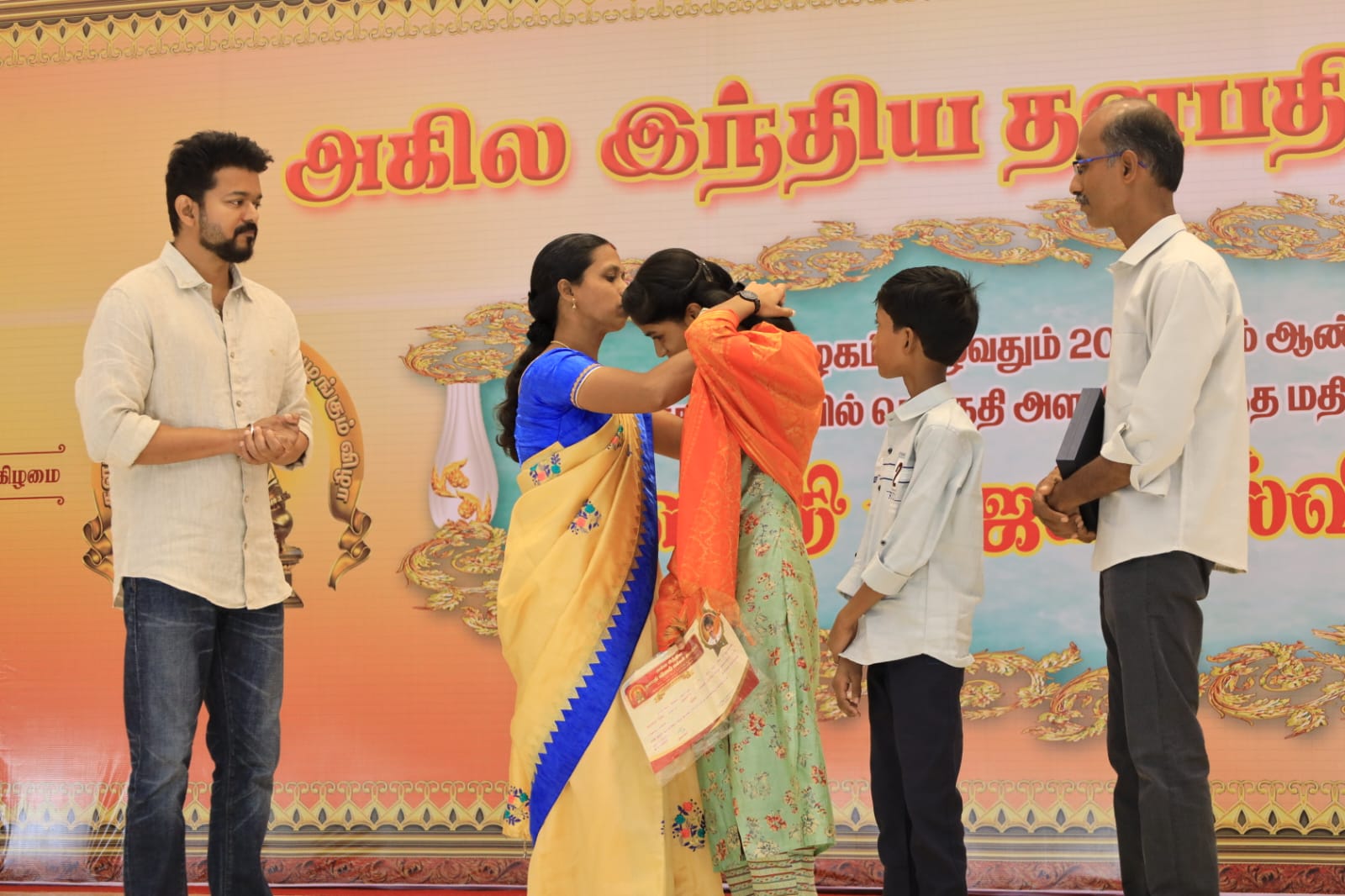 Thalapathy Vijay's initiative to honor exceptional students not only acknowledges their academic brilliance but also sends a powerful message to society. By recognizing and appreciating these young talents, he reinforces the importance of education and the impact it can have on shaping the future of our nation.
In a remarkable display of determination and academic brilliance, S Nandini, the daughter of a daily-wage worker, has achieved a perfect score of 600 in her board examinations. Nandini, a student at a government-aided school in Dindigul district, has overcome numerous challenges to secure this outstanding feat, inspiring countless individuals along the way.
also read: Chennai : Youth D*ed After A Tree Branch Fell Down !! Heart Wrenching Video
The fact that Nandini's name did not feature on the official list of toppers released by the board further highlights the significance of her accomplishment. Her remarkable achievement resonates deeply, as it showcases the incredible potential that lies within individuals who strive against all odds to excel academically.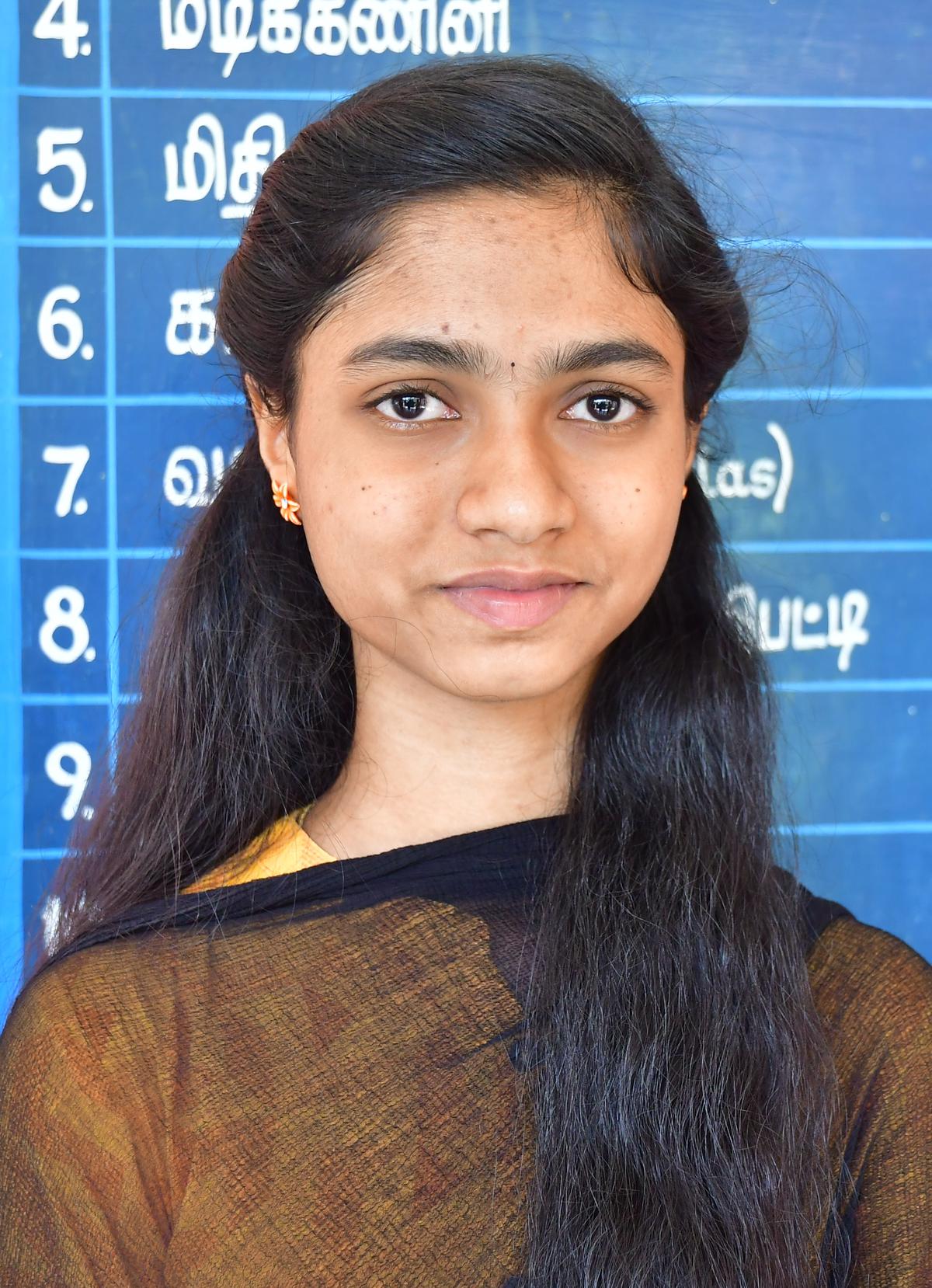 The event was a testament to Thalapathy Vijay's commitment to fostering a culture of excellence and providing a platform for young achievers to shine. It also served as a reminder of the profound influence that celebrities can have in inspiring and motivating the youth.As the function concluded, the audience applauded the efforts of both Thalapathy Vijay and the exceptional students. The event undoubtedly left a lasting impression on all those present, igniting a flame of ambition and determination in the hearts of many.
Thalapathy Vijay's dedication to the betterment of society extends beyond the silver screen, and his support for education serves as a beacon of hope for students aspiring to reach their full potential. The honor bestowed upon Nandhini, and the other outstanding students, will undoubtedly be remembered as a moment of pride and inspiration in their lives, motivating them to continue excelling and making a positive impact on the world.
Here is the video:
In this era where academic achievement often goes unnoticed, Thalapathy Vijay's gesture of honoring exceptional students shines a spotlight on the importance of recognizing and nurturing talent. It is a testament to the power of appreciation and serves as a reminder that each individual's contribution, no matter how small, can make a significant difference.